A customer selling pecans or buying pet chow at Empire Seed Co., 201 Elm Ave., may want to bring along a hard hat. A yellow earth-moving machine is making tracks just outside owner Craig Baggett's front door.
Some would label the inconvenience merely the pains of progress. After all, business owners along Elm Avenue, a street abuzz with development potential, have seen this scene play out many times since 2019. Possible new restaurants, shops, hotels and festival venues pushed the city into infrastructure overdrive, installing new streets, sidewalks and utility lines.
"We're at $16 million and growing," Waco's streets division manager Jim Reed said of the financial commitment to Elm Avenue, an East Waco thoroughfare long neglected but primed for bigger things. It is strategically located near Lake Brazos, the Waco Suspension Bridge and the Doris Miller Memorial, across the river from downtown's revitalization.
Baggett is not complaining about the grand scheme of things. But he is frustrated by the latest installment in this continuing saga: a blockade of Elm Avenue near Martin Luther King Jr. Boulevard. Traffic off MLK is obliged to follow newly installed traffic signs pointing the way to Empire Seed. Motorists, who now find themselves on Bridge Street, pass through the parking lot of a hotel under construction to arrive at Empire Seed's rear entrance.
"It has hurt us big time. People can't get in here," Baggett said. "Oh, Lordy, this has been happening on Elm Street two or three years now."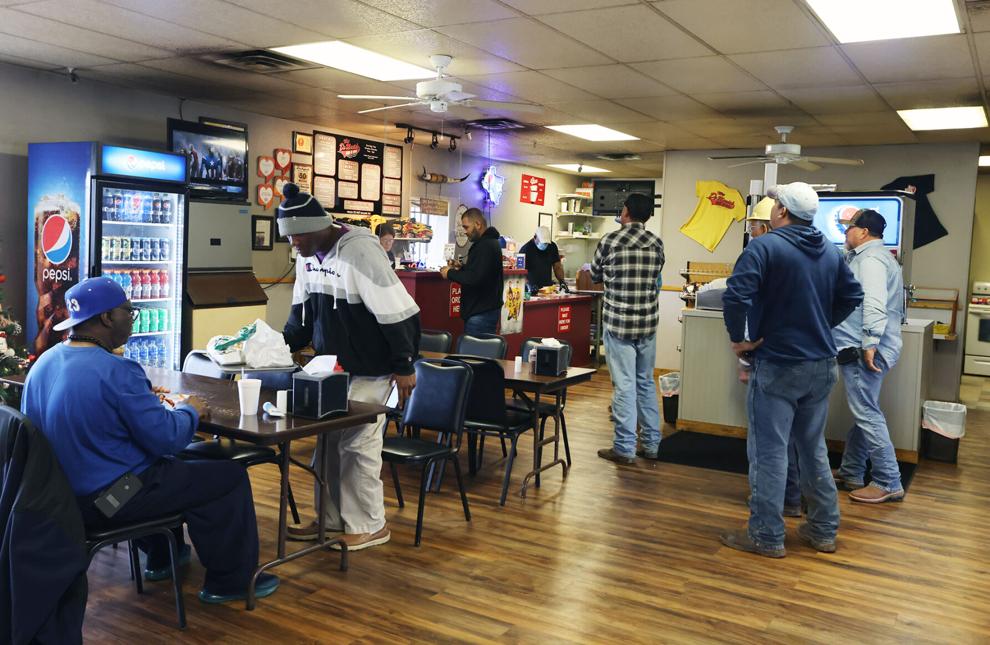 Blake Demaria continues his family's barbecue tradition at 1000 Elm Ave., Tony Demaria's Bar-B-Que. Customers travel a more circuitous route than they once did, but Elm Avenue is smooth as glass out front, and the restaurant got a new driveway out of the deal, Demaria said.
Demaria said he has mixed emotions about the roadwork's impact on business. He said things are better now that crews and equipment have moved from near his front doorstep. Improvements along Elm Avenue began so long ago, he has trouble remembering what the old street looked like, he said.
"It's a double-edged sword," Demaria said. "This is good. It needs to happen for the sake of Elm Street. But who wants to come in, spend money on something in the middle of a road closure? I don't think we'll see growth of the area until it's done. As I said, it needs to happen, and I'm happy they're finally doing it. It's just taking so long to get it done."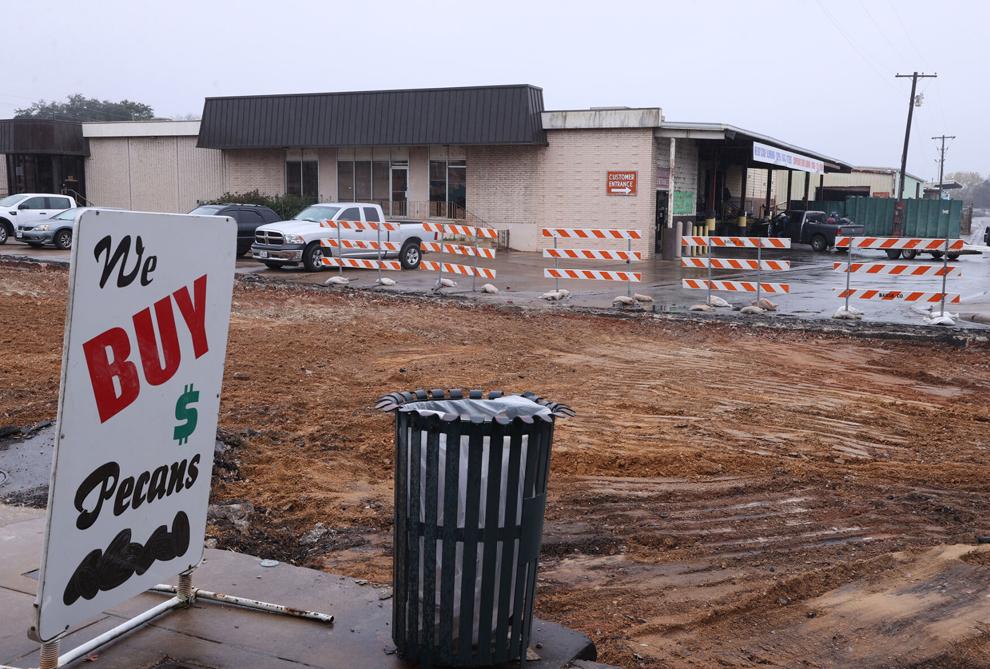 Jordan Beard, with Reid Peevey Commercial Real Estate Company, lists multiple properties along Elm Avenue's 600 block. He said interest remains intense.
"I take several calls a week about Elm Street," Beard said. "I would guess work is affecting local business, but it's necessary to make Waco grow in that area. I'm listing what I consider beautiful buildings, some dating back to the 1800s. I hope tenants take interest in reviving Elm Street.
"It's a neat place for people to dream. I talk with previous owners of property, and hear stories about what went on there. One building I'm showing has a courtyard that would make an ideal restaurant and outdoor concert venue. Another, once a hotel, has loft space at the top."
He said navigating Elm Avenue even now is not a daunting task.
"Wacoans have a knack for finding places," Beard said. "Look at Interstate 35. That work is not stopping anyone from getting to Baylor University. Elm Avenue is not Baylor, but if you want to get somewhere, you can get there."
Danielle Young said business at her Revival Eastside Eatery, 704 Elm Ave., plummeted 50 percent just after the Thanksgiving holiday, about the same time crews blocked Elm Avenue at Martin Luther King Jr. Boulevard.
"They didn't have proper detour signs, so I contacted city representatives, and they were very responsive," Young said. "They put our name and other business names on signs. Again, they responded quickly."
Despite customers having to dodge traffic cones and take detours, the restaurant is performing well. Its location on Elm Avenue midway between Martin Luther King Jr. Boulevard and Clifton Street places it in the crosshairs of everything contractors have dished out since 2019.
"I know it's unfortunate to have to go through something with this kind of impact," said Reed, Waco's streets division manager.
He said the city undertook several projects since 2019 aimed at improving Elm Avenue's walkability and parking. Crews have installed water and sewer lines, poured driveways, made a new driving surface and installed new street lighting in some areas.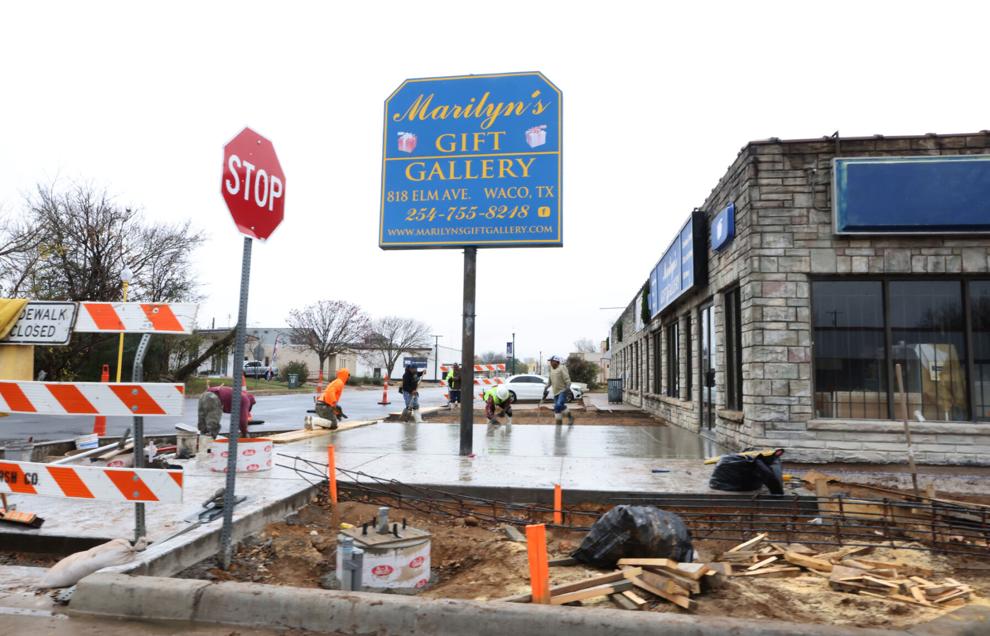 Marilyn's Gift Gallery, 818 Elm Ave., was nearly surrounded by laborers Tuesday smoothing driveway cement and setting forms for sidewalks.
Some projects have overlapped, and a few surprises delayed completion, including excavation that required two sets of railroad tracks to be dealt with.
Another $5.6 million included in Reed's $16 million estimate is creation of the Bridge Street Front Porch, an area to accommodate community festivals.
Reed said wherever possible, the city has tried to preserve or restore touches in accordance with urban design applied to Elm Avenue.
He said work along Elm Avenue could last another two to three months.
A Bridge Street Holiday Fest is planned for 3 to 7 p.m. Sunday at the Bridge Street Plaza. Live music will start at 5, and there will be food trucks, vendors and a Skate Waco mobile unit. Because of the ongoing work on Elm, access to the event will be via Taylor Avenue. Parking will be available in designated lots along Taylor, with signs pointing the way, according to a city press release.