McLennan County's new $32 million multipurpose facility will now be called The Base, a name reflecting its use as a venue for business, arts, sports and entertainment, county commissioners decided Tuesday.
The 80,000-square-foot center under construction at Lake Air Drive and Bosque Boulevard will help anchor the Extraco Events Center complex that includes the Extraco Coliseum. The county may assume control of the new building in February, and plans continue for a public party and a month of special events in March, keeping COVID-19 in mind, HOT Fair & Rodeo President Wes Allison said.
It was Allison who recommended The Base at Extraco Events Center, or simply The Base, his suggestion reflecting the opinion of community stakeholders and two local marketing firms: Four Columns Marketing and Seedhouse Creative.
The HOT Fair Complex is located at the site of World War I-era Rich Field Army Base, making the name a natural fit, Allison said. Base also is an acronym for "Business, Arts, Sports and Entertainment," the venue's bailiwick.
"I love it," said Carla Pendergraft, who markets Waco to convention planners and tourists. "The name hearkens to Waco's history, to Rich Field, which so many never knew was here. We often have pre-formed ideas about a building and what it could be used for, but The Base covers all the bases."
Pendergraft said it brings to mind the Wichita Falls MPEC, the shortened and accepted version of that city's multi-purpose events center.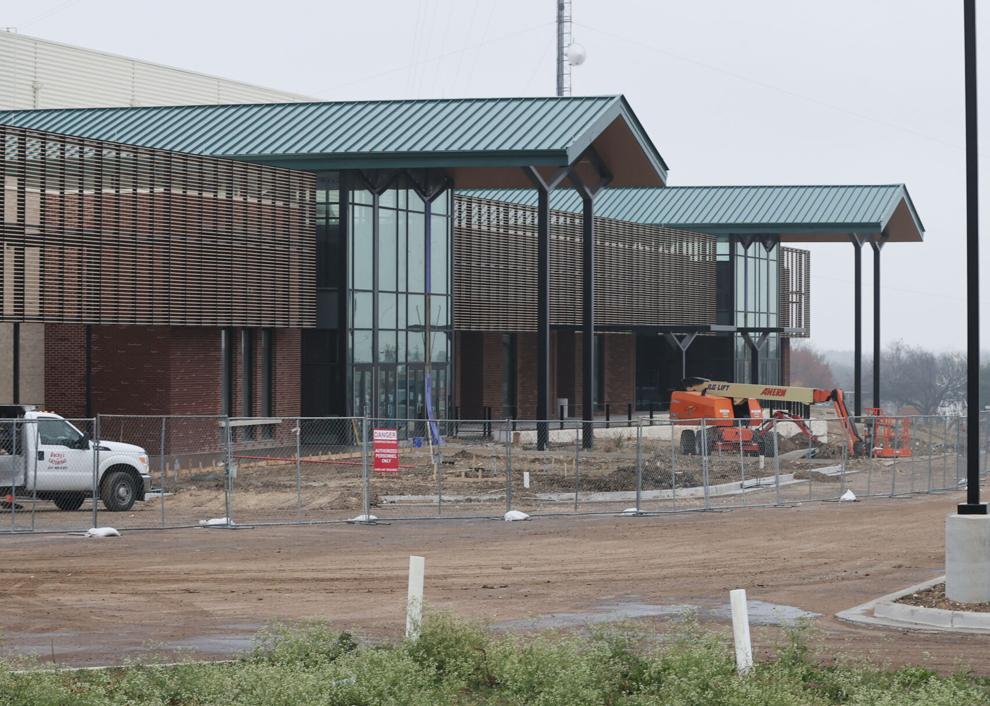 John W. Erwin General Contractor Inc. has overseen construction The Base, the project wrapping up under budget and in less time than expected, County Administrator Dustin Chapman said. Tight spending has allowed commissioners to exercise options in their contract, an example being their approval Tuesday of $120,000 in paving between The Base and the Coliseum.
Several weeks of paving are scheduled to start Jan. 4, Allison said.
The Base is a facility made possible when county residents approved a multi-phase project for the fairgrounds and surrounding public properties that also will relocate Paul Tyson Field to create space for track-and-field events and ballfields.
Also Tuesday, commissioners approved the logo Allison proposed for The Base, which includes the words business, arts, sports and entertainment spelled out.
Precinct 1 Commissioner Kelly Snell praised the logo as "very clean looking," while County Judge Scott Felton joked his Google search revealed no other multipurpose center in the U.S. being dubbed "The Base."
"I guess you could call this 'First Base,'" Felton said, eliciting groans from several attending the commissioners' Zoom meeting Tuesday.
"Several years ago, leaders of the Heart O' Texas Fair and Rodeo envisioned a grander facility for an already highly popular and well-equipped event center," Felton said in a press release. "I believe all those leaders involved would agree that we have exceeded our expectations with the BASE. It will bring a level of diversity in the types of events that will be hosted by one of Waco's best managed events center. The BASE will be the place for all types of indoor activities that will bring people to our community and further drive the existing significant economic impact we enjoy today."
Allison said another 10 years remain on the HOT Fair & Rodeo's long-term naming agreement with Extraco Banks, a pact that annually generates revenue well into six figures. He said Extraco Banks was among those with an opinion on what the new multipurpose center should be called.
The Base already has attracted inquiries from the sports world and groups hosting fundraisers and trade shows, Allison said.
"We could host 3,400 people in a banquet setting," he said.