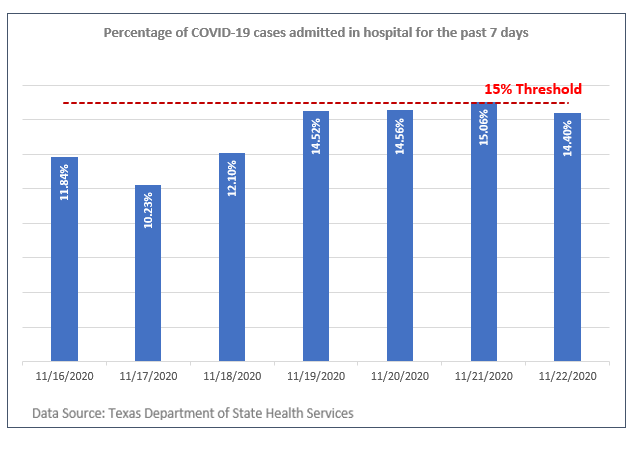 COVID-19 hospitalizations hit a new record Monday, leading McLennan County Judge Scott Felton to warn that the county may be on the verge of having to close bars and restrict other businesses after Thanksgiving.
At the same time, local health officials said that if warnings about the risks of Thanksgiving gatherings go unheeded, the area's medical capacity could be strained in coming weeks.
The number of hospitalizations grew to 93 Monday, up six from the previous day and well over double the 44 reported at the end of October. Fifty-one of the 54 intensive care unit beds available here were in use.
COVID-19 cases made up more than 14% of area hospital capacity each day from last Thursday to Sunday, peaking at more than 15% on Saturday. Numbers were unavailable for Monday.
Texas Gov. Greg Abbott in October allowed bars to reopen, elective surgeries to be performed and other businesses to reopen at 75% capacity in areas with a COVID-19 hospitalization rate under 15%. The reopenings would be rolled back if the area's hospitalization rate exceeds 15% for seven consecutive days. McLennan County is part of Trauma Service Area M, which also includes Bosque, Hill, Falls, Limestone and Hill Counties.
"It's not looking like we're going to be able to stay under that 15%," Felton said, adding that failing to meet the standard would close bars and reduce other businesses to 50% capacity.
"Trends aren't favorable, and so it wouldn't surprise if, especially with activities going on now and Thanksgiving, that that doesn't increase the amount of hospitalizations to exceed that delta amount," Felton said. "People [who run those businesses] need to be prepared to follow the governor's orders."
The Waco-McLennan County Public Health District reported 145 new COVID-19 cases Sunday and 110 new cases Monday, bringing the total number of cases to 13,630, with the number of active cases estimated at 1,255. Two more people died Sunday, bringing the number of deaths to 181.
Waco Family Health Center CEO Jackson Griggs said that in the worst-case scenario, large, unmasked gatherings over the Thanksgiving holiday could lead to a surge that would overwhelm local hospitals after two or three weeks. That could be followed by a surge in deaths.
"I think that's no longer unthinkable," Griggs said. "We don't have to use our imaginations, we just have to look at other communities in Texas that haven't heeded public health advice."
Griggs said he's particularly haunted by news coverage this past weekend from El Paso, where inmates from the county jail have been hired to help haul bodies into refrigerated trucks serving as mobile morgues. He said he hopes local efforts will stave off a similar surge.
"Really, there's no clear gauge of how closely the community is adhering to public health advice, so to some extent time will tell," Griggs said.
Health district spokeswoman Kelly Craine said families considering get-togethers over Thanksgiving should ponder the risks of spreading the disease.
"Due to the high case numbers around the country, holiday travel is a high-risk activity," she said. "This includes college students coming home for the holidays. To keep everyone in the household safe, returning college students should isolate themselves for 14 days and during that time wear a mask and maintain a distance from household members."
Baylor University reported an active case count of 137 and a total case count of 1,483 among its students, faculty and staff as of Sunday. After Thanksgiving break, Baylor students will not return to campus, and will instead take online finals.
Griggs said he doesn't expect the departure of Baylor students to change local trends, because the university has managed its cases with continuous testing and quarantining measures.
Waco ISD reported 26 more cases from Nov. 16 to Monday, bringing the cumulative total of cases to 228 districtwide. Waco ISD officials said the district only counts COVID-19 patients who came to campus while infectious. Midway ISD reported 60 active cases across all campuses as of Nov. 20.
According to the health district, 25,581 people have participated in surge testing that began in October, resulting in 1,716 positive tests.
Free testing will continue Tuesday at Antioch Community Church, 505 N. 20th St.; and McLennan Community College, 4601 N. 19th St., parking lot N. Tests will continue Wednesday at the health district, 225 W. Waco Drive.
---
Get answers to 26 coronavirus questions
Who will be the first to get COVID-19 vaccines?
No decision has been made, but the consensus among many experts in the U.S. and globally is that health care workers should be first, said Sema Sgaier of the Surgo Foundation, a nonprofit group working on vaccine allocation issues.
An expert panel advising the U.S. Centers for Disease Control and Prevention is also considering giving high priority to workers in essential industries, people with certain medical conditions and people age 65 and older.
Once a vaccine gets a green light from the Food and Drug Administration, the panel will look at clinical trial data on side effects and how people of various ages, ethnicities and health statuses responded. That will determine the panel's recommendations to the CDC on how to prioritize shots.
State officials are expected to follow the CDC's guidance as they distribute the first vaccines.
Vaccine supplies will be limited at first. There won't be enough to protect everyone, yet getting the shots to the right people could change the course of the pandemic.
Many other questions about distribution remain unanswered, Sgaier noted, such as whether to distribute shots equally across the country, or to focus on areas that are hot spots.
What does COVID-19 vaccine effectiveness mean?
What does COVID-19 vaccine effectiveness mean? It refers to the likelihood that a coronavirus shot will work in people.
Two vaccine makers have said that preliminary results from their late-stage studies suggest their experimental vaccines are strongly protective. Moderna this week said its vaccine appears nearly 95% effective. This comes on the heels of Pfizer's announcement that its shot appeared similarly effective.
Those numbers raised hopes around the world that vaccines could help put an end to the pandemic sometime next year if they continue to show that they prevent disease and are safe.
Effectiveness numbers will change as the vaccine studies continue since the early calculations were based on fewer than 100 COVID-19 cases in each study. But early results provide strong signals that the vaccine could prevent a majority of disease when large groups of people are vaccinated.
U.S. health officials said a coronavirus vaccine would need to be at least 50% effective before they would consider approving it for use. There was concern that coronavirus vaccines might be only as effective as flu vaccines, which have ranged from 20% to 60% effective in recent years.
The broad, early effectiveness figures don't tell the whole story. Scientists also need to understand how well the vaccine protects people in different age groups and demographic categories.
For both vaccines, the interim results were based on people who had COVID-19 symptoms that prompted a virus test. That means we don't know yet whether someone who's vaccinated might still get infected -- even if they show no symptoms -- and spread the virus.
Also unknown is whether the shots will give lasting protection, or whether boosters will be required.
How do COVID-19 symptoms differ from flu symptoms?
Is COVID-19 dangerous for young people?
Is COVID-19 more dangerous for men?
Are smokers more at risk for COVID-19?
How do asymptomatic people spread COVID-19?
How long does COVID-19 survive on different surfaces?
Can dogs and other pets get COVID-19?
How can I naturally boost my immune system?
Is it safe to take ibuprofen?
Which over-the-counter medicines can safely alleviate symptoms?
What cleaning products will kill the virus?
Will wearing gloves protect you?
Why is handwashing so important?
Why do I need to wear a mask when I leave the house?
How can I stay safe while grocery shopping?
How can I safely order take-out?
How can I stay safe while getting gas?
How can I protect myself while doing laundry?
How can I protect my elderly parents?
How can I support my local health care workers?
How can I help postal workers and delivery drivers?
Should I go to a more rural location to wait this out?
Can people contract the virus more than once?
When will life return to normal?
---
How COVID-19 has impacted American nursing homes
Outbreak in Kirkland, Washington
Nursing home visits banned nationwide
Federal oversight agency focuses on infection control
Veterans die of COVID-19 at Massachusetts home
Los Angeles County suggests taking loved ones home
California governor orders nursing home residents transferred to Navy ship
Nursing homes get COVID-19 test payments
Whistleblower nurse dies of COVID-19 in Massachusetts
Bodies discovered at New Jersey nursing home
Michigan orders nursing homes to build COVID-19 units
US government requires reporting of nursing home COVID-19 cases
Report finds 27% of all COVID-19 deaths are in long-term care facilities
Maryland mandates statewide nursing home testing
New York state backtracks on nursing home order
U.S. agency advises on easing visitation restrictions
$4.9 billion distributed to skilled nursing facilities
population at high risk for COVID-19
COVID-19 deaths in Indiana nursing homes are 58% of state total
New Jersey recalibrates ratio of nursing home residents, aides
Performance payments issued to nursing homes
long-term care
COVID-19 cases in nursing homes on rise again across U.S.
How COVID-19 has impacted American nursing homes
New York orders nursing homes to accept COVID-19 patients
Two-thirds of people 70 and older are at higher risk for severe COVID-19 symptoms