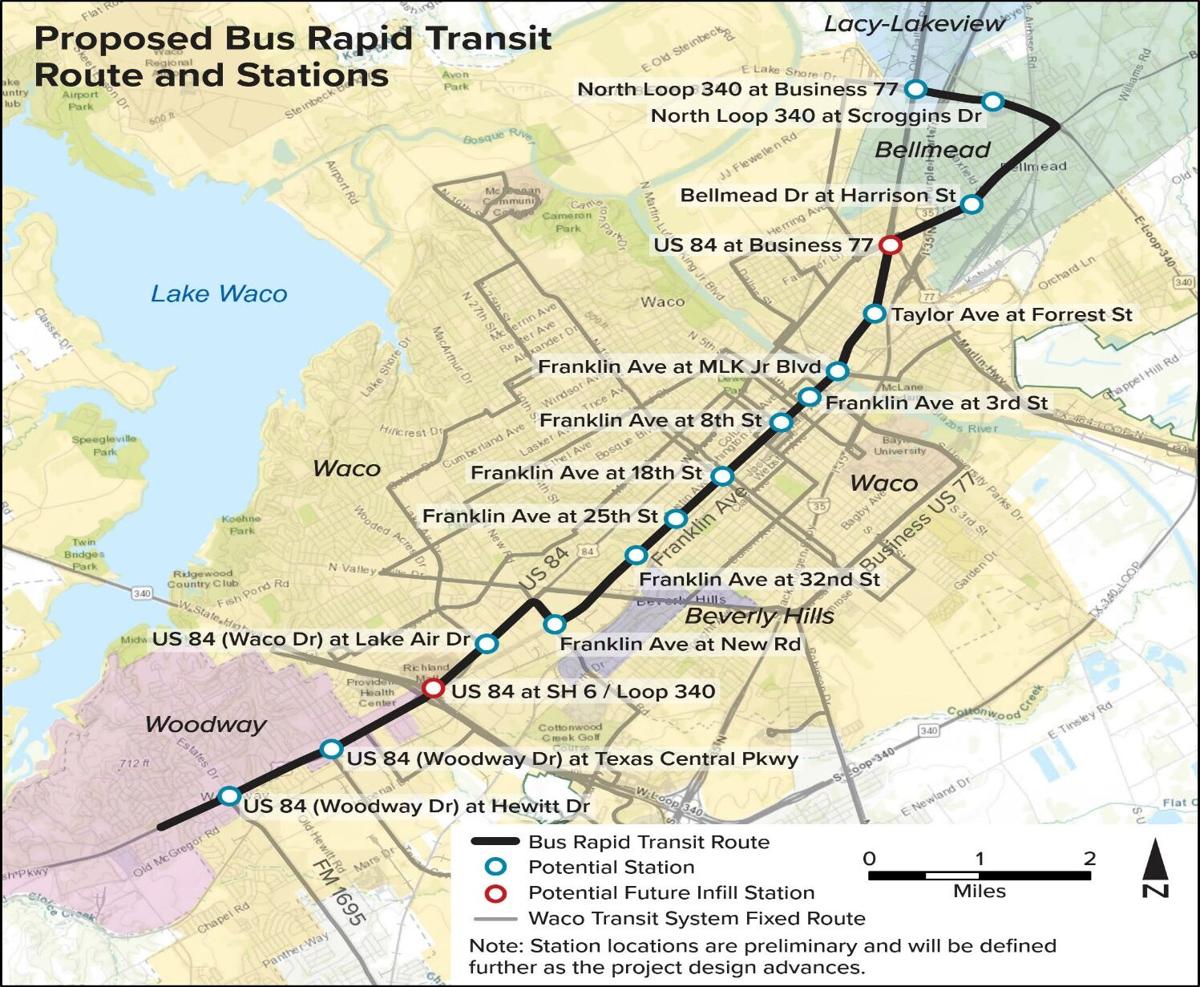 Several Waco-area projects already on the drawing board could become a reality with funding from the federal infrastructure bill signed into law last week, but it remains to be seen just how much Waco will be able to get, officials said.
The Infrastructure Investment and Jobs Act is set to send about $36 billion to Texas in the coming years.
According to the Texas Department of Transportation, Texas is expected to receive $26.9 billion in highway funding, $3.3 billion for public transportation, $2.9 billion for drinking water infrastructure, $1.2 billion for airports, $537 million for bridge replacement and repairs, $408 million for electric vehicle charging networks, $100 million for broadband expansion, $53 million for wildfire protection and $42 million for cyberattack prevention.
Waco Planning Director Clint Peters said one project came to his mind when he read about the bill, the Bus Rapid Transit line the city hopes to start building by next year.
The BRT would cut cross-town travel times in half by replacing current bus routes with one central bus line along Franklin Avenue and Highway 84 that would run from Lacy Lakeview to Woodway, with shorter bus routes branching off into other areas. The BRT would cost an estimated $30 million to $35 million to construct, according to a firm hired for preliminary engineering planning on the project.
The new estimate is higher than initial estimates that placed the project at $18 million or $19 million. During a city council meeting in April, members discussed potentially shortening the line to lower the cost or breaking the construction up in phases to spread the cost out.
"(The cost) has been part of the reality of it," Peters said. "There are the capital costs initially, and then the operational costs. So hopefully this will help move that forward."
Waco Mayor Dillon Meek said the city long has been planning ahead for new development while still maintaining aging infrastructure, and the newly finalized measure gives Waco more chances to fund projects. Meek said the city budgeted more than $110 million total for water, sewer, roads, parks and solid waste projects this fiscal year.
"We're doing the blocking and tackling of infrastructure in our city with our own city dollars, but some of these big projects that are needed can really benefit from federal funding, which we will actively go after," Meek said.
He said a plan to stabilize a segment of Lake Shore Drive that runs very close to Lake Waco is another high priority for the city. The Legislature granted the city $10 million as part of the Water Resources Development Act of 2020 to start working on stabilizing the road.
Chelsea Schultz, interim director of the Waco Metropolitan Planning Organization, said the new federal infrastructure measure is impressive, but money for construction, design and studies is mostly still distributed through competitive grants that pit jurisdictions against each other for the same funding.
In his interview, Meek said the city of Waco's staff has demonstrated a talent for attaining competitive grants.
"This is a huge for a growing community like Waco," Meek said. "We intend to be at the table for our fair share."
Schultz said the infrastructure act sets aside more direct funding for Metropolitan Planning Organizations and transit system, but for MPOs the funding will mostly cover the cost of meeting previously passed mandates on travel times, safety requirements and reliability standards.
"So now we are getting more federal dollars to do that work, but it's just sort of catching us up with what we've already been doing," Schultz said. "It's good news, because now we are getting the resources that we need to keep up with those regulations and probably some of the new ones that are in this infrastructure bill as well."
The federal measure includes $3.5 billion to weatherize the nation's infrastructure.
Schultz said climate change was a concern for transportation experts long before the winter storm that plunged Texas into a days-long disaster. TxDOT's research arm, the Texas Transportation Institute, has been sponsoring resiliency workshops since then, and Schultz said Waco's MPO will begin developing a resiliency plan for the area. She said the MPO's metropolitan transportation plan already notes bridges that are vulnerable to flooding and low water crossings.
"There's definitely an opportunity to expand that conversation and the research," Schultz said.
An after-action review covering the city of Waco's response to the disaster noted the city suffered network outages because the network infrastructure had no backup power and recommended fixing that.
Peters said the sustainability board and the new sustainability manager, Eric Coffman, are working on a policy recommendation that the city require electric vehicle charging stations for certain developments, like shopping centers. He said if the city is going to make a requirement for the chargers, it only makes sense to seek out funding for city-funded charging stations too.
Schultz said certain models of electric cars can temporarily act as emergency sources of power in the event of another blackout, which might drive more people to buy them in the years after the winter storm. The practice is not uncommon in parts of California impacted by rolling blackouts, she said.
She said it is difficult to predict how much funding will be distributed to Waco, especially because results from the 2020 census still may result in new MPOs being formed.
If Waco and the surrounding area has grown enough, it could also become a transportation management area, a designation for urbanized areas with a population of 200,000 or more that would mean access to more categories of funding.
Schultz said Waco MPO will hopefully have data for the Waco Urbanized Area from the United States Census Bureau by next spring.
TxDOT Waco District Engineer Stan Swiatek said he and his coworkers are already gaming out scenarios for how to use money allotted to the district.
Swiatek said one "likely contender" for funding is the widening of Interstate 35 from 12th Street to the southern intersection with Loop 340. That work initially was slated to happen at the same time as the ongoing widening from 12th Street to the northern intersection with Loop 340, but was split off because of funding priorities.
"The reason we didn't move on it is because the actual roadway itself was rebuild back in the '90s," Swiatek said.
Bridges in that southern stretch, however, are nearing the end of their designed lifespan, which will mean higher maintenance costs in the short-term, he said.
Swiatek said Highway 281, which runs from San Antonio to just west of Fort Worth through Hamilton County, is another priority for his TxDOT district, though the project likely will not start for several years. He said the planned work would improve the highway for semi-trucks, in an effort to free up I-35 for other traffic.
"They don't want to sit in Austin traffic 24 hours a day," Swiatek said. "Trucking companies are very, very efficient. They're going to go the quickest way, even if it's longer."