Mail-in voting for the November general election is on track to dwarf that of past presidential election years due to voters' fears of COVID-19, McLennan County officials said.
In the last presidential election four years ago, 5,574 votes came in through the mail, or about 7% of all votes.
This year, with a pandemic still raging and the Nov. 3 election two months away, McLennan County Elections Administrator Kathy Van Wolfe already has received applications for mail-in ballots from 8,100 of the county's 143,000 registered voters, with more expected by the Oct. 23 application deadline.
Voting by mail normally attracts little attention, but it has drawn new visibility with the COVID-19 pandemic, a crisis at the U.S. Postal Service and a president who derides universal mail-in voting as an invitation to rampant voter fraud.
Nine states are mailing ballots to all eligible voters, while another 35 will allow voters to mail in absentee ballots without having to give a reason.
Unless Gov. Greg Abbott changes policy, mail-in voting is limited to certain categories of Texans: voters 65 or older, people with a qualifying disability or those who plan to be out of the county during the three-week early voting period and on Election Day.
The Texas Supreme Court ruled in May that the lack of a coronavirus immunity alone does not meet the state election code's definition of disability, but it could be considered a factor as part of a voter's medical situation. The court left it up to voters to determine if they meet the election code's definition of disability.
Van Wolfe's office will start sending mail ballots to voters Sept. 18. No one will track how many voters claim a disability merely out of fear of coronavirus exposure, but Van Wolfe said those who sign their application forms are swearing that the information on the application is true.
"I think because of COVID-19, more and more people are choosing to vote by mail, where normally they would have voted in person even if they are eligible to vote by mail," Van Wolfe said. "But I think they are looking at what options they have if COVID-19 is worse than it currently is. I have gotten calls from people with caretakers who don't qualify, but they are worried about the people they are taking care of. They are not physically able to vote and they are going to vote by mail, but they don't want their caretakers exposed when they go vote. So I guess we are seeing more people involved with ballot by mail.
"But so far, unless the governor makes the decision to change, those requirements for ballot by mail aren't going to change. They are going to be the same as they always have. Claiming disability because you're afraid to be infected with COVID does not qualify."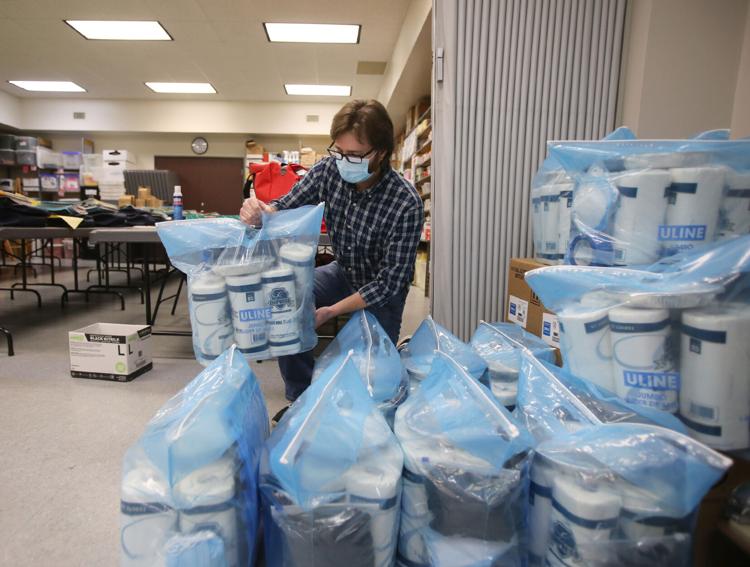 Besides the pandemic, controversy swirling around the Postal Service also has brought mail voting to the forefront. New Postmaster General Louis DeJoy came into office a few months ago and implemented a series of cost-cutting measures and other policy changes that caused delays in mail delivery. Critics feared the initiatives could undermine the Postal Service's ability to sort and deliver ballots in time to be counted, potentially disenfranchising millions of voters and eroding faith in the system.
The Postal Service has since suspended most of the changes, and DeJoy has assured lawmakers that the November election is his "No. 1 priority."
Van Wolfe, who has said the November election will be her last after 24 years as county elections chief, met recently with Waco postal officials, who also assured her that getting the absentee ballots processed and mailed is top priority.
"We haven't had any problem with the post office," Van Wolfe said. "They have always been very good to work with us. The (Waco-area) postmaster came to visit with us to find out when we are going to do our first mail-out, and they realized that getting that first mail-out is a priority. They just wanted to make sure we are all on the same page and working together."
Van Wolfe said the number of mail-in ballots could double the total in the 2016 election. About 60% of the county's registered voters voted in that election, and the number of registered voters since then has risen by about 7,000.
Voters can download a mail-in ballot application on the office website at www.mclennanvotes.com. Those who have applied for an annual application for ballot by mail before automatically will be sent one, Van Wolfe said. Voters also can write or call her office to request a mail-in ballot be sent to them, she said.
The key to making the process work correctly is for absentee voters to act promptly, Van Wolfe said. When voters get their mail-in ballots, they should read the instructions, mark the ballots, sign the yellow envelope, put a stamp on it and send it back as soon as possible. That way, voters can take any mystery or doubts about Postal Service capabilities out of the mix, she said.
Mail-in ballots also can be brought by the elections office at 214 N. Fourth St. in the basement of the county records building if they want to reduce the possibility of COVID-19 exposure. Voters, with identification in hand, can call ahead, and someone from the office will meet them at the curb, Van Wolfe said.
Van Wolfe also expects an increase in curbside voting in November for the same reason, although it was designed for those physically unable to come inside. Such voters can contact Van Wolfe's office, and its staff will contact one of the 34 Election Day voting sites, informing site workers of the vehicle description and time of arrival. Election workers will bring a voting machine out to the car, where voters can cast their ballots without risking exposure in lines.
As in the primary runoff, election workers will sanitize machines between voters and will take other precautions, such as social distancing, wearing masks and more.
"We have three weeks of early voting and ballot by mail and we are hoping that people will take advantage of that, and maybe the lines on Election Day won't be quite as long," Van Wolfe said. "But we do need to be patient, and if you are in line and you are eligible to vote, we are going to make sure that you get a chance to vote. But be patient and realize that it is going to take longer because the ballot is a long ballot and we no longer have straight party voting on the ballot. That choice isn't there, so it will take a little longer for them to go down for each contest."
The ballot will be topped with city and school elections that were postponed because of the pandemic.
The deadline to register to vote is Oct. 5. Early voting will run from Oct. 13 to Oct. 30 at five early voting sites.
Concerned about COVID-19?
Sign up now to get the most recent coronavirus headlines and other important local and national news sent to your email inbox daily.