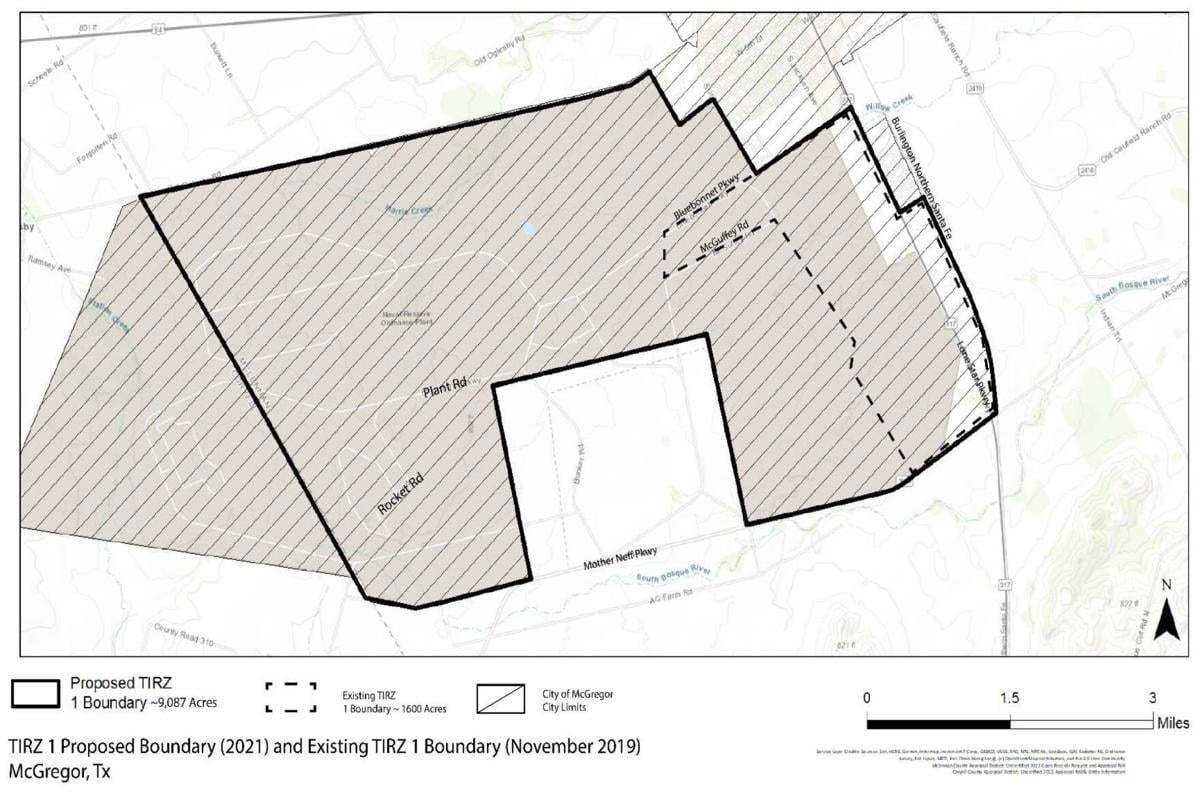 SpaceX and Knauf Insulation are building massive plants in McGregor's industrial park, and with more prospects knocking on the door, officials say the city needs more money designated to guarantee utilities, rail service and roads to all comers.
A plan city and economic development officials are pitching would allow for $106 million in public work in the industrial park in the next 40 years, according to their presentation.
Making the need for infrastructure more critical is a projection that businesses already committed to the park or nearing the announcement stage will swallow up 900 of its 9,600 acres within three years.
SpaceX's $150 million rocket production plant under construction will take a chunk, as will Knauf Insulation's 600,000-square-foot facility scheduled to open in 2023. But at least one unidentified prospect waits in the wings, said Andrew Smith, executive director of the McGregor Economic Development Corp.
McGregor representatives this week continued lobbying efforts before McLennan County and McLennan Community College representatives. They want the two taxing entities to join the city of McGregor in expanding its Tax Increment Reinvestment Zone Number One, from 1,600 acres to more than 8,000 acres in McGregor's industrial park. The expansion would designate a portion of property taxes on most of the park for use in the reinvestment zone.
Only the tip of the industrial park extending into Coryell County would not be captured by the expanded TIRZ. Smith said the 1,600-acre TIRZ was created in 2019, when McGregor was hoping Knauf would choose McGregor for its facility following a statewide search the Office of the Governor orchestrated.
Smith said the zone "is a very good economic development tool for smaller communities with projects on the scale we're talking about."
McGregor is about 15 miles west of Waco on U.S. Highway 84. It has a population of a little more than 5,000 people, but punches above its weight in the world of economic development, having at its disposal nearly 10,000 acres the U.S. Department of the Navy relinquished following an extensive cleanup. For decades, various defense-related contractors used the remote site.
Now it is home to a SpaceX rocket-testing facility whose periodic rumblings can be heard in North Waco, and which rattle windows in closer proximity. More important, it employs between 500 and 600, Smith said. SpaceX founder Elon Musk apparently thought if one plant in McGregor is good, two would be better. He announced that Raptor 2 engines, critical to his futuristic missions to Mars, could come together nicely near the testing site.
Smith said the new rocket production plant would employ 400, and construction is well underway.
With SpaceX and Knauf tucked away, McGregor now plans for the future. That is where the proposed expansion of TIRZ No. 1 takes center stage.
Smith tiptoed around the identify of yet another prospect.
"Until they are signed, sealed and delivered, I can't say anything," Smith said. "Is it manufacturing? Sure, in some form. It's not a huge footprint."
He suggested McGregor's vision goes beyond the next prospect to the one after that and the next. He said the city is in an area enjoying unprecedented success in attracting interest from industrial businesses.
"We have a number of prospects in various stages of looking," Smith said. "The comment I make to others is that the sun is shining on Central Texas, and we need to make hay before the rain comes. We may make it before I retire, though my wife says I will never retire. I've been in this role a little more than five years. Those of us in Greater Waco have the opportunity to do stuff some in economic development never get to do in a career."
Kris Collins, senior vice president for economic development at the Greater Waco Chamber of Commerce, often works closely with Smith. She said she could not comment on industrial prospects in the pipeline, but said using tax incremental reinvesting to provide sewer, water and rail services, and to build streets, "puts McGregor in position to receive more tenants."
Once the refined TIRZ No. 1 is formed, a baseline would be established reflecting the taxable value of real property in the zone, buildings and such, not furniture and equipment, for example. With growth above the baseline, 90% of tax revenue would go to development in the zone. The remaining 10% would go to the taxing entities.
A fact sheet presented to McLennan County Commissioners Court this week by McGregor representatives shows the taxable value of real property in the newly expanded zone would increase from $57 million in the base year to $471 million by 2062, while $108 million would be generated for infrastructure work, and improvements themselves would cost $106 million.