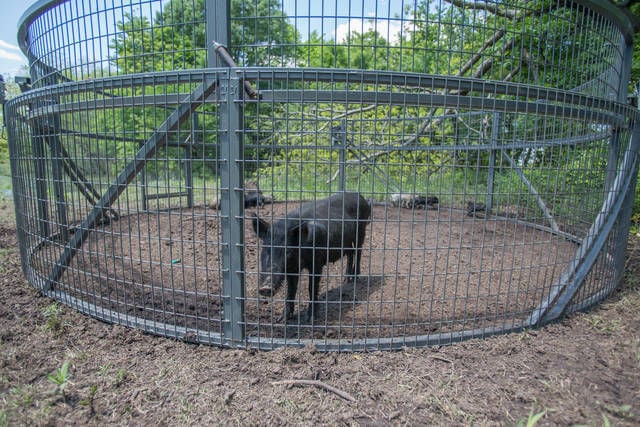 McLennan County is poised to pay $5 per tail for feral hogs, the ornery, tenacious critters whose numbers continue to grow and whose appetite is aimed at everything from crops to golf courses.
County commissioners support a plan to provide traps to anyone wanting to thin the wild pig population, either for spending money, meat or the satisfaction of knowing they are rendering a public service.
"These traps could be checked out and used to eradicate the feral hog presence locally," Agrilife Extension agent Jerod Meurer told the commissioners court.
The Texas A&M AgriLife Extension would administer the program, doling out hardware and advice on using so-called "corral" traps that allow swine to enter but not leave.
"Place the bait inside for an extended period of time, and you can get a large group of hogs, which is the most successful approach to eradicating these fellows. Catching one hog at a time is not going to make a big dent in the population," Meurer said in a phone interview.
The wild pig count now hovers at about 3 million and growing statewide. The statewide population doubled between 2006 and 2010, growing at 21% annually, said Michael Bodenchuk, director of Agrilife's Texas Wildlife Services division.
"We don't see that kind of percentage growth now because the state is completely saturated. We're talking about 4% to 5% per year," Bodenchuk said. "There's not many more places to put pigs."
He said he attended a hunt in Burnet County earlier in the week where two corral traps had been placed half-a-mile apart.
"We caught 60 pigs in those two traps overnight, 28 in one and 32 in the other," he said. "Just imagine the hog concentration in an area where you can catch 60 hogs overnight in a half-mile area."
Texas farmers and ranchers have no effective, widespread deterrent. Efforts by the Texas Department of Agriculture in 2017 to make available a warfarin-based poison approved by the Environmental Protection Agency faced headwind on several fronts. Some opponents claimed the blood-thinning chemical would cause agonizing, lingering deaths. Hunters said meat would be fouled. Landowners feared exposure to their livestock.
Texas Agriculture Commissioners Sid Miller said the product, Kaput Feral Hog Bait, was needed to prevent what he called a "feral hog apocalypse."
But the Texas Legislature stepped in to halt the use of Kaput, at least temporarily. Proponents, including the Waco-based Texas Farm Bureau, have mounted efforts to have state lawmakers reconsider.
Meurer approached commissioners about pursuing a $9,000 grant from Agrilife's Wildlife Services unit. The money would allow his office to buy four traps to loan out and to provide hourlong training classes to anyone interested in taking part in the program.
McLennan County would match the $3,000 earmarked for paying bounties.
"We would prefer that counties wanting to pursue a bounty program have some skin in the game," Bodenchuk said of the county match.
Participants could qualify for bounties of $5 per tail.
"The effort would be coordinated through this office working with farmers, ranchers and local producers who might not have funds to purchase traps themselves," Meurer said. "They would pay a nominal deposit, which would be refunded upon return of the traps themselves. If we get the grant, I'm going to have funds for about four traps, priced at $700 to $1,000 apiece. There are some very nice corral traps on the market, fully automated, costing multiple thousands of dollars. We will not purchase those at this point."
He said McLennan County is among 15 entities competing for grants.
Precinct 2 Commissioner Patricia Miller raised the issue of carcass disposal once tails are removed from feral hogs trapped and destroyed.
Miller, who voted to pursue the grant, said she occasionally sees feral hog remains strewn along roadways in her precinct.
Controlling the feral hog population has proved futile, Meurer said.
"Observationally, growth seems to come in waves," he said. "In summer months, people have more to do than spending nights hunting for pigs. It becomes work more than it does play, and it can get expensive. Generally what you see is people taking feral hogs as the temperature cools. Hunters already in the field, deer hunters, for example, do not hesitate to shoot hogs when they approach their deer feeders."
Feral hogs not only wreak havoc on row crops such as corn and milo but also rip into hay bales and have been known to prey on livestock, particularly sheep, goats and newborn calves, said Tracy Tomascik, associate director for the Texas Farm Bureau's commodity and regulatory division.
"Environmentally speaking, Texas is in a different place today than it could have been had the growing hog population been dealt with in the 1990s," Tomascik said. "Since they are omnivores, they are a real menace, their rooting contributing to erosion along the watershed. They eat frogs, reptiles and nesting birds. And there is no real predator for them."
The Texas Farm Bureau supports addressing the situation "by any means practical, legal and effective," he said.
Bodenchuk said the state is making $98,600 available for this year's county-sponsored statewide feral hog abatement program. He said his office typically receives requests totaling $250,000 during each funding period.
He said not all counties include bounties in their trapping programs.
"There has been a lot of research into the effectiveness of bounties, and some suggest they do not generate new kills," Bodenchuk said. "Counties end up paying for pigs already killed. It could be that bounties get more people out there hunting, spending money on snacks, groceries and gas."