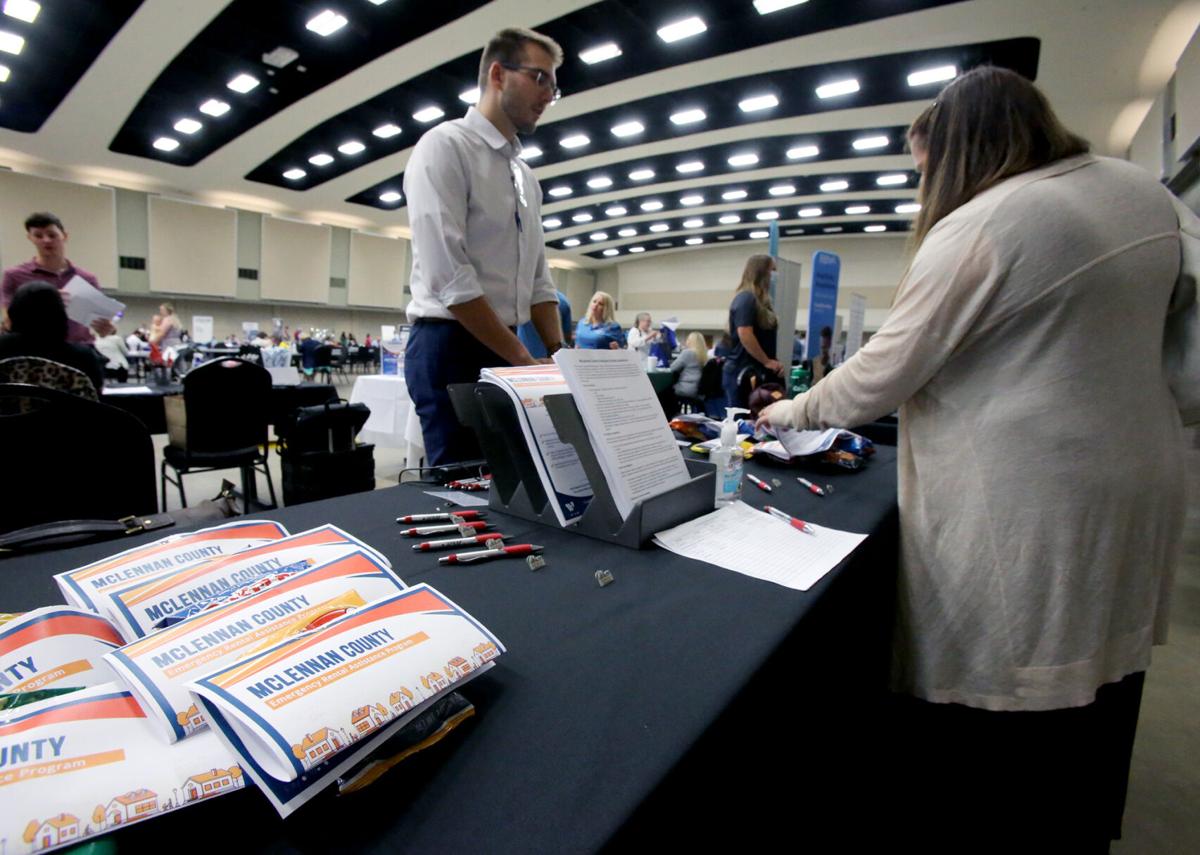 The federal government could take back rent relief money set aside for McLennan County and other jurisdictions that were too slow to help renters hit by the pandemic.
Monday was the deadline for jurisdictions that haven't used at least 30% of their Emergency Rental Assistance program allotments to submit program improvement plans or risk losing the funding altogether.
McLennan County, which has used less than 15% of the $7.7 million it received in the first round of the program's funding in December 2020, submitted its improvement plan Monday, County Administrator Dustin Chapman said.
The city of Waco had administered the program until Oct. 31, when it handed it off to the Economic Opportunities Advancement Corporation. The Waco-based nonprofit, founded in 1966, administers assistance programs and Head Start for McLennan and eight counties in the region.
In its application, the county promises to work with EOAC to get the word out through advertising, social media and possibly TV and radio. Other strategies include giving asking local municipalities for help promoting the program and contacting landlords and large apartment complexes directly.
Twenty months into the pandemic, it continues to have an economic impact on renters such as Zac Karnowski, who was standing in line at the downtown EOAC office Monday to apply for rent relief.
Karnowski said he and his fiancée have been struggling since they both caught COVID-19 last month.
Karnowski in October missed several weeks of work as a hand to a welder, the step between an apprentice and journeyman. His fiancée kept working part-time as a server, which brought in some money, but four days before the end of his quarantine, she tested positive for COVID-19, too. That put her into quarantine and extended his quarantine, Karnowski said.
"I had just enough money to get all of our utilities paid, to keep everything current, keep our lights on, keep our water running," Karnowski said. "Then we went from not having September's to not having October's to being here now. I thought I'd be able to catch up, but keeping everything current and catching up on the stuff is pretty hard to do."
He only found out about it through his landlord last week, after two months of not being able to afford rent on the house the couple is renting to own. Under the program, landlords also have the option to apply on tenants' behalf.
"I thought the programs had all gone away, or that they were very limited," Karnowski said. "Now I'm here, trying to get a little help for the last couple of months."
Karnowski said he suspects there are lots of people who qualify for the program but just don't know about it. He suggested leveraging Baylor football games or other events that attract attention to spread the word to the community.
"I wouldn't say it's hard to find, but it's something you have to search for. It's not a program that finds you," Karnowski said.
A September analysis from the nonprofit advocacy group Texas Housers reported McLennan County ranked 15th overall out of 23 Texas jurisdictions that reported spending any rent assistance money, with 9.4% of the $7.7 million distributed and 0.29% of eligible households receiving assistance.
The city of Corpus Christi, Hays County, city of Laredo and Nueces County had not distributed any funding as of the September survey, and another eight jurisdictions didn't supply complete information about their programs.
The nonprofit recommended a short-term moratorium for tenants with pending rent assistance applications, on the grounds that it can take up to six months for tenants to get funding. Texas Housers also suggested assigning representatives for the program in eviction courts to let tenants and landlords know about the program, a step McLennan County has already taken, according to the county's improvement plan.
Waco Housing Authority spent $25,000 on assistance with the program for for public housing tenants after realized a significant number who were eligible for rental assistance weren't applying.
The "navigators" sent by the Austin-based Workforce Partners Management Group found residents didn't know how to apply in most cases, or couldn't follow the clunky bureaucratic language in the application.
"Without [the program], I'm not sure what kind of assistance people would have in our community," Waco Housing Authority Director Milet Hopping said. "It is pretty important that it continues, if possible."
Links to the program can be found online at covidwaco.com, the city-county site for all pandemic-related information. The EOAC's office at 500 Franklin Ave. has applications for the rent program and a utility payment assistance program in containers by the front door. EOAC is open from 8 a.m. to 5 p.m. Monday through Friday.