After presiding over seven presidential elections, McLennan County Elections Administrator Kathy Van Wolfe is less conflicted about leaving her post than the current occupant of the White House.
Van Wolfe, 62, the county's election chief for the past 24 years, is retiring, stepping down after one of the most tumultuous, complex election years punctuated by COVID-19 fears and a president who is challenging the integrity of the the democratic process.
Unlike President Donald Trump, Van Wolfe said she is ready to retire, secure in the knowledge she has left behind a firm foundation for future elections in the county and a legacy of fairness, impartiality and integrity.
"I am totally happy to be retiring," Van Wolfe said. "We made it through the November election, I'm totally happy it is over and totally happy to be moving on. I love what I do and I have enjoyed getting to know a lot of good people, but I won't miss the stress of the job. And I feel lucky to retire with enough time to still enjoy myself instead of just leaving and going straight to the home."
Van Wolfe was hired in September 1996 and she conducted her first presidential election in McLennan County two months later. Before moving to Waco, she was county elections administrator in Fort Bend County for five years and worked as former State Sen. Buster Brown's office manager in Austin for two years before that.
But this election cycle was unlike any other, transforming from the postponement of city and school elections because of pandemic concerns to an all-time local record turnout, starting with more than 80,000 voters casting early ballots.
"We did fine here in McLennan County, and Texas as a whole did well," Van Wolfe said. "I am happy about that and happy that we are not involved in what is going on across the nation right now. I think my job is to keep the county off the front page of the newspaper, so I did my job. It was a different election because of COVID, of course. We even had voters with COVID who wanted to go vote, and we had to deal with that while trying not to put anybody at risk.
"It was unusual, very unusual. We had never had to deal with that before, plus the sheer amount of people who came out and voted — 80,000 people voted early. That was a tremendous amount that we hadn't seen before. Never had that many voted early before, and it made it a whole lot easier for Election Day."
Van Wolfe said the past election was "a good one to get out on," joking that she might not be the only election official considering retirement in its wake.
"The whole year was just kind of crazy," she said. "I am happy as I can be. I am pleased with what I have done. I think I have left a good foundation for this office. I tried to make a difference, and I think I have. We have gone through a lot of changes in the 24 years I have been here and I hope to leave it in good shape so they don't have to reinvent the wheel and won't have to start over and can build on this foundation."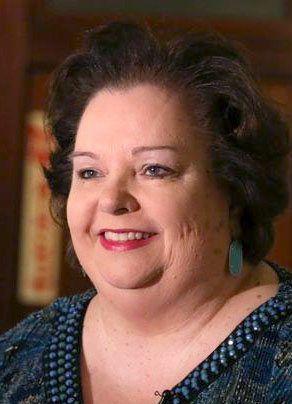 Van Wolfe put in a new voter registration system in 2000, and in 2005, the office got new voting equipment, moving from paper ballots to the current electronic voting system. Six years ago, the county converted to Election Day vote centers, where voters can vote at any of the county's voting sites, rather than only the site for their precinct.
Graduating from Texas State University with a bachelor's degree in finance, Van Wolfe planned to become a banking examiner, she said. But a switch in plans led her to elections management, and that soon became a passion for her, she said.
"I really love what I do. I really have a passion for this," she said. "So it never really felt like work because I really believe in the system."
Van Wolfe's son, Tommy, daughter, Claire, and three grandchildren hosted a retirement reception for Van Wolfe on Tuesday, where she received proclamations from Gov. Greg Abbott and the Texas Senate.
The county election commission has named Van Wolfe's assistant elections administrator, Jared Goldsmith, as acting administrator while it considers applications for Van Wolfe's permanent replacement. Goldsmith has been working in the office for four years and is among the applicants.
County Clerk Andy Harwell, the only election commission member who was on the board when Van Wolfe was hired, said the county has been lucky to have someone of Van Wolfe's caliber to oversee the office.
"I think Kathy did a wonderful job as election administrator for all these years," Harwell said. "I think she did her job the way that she needed to and I think she ran good elections for the county. We want the voters to continue to feel confident that the elections will be run fairly and accurately here in McLennan County."
McLennan County Judge Scott Felton said Van Wolfe is "arguably one of the best in the state of Texas," and she will be hard to replace.
"She will be missed. She is looked up to by a lot of peers and the folks she works with," Felton said. "That is probably one of the worst jobs a person could have in regard to trying to deal with the public and their expectations, but she has a fierce resolve on how her job should be done and she was excellent."
Peaches Henry, president of the McLennan County chapter of the NAACP, said she would like the election commission, which is made up of Harwell, Felton, Tax Assessor-Collector Randy Riggs and the two local political party chairs, to focus on increasing racial equity in the office, not only in the chief but the office staff, also.
Henry said she hopes Van Wolfe's replacement is committed to increasing voter registration, engaging young people in the election process and recruiting young people to become election workers.