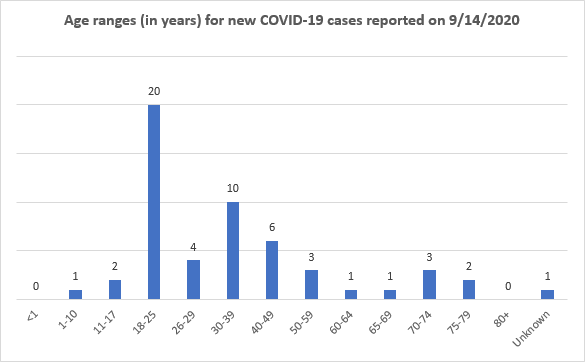 McLennan County reported Monday that 54 more people have tested positive for COVID-19, following two coronavirus-related deaths over the weekend.
The Waco-McLennan County Public Health District reported that an 80-year-old Latino man died Saturday and a 61-year-old Latino man died Sunday. That brings the county death toll to 91 people.
Most of the county's deaths occurred in July and August, with 36 reported in July and 38 in August. In September, eight people have died so far, according to health district figures. More than half of those deaths have been among Black and Latino people.
Of the 54 cases reported Monday, 20 involved people between 18 and 25 years old, continuing a local trend of more college-age people testing positive for the coronavirus. Another 20 people between 26 and 49 years old tested positive, as well.
Health district spokesperson Kelly Craine said people in those age groups are likely to be working, attending school or running essential errands for older and younger people, so they are more likely to be exposed to the virus.
The seven-day rolling average number of people testing positive for COVID-19 has decreased over the past week, from 49 people on Sept. 5 down to 32 on Sunday. 
In that same time frame, the seven-day average number of tests coming back positive also has dropped, from 13% to 8%.
Craine said she was cautiously optimistic about the numbers because they mean that people are following public health guidelines such as wearing masks and avoiding large gatherings, but she urged people to continue to take measures to slow the spread of the coronavirus.
Since the beginning of the pandemic, at least 7,188 McLennan County residents have tested positive for COVID-19. An estimated 485 people are currently sick with the disease, according to the health district.
Waco hospitals were treating 38 COVID-19 patients as of Monday, including 19 McLennan County residents and six people who were on ventilators.
Meanwhile, three people connected to Kendrick Elementary School in Waco have tested positive for COVID-19 as of Monday, according to Waco ISD's online dashboard. If there are fewer than five total cases at a location, the dashboard will not report how many of those cases were students and how many were employees.
On Monday, Midway ISD reported five active cases among high school students — a ninth-grader, two 10th-graders, an 11th grader and a 12th-grader. A third-grader at South Bosque Elementary also has tested positive, as well as a sixth-grade student and a staff member at River Valley Intermediate School, according to the district's dashboard.
Waco Independent School District Chief of Staff Kyle DeBeer explained the investigation process when someone tests positive to the school board last week. He said the process begins with the district's health services department interviewing the person who tested positive and first establishing the period during which that person would have been infectious. For someone with symptoms, that time frame begins two days before they had symptoms. For someone without symptoms, it begins two days before that person took a test.
Once that time frame has been established for each person who tests positive, the health services department walks through each day with the person, seeing where they went throughout the day, who they came into contact with and the physical setup of the rooms they were in with other people, DeBeer said. With that information, the department builds a list of close contacts, or people who were within 6 feet of the person who tested positive for at least 15 minutes.
Whether the close contacts wore a mask in the presence of the sick person is not considered part of the criteria for excluding or including individuals as close contacts, DeBeer said. The district follows the U.S. Centers for Disease Control and Prevention guidelines.
"One of the most effective tools that we have for controlling the spread of the virus on our campuses is to very quickly identify anyone who may have been exposed to someone who has since tested positive, and to do that, we really need people to self-report as soon as they learn that they've tested positive," he said. "We want them to feel comfortable coming to us, sharing that information, knowing that their person identity won't be revealed, but that we will use the information they share to make sure that the virus doesn't spread on our campuses."
The district, sometimes through the health services department or campus principals, then communicates with the close contacts of the sick individual and tells them how to quarantine themselves at home for 14 days from the last time they were in contact with the sick person, DeBeer said. Then the campus or other facility where the individual who tested positive was notifies everyone there of the positive case. An email and letter are sent to families and staff members in English and Spanish.
Free COVID-19 testing will be available Wednesday and Thursday from 8 a.m. to 5 p.m. at Toliver Chapel Missionary Baptist Church, 1402 Elm Ave. The drive-thru testing site requires registration at https://texas.curativeinc.com/welcome.
The next round of free testing will be from Sept. 24 to Sept. 26 from 8 a.m. to 4 p.m. at the Waco Multipurpose Facility, 1020 Elm Ave. This is a walk-up site that does not require registration.
Concerned about COVID-19?
Sign up now to get the most recent coronavirus headlines and other important local and national news sent to your email inbox daily.