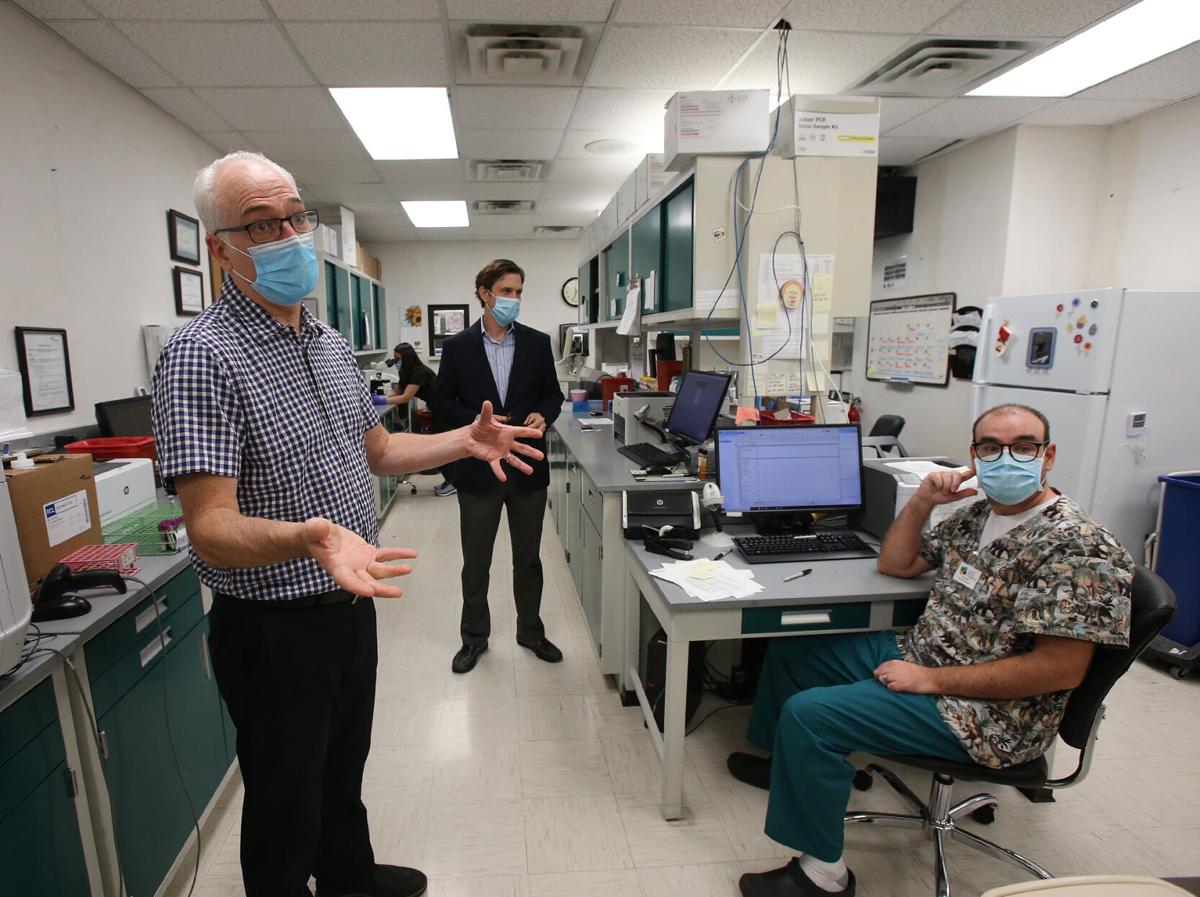 McLennan County commissioners Tuesday pledged $3 million toward a mental health crisis center that may reduce the need for law enforcement intervention and crowding at area emergency rooms.
Unanimously commissioners voted to give Heart of Texas Region MHMR a third of the $9 million it needs for a 16-bed Crisis Hub. It is planned at 6400 Imperial Drive, in a building once housing Jim Hawkins' FirstCity Financial Corp., later serving as Magnolia-related office space.
Commissioners also allocated $2.5 million to Waco Family Medicine's efforts to build a new $51 million facility. McLennan County Judge Scott Felton said Waco Family Medicine's fundraising campaign is aimed at broadening its services, some of which are mental-health related.
Felton said during an interview it is his understanding MHMR, meanwhile, has raised enough money to hold a ribbon-cutting ceremony this fall. He said the Crisis Hub would qualify for funding from other governmental entities.
The county allocated its $3 million from the $49 million it has been promised from the federal American Rescue Plan aimed at mitigating the economic impact of COVID-19. The county so far has received about half that figure.
The city of Waco has qualified for about $35 million from the American Rescue Plan.
"This is a well supported project," Felton said of the Crisis Hub.
He said Behavioral Health Leadership Team Waco meets regularly to discuss problems and possible solutions to meet mental health needs countywide. County representatives on the team include Felton, Precinct 3 Commissioner Will Jones, McLennan County District Attorney Barry Johnson and Jail Administrator Ricky Armstrong.
"Although we have expanded our relationship with MHMR inside the jail, a crisis center keeps people from going to jail if they're not violent but having an episode. They are placed there and treated while efforts are made to place them in a facility offering long-range stability," Felton said. "Same with emergency rooms. They're having a psychotic episode, but they haven't broken the law. They could be taken right to the crisis center."
The building that will become an MHMR-designated Crisis Hub is about equal distance between Baylor Scott & White Hillcrest and Ascension Providence hospitals. It has vacant acreage behind it that would accommodate expansion.
The Bernard and Audre Rapoport Foundation in January announced a $100,000 grant to pay for Crisis Hub planning documents and facility design. That step came after almost three years of discussion and planning by a cross-section of local governments, medical professionals and nonprofits.
At that time, Assistant City Manager Ryan Holt, who had just wrapped up a tenure as police chief, said the center would be a major step in meeting community needs.
"I've been saying from the mountaintops for a decade or more we need to address mental health and its lack of funding from the state and federal systems," Holt said at the time. "We need this to be a holistic response."
Last year, Waco police answered 433 emergency detention order calls with an average of 8.3 hours spent per call, Holt said in January.
MHMR officials could not be reached for comment Tuesday.
Also Tuesday, commissioners heard during a closed meeting about a $3.5 billion economic development project that would create more than 4,000 jobs somewhere in McLennan County. The project has been dubbed "Project Darwin Biggest" by the Greater Waco Chamber of Commerce and industry recruiter Kris Collins, who spoke with commissioners publicly and privately.
During the public portion of the meeting, Collins told commissioners the chamber has enough projects in its pipeline to create 10,309 jobs. These include businesses wanting to build a facility or expand an existing one.
She said SpaceX's announced plans to expand its rocket-testing facility in McGregor to include rocket manufacturing capabilities would create 400 new jobs there by 2026 and have a $1.6 billion economic impact over 15 years.