The Waco City Council took the first of multiple votes Tuesday night to create a new tax reinvestment zone, though three of the six voting members had to abstain because of conflicts of interest.
The proposed Tax Increment Reinvestment Zone, covering 17.4 square miles spread across multiple areas of town, is intended to fund public infrastructure and encourage development in underdeveloped parts of the city. The former site of Floyd Casey Stadium and the closed Oak Farms milk plant on Faulkner Lane in East Waco are among the included areas. A similar reinvestment zone already covers downtown Waco.
"We're strategically creating a TIRZ that's in our blighted, aging commercial corridors and a few greenfield sites to support reinvestment in the core of Waco," Waco City Manager Bradley Ford said.
Waco Mayor Dillon Meek had to abstain from the vote because a company he is invested in, Nickel Road Capital LLC, owns a building in the zone. Council Member Kelly Palmer is no longer teaching at Baylor University, but because she was a university employee within the last year she is also barred from voting. As the director of the Veterans Clinic for Baylor's law school, Council Member Josh Borderud cannot vote either.
"It's all about who owns property in the (TIRZ)," City Attorney Jennifer Richie said in an interview Wednesday. "It's not unusual."
Richie said in the event that four or more council members have conflicts of interest, all six would get to vote as though no conflicts exist.
The proposed TIRZ would exist from 2021 to 2051, and in that time the city projects its taxable property value would nearly double, from $616 million to $1.2 billion. The citywide net taxable property value for this year is about $11.6 billion.
Seventy percent of city, county and McLennan Community College taxes on property value in the zone above that $616 million baseline would be limited to use in the zone.
A preliminary financing plan presented to the council indicates the zone could generate and use $40 million for infrastructure, $10 million for detention and drainage, $12 million for street improvements, $12 million for trails and connectivity projects, $10 million for parks and recreation, $5 million for economic development and $1 million for planning, administration and legal costs over the zone's 30-year term.
Economic Development Director Kent George and Naina Magon, an economic and finance specialist for Hawes Hill & Associates, a planning and development firm based in Houston, gave a presentation to the council during Tuesday's work session.
"This new zone, like its predecessor, will provide our community with an incredible opportunity to plan and execute strategic economic development projects for decades to come," George said.
The proposed boundaries include most of East Waco, the former site of Floyd Casey Stadium, areas north and south of downtown Waco, large tracts along South Loop 340, and corridors along La Salle and Franklin avenues and 18th and 19th streets. The boundaries also include Cottonwood Creek Market, which is already under development along Interstate 35 near New Road; land across the interstate where officials previously have questioned the need for public incentives for development; property along the Bosque River off Lake Shore Drive where a $25 million campground is under construction; and a Central Freight complex near Waco Drive and Lake Air Drive, whose new owners have announced plans to redevelop.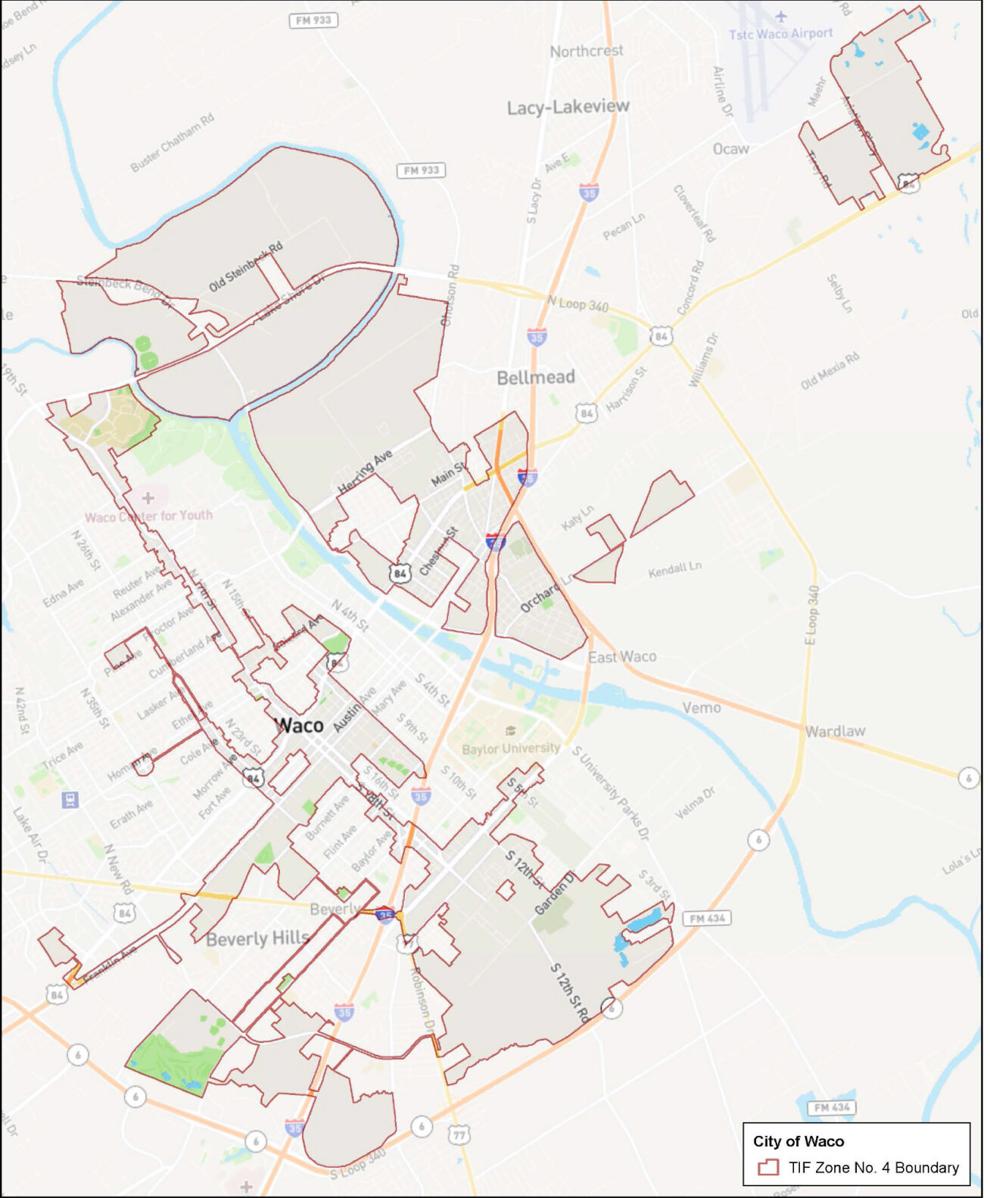 Magon said a TIRZ can let a community drive development in a specific direction, and the proposed zone was designed to include underdeveloped areas of Waco. Under the proposal, tax revenue on 70% of any property value created after this year would be set aside to pay for use in the zone. The remaining 30% would go back to the taxing entity's general fund.
About 25% of the proposed zone is residential, under a 30% limit in state law, and about 55% of the zone consists of vacant land.
"Many communities don't have that," Magon said. "You've got a good amount of vacant land included here to generate new investments and generate revenues to support public projects."
She said 59% of the zone's overall revenue would come from the city, 33% would come from the county, and 8% from McLennan Community College.
While the city more often uses its existing TIRZ to award grants covering qualifying expenses for new developments, the zones also can fund public improvements directly. Those projects have to be included in a plan approved by the city council.
Tuesday marked the first public hearing in a lengthy process to create the zone. Waco City Council will vote on creating the zone during a Dec. 21 meeting, and the new TIRZ board and city council would approve a financing plan and project list sometime next year.
Council Member Jim Holmes said he is optimistic about the new TIRZ.
"This should accelerate the pace of development in those areas, and by accelerating the pace of development we will establish a more robust tax base there," Holmes said.
City redistricting
The Waco City Council also voted to approve the following changes to the council district map:
Moving a section of District 4 hemmed in by Reuter Avenue, North 15th Street, Lyle Avenue and North 25th Street to District 1.
Moving residents of District 5 hemmed in by Hillcrest Drive, North 33rd Street, North 41st Street, Bosque Boulevard, Lake Air Drive, Cobbs Drive and Starr Drive to District 4.
Moving a portion of District 3 bordered by Bosque Boulevard, North 36th Street, Waco Drive, Valley Mills Drive and New Road into District 4
Moving part of District 3 bordered by Memorial Drive, Holly Vista Street, Speight Avenue, Columbia Street, the I-35 service road and New Road to District 2.
"This has been a challenging year for redistricting," Meek said. "The census was delayed significantly, which made us really rush to get this done, but we didn't rush by sacrificing product."
The council opted to appoint an advisory committee of people from each district, which Borderud said was especially useful.
"It's been a pleasure working through this and sad to say goodbye to the neighbors I've represented in Brookview and the South Waco portion of Kendrick, but that's the nature of growth, and I'm looking forward to serving those on the new map," Borderud said.