Despite COVID-19 still gripping the nation and infecting millions, including President Donald Trump, McLennan County Elections Administrator Kathy Van Wolfe said excitement is high and voters are eager to get to the polls.
Early voting starts Tuesday and continues three weeks, with an extra week added this year by Gov. Greg Abbott because of the pandemic.
While local election workers are taking extra precautions against the coronavirus to help protect themselves and voters, just as they did during the primary election, the number of voters who have chosen to mail in their ballots this year has more than doubled from four years ago.
Voter interest is always more intense in presidential election years, but Van Wolfe, who is retiring this year after 24 years as local election chief, said she has not seen buzz like this around an election since 2008, when President Barack Obama was elected.
"I think they are ready to vote," Van Wolfe said. "They have their minds made up and they are excited. This seems like the most excited the voters have been since 2008, and it also seems this one has brought out a lot of first-time voters."
See real-time trackers following major issues of the presidential race along with charts showing how social media users respond to Trump and B…
Van Wolfe fielded a call at her office this week from a 72-year-old woman who had just received her voter registration card. She asked about voting procedures and said she had never voted before but was planning to vote this time, Van Wolfe said.
"She had never voted before but she was very happy to be voting this time," she said.
Van Wolfe is predicting 65% of McLennan County's 148,962 registered voters will turn out. That would eclipse the 62.1% of the 130,428 registered voters who cast ballots in 2008.
McLennan County Election Office workers have mailed out 11,772 absentee ballots so far and report 5,930 of those ballots had been returned as of Friday. The deadline to apply for a mail-in ballot is Oct. 23.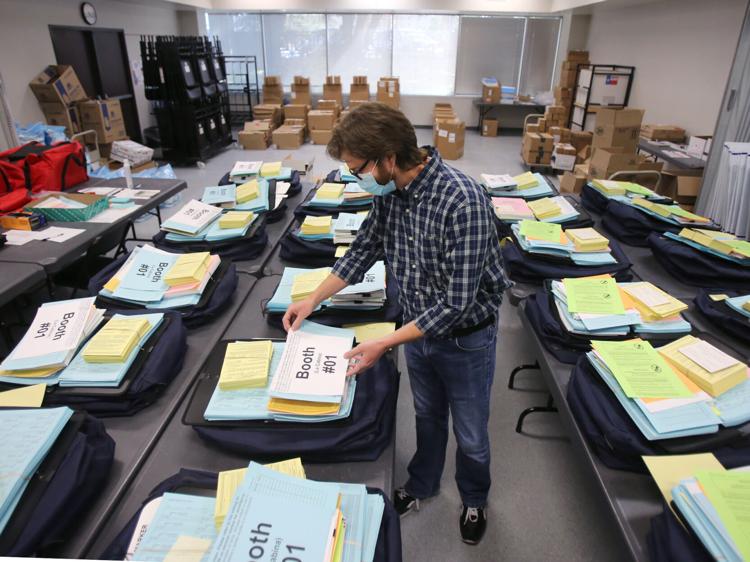 There are five early voting locations in McLennan County, including the McLennan County Elections Office, the Robinson Community Center, the Waco Multi-Purpose Community Center, First Assembly of God Church in Waco and Hewitt City Hall/Library.
Early voting hours will be 8 a.m. to 5 p.m. Tuesday through Friday 7 a.m. to 7 p.m. Saturday and 1 to 6 p.m. Sunday.
Early voting hours return to 8 a.m. to 5 p.m. Oct. 19 through Oct. 23, with the weekend polling hours being the same as the previous one.
Hours will be 7 a.m. to 7 p.m. Oct. 26 through the Oct. 30 close of early voting. Election Day poll hours Nov. 3 also will be 7 a.m. to 7 p.m.
The deadline to register to vote has passed. Van Wolfe encourages everyone voting in person to wear face coverings and to bring an approved form of identification, such as a driver's license.
"I would encourage people to vote early so we can reduce the lines on Election Day," Van Wolfe said. "You have three weeks, including Saturday and Sunday with extended hours. If you voted by mail but changed your mind and want to vote in person, you can bring your ballot in with you to our office and we can cancel that ballot by mail and you can vote in person."
Anyone wanting to turn in mail-in ballots themselves can drop them off at the Elections Office at the County Records Building. A voter can only bring in his or her absentee ballot.
As they were during the primary election, voters will be given souvenir pens to sign in with and a pencil with which to navigate the wheel on voting machines to reduce contact with machines.
There are 70 ballot combinations and 91 precincts in the county for this election. Voters who live in areas with city and school elections will find those candidates on the top of their ballots before scrolling down to the presidential election and candidates for federal, state and local offices.
Sample ballots and other election information can be found on the McLennan County Election Office's website, www.mclennanvotes.com. Anyone with voting questions can call the office at 757-5043.
How likely voters are to vote by mail in every state
How likely voters are to vote by mail in every state
#51. Tennessee
#49. Alabama (tie)
#49. Arkansas (tie)
#48. Louisiana
#47. Missouri
#46. Oklahoma
#45. Mississippi
#44. Indiana
#43. Texas
#42. Wyoming
#40. South Carolina (tie)
#40. New Hampshire (tie)
#39. South Dakota
#38. North Carolina
#37. West Virginia
#36. Delaware
#35. Georgia
#34. Virginia
#33. Kansas
#31. Pennsylvania (tie)
#31. Alaska (tie)
#30. New York
#29. Kentucky
#28. Connecticut
#27. Rhode Island
#26. Idaho
#25. Ohio
#24. Illinois
#23. Iowa
#22. Minnesota
#21. New Mexico
#20. Wisconsin
#19. Florida
#18. North Dakota
#17. Nevada
#16. Nebraska
#15. Massachusetts
#14. Maine
#13. Michigan
#12. Vermont
#11. New Jersey
#10. Maryland
#7. Arizona (tie)
#6. California
#5. Washington DC
#4. Colorado
#3. Hawaii
#2. Oregon
#1. Washington
#9. Montana
#7. Utah (tie)
Concerned about COVID-19?
Sign up now to get the most recent coronavirus headlines and other important local and national news sent to your email inbox daily.