Gibson, a Bellmead City Council member since 2015, has joined other elected officials in solidarity to offer more support to local organizations helping kids day-to-day, aiming to target the root of what is behind youth violence through the Save Our Children initiative.
"For a young man to be taken down in his own community, it affects the whole community," Gibson said. "It starts with the students, with the parents, with the schools, with us. It's a collaborative effort."
McLennan County Commissioner Patricia Chisolm-Miller said she had been trying to brainstorm a way to address gun and gang violence in the area, realizing the importance of community leaders participating in the conversation.
By bringing people "around the table," Miller realized there are organizations with the right goals that need help from people in positions of authority in order to be as effective as possible.
"What we realize is that we have organizations out there that have been working for years, some for decades, with young people but they have not been undergirded in a way to help them maximize participation, so that is what this initiative is about," Miller said.
Waco City Council Member Andrea Barefield said the initiative is about presenting a unified front to address youth violence.
"It was just to the point where we have to figure out how we engage. How do we promote the organizations that are already a guide or resource for young people as an alternative to engaging in criminal activity?" Barefield said.
Waco Independent School District trustees Keith Guillory and Jeremy Davis knew they needed to be a part of the solution.
"We have organizations within our city that are being funded that aren't getting into the root of the issue," Guillory said. "But we have organizations that are taking care of the root of the issue but they aren't being funded, and those organizations are the ones that really need to be highlighted in a community. … A lot of money is going to the organizations at the top hoping that it trickles down into the community but it is not getting there."
Organizations highlighted through Save Our Children include Mentor Waco and Vision4Youth, which offer support to single-parent households, a root issue, Guillory said.
Vision4Youth cofounder Philip Stone said he pulled inspiration from his past to help kids avoid falling into the same bad situations he did.
"I had a rough past," Stone said. "I didn't want to see young children go through those bad roads that I went down."
He said he has already spoken with Miller and with Mentor Waco officials about how to reach kids during the summer by providing fun activities that leave room to establish a one-on-one connection for mentoring.
"These are the organizations that are directly impacting young people's lives, but a lot of the money that you see that comes in from the city is going to the organizations that are bringing in sandwiches and apples and are not getting in there with the young people and making a difference in their lives," Guillory said.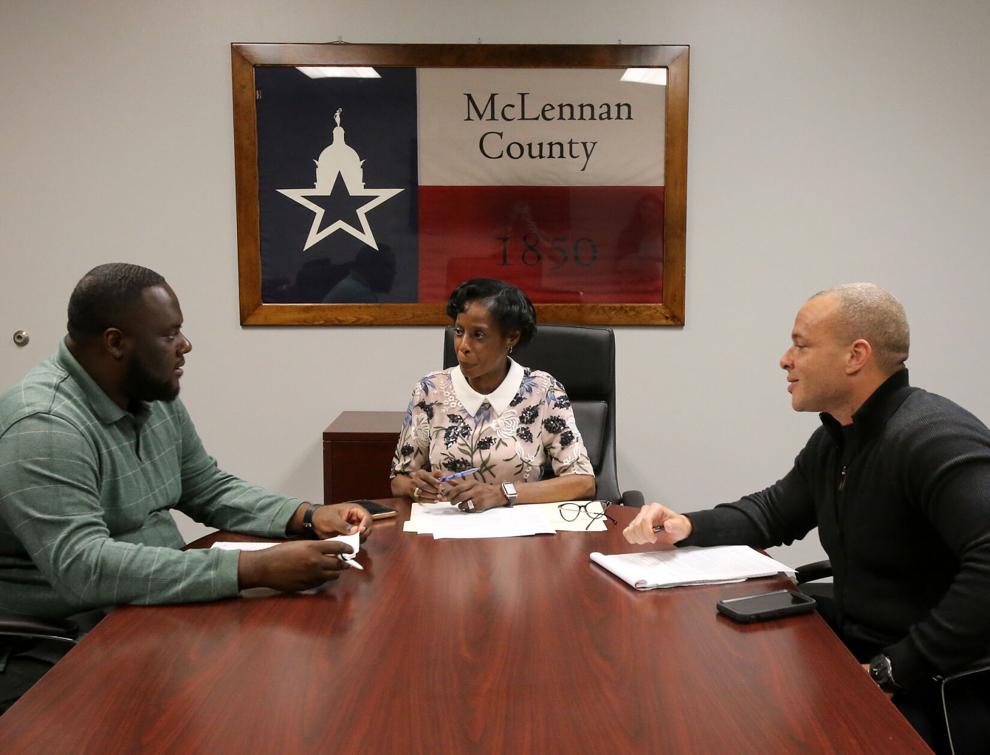 Miller said she appreciates the "hands on" approach from Vision4Youth and said that the community owes it to those types of organizations to fund them.
Also being highlighted is The New Black Collective, a nonprofit dedicated to giving back to the community by implementing community initiatives that help improve the access to education and opportunities.
University High School graduate Jasmine Bledsoe, cofounder and president of The New Black Collective, said her experiences of being Black in Waco gave her a passion to advocate for the Black community and lead.
"Often people come into our schools and they might look like us but they are older and oftentimes not relatable," Bledsoe said. "We wanted to be relatable and show that we understood what people are going through."
Davis, the Waco ISD trustee, also is the founder of Mentor Waco and said he is focused on a "boots on the ground" approach. Mentor Waco is working with about 25 kids.
"If we had the proper funding, the number could be limitless so we would be able to make a greater impact in the city," Davis said.
He said solutions to the city's problems are already present in the city, he said.
"They just haven't been brought to the light and had the proper resources given to them so that they could be more successful," Davis said. "They are already doing the work but a lot more kids need these resources but organizations don't have the ability to expand."
Miller said she hopes combined voices of the elected leaders engaging in the effort will bring a focus to other deserving organizations, including Blaccent, LIT Waco, and Divine Sports and Mentorship Inc. Miller said more are always welcome.
"As we move forward in this work, if they are a 501(c)(3), we invite them to come around the table and talk to us," Miller said.
During a Waco City Council meeting Tuesday where Waco Police Chief Sheryl Victorian provided updates on violent crimes, Barefield said she felt as if "we are under attack," calling for leaders to be "where the problems are" in addressing youth violence.
"In a community as small as ours we are all connected so it feels like, whether you knew them or not, you know somebody who did, somebody whose life was affected because they were slain. … We can't boast of accomplishments if we are burying high school football players," Barefield said, referring to recent gun violence.
Davis also knew Tydreun Felder and said he participated in Mentor Waco, recalling him as a good kid who was at "the wrong place at the wrong time."
"For me it was a wakeup call that we have to get more funding, we have to get more support to these organizations so their reach can be wider, so we don't lose certain kids," Davis said.
Bledsoe, who graduated from University High School along with three other members of The New Black Collective in 2010, said that losing another University student is always hard.
"It's always sad and it is always in my brain of what could have been different," Bledsoe said. "What could have changed that trajectory?"
No stranger to gun violence, Bledsoe said a big part of advocating is to show up and help develop plans to help address the issues.
"It impacted my life a lot. Growing up we lost friends to gun violence and some families have not received justice," Bledsoe said. "It's hard to be honest but you have to plan and try to make things better. It's always a sad loss and my heart always really goes out to those families because I know firsthand how it feels to lose people to gun violence because my family has been through it more than one time."
Miller said youth violence has been an issue for far too long.
"We seem to be seeing the same violence and the same activity in our young people," Miller said. "And we seem to be responding the same way but it seems to still continue. I just don't know if I can stand to see another mother in the face and tell her it is going to be OK when I know she just buried a son."
She also has seen how the effects of violence can ripple through communities on all sides of a given event. Rickey Cummings, who has been on death row since a 2012 capital murder conviction, was her student in the fifth grade at South Waco Elementary School.
"A young man sitting on death row now and I knew him as a fifth grader, and that is just not what I saw in his eyes when he was at South Waco Elementary," Miller said.
She said she hopes that by trying a different approach, Save Our Children can see different results, not only in the number of youth deaths but also in the number of youth who end up in jail.
"I want to stop seeing young men that have so much promise just get on a bus with their future and drive into a facility to be incarcerated for the rest of their lives. So that means we need to do something different, and this is something different," Miller said.
"We need ongoing support, our children need ongoing support," Davis said.