Gov. Greg Abbott's office informed Falls County officials Wednesday that it is revoking $183,000 worth of criminal justice grants because the Sheriff's Office has failed to turn in required monthly crime reports for almost two years.
The loss of the grants places in jeopardy the jobs of two salaried employees in the Falls County District Attorney's Office, a mentor who works with youth and money for counseling at-risk youth, Assistant Falls County Attorney John Redington said.
"I personally haven't given up," Redington said. "We are going to fight to get the grants restored, but it is probably too late for the current budget year. The fiscal year started Oct. 1, and we are already out money that is not going to be reimbursed."
Falls County has received the grants for a number of years from the governor's criminal justice division and uses the money to pay the salary and benefits of a victim services coordinator and a special crimes investigator in the DA's office, and a youth mentoring coordinator in the juvenile justice department. Grant money also pays for juvenile counseling.
Redington and Falls County Judge Jay Elliott said county officials were blindsided by the governor's office email and said the county will have to do some scrambling to come up with money to maintain some or all of the positions. The county is required by law to have a victim services coordinator and can ill-afford to lose the benefits provided by the grant funds, the frustrated and angry Elliott said.
The news comes as Falls County Sheriff Ricky Scaman remains suspended by the Texas Commission on Law Enforcement after he was named in a five-count indictment Sept. 21 charging him with sexual assault, assault on a public servant and official oppression of two women. Scaman, who is up for re-election, has denied the allegations.
Scaman's attorney, Hoagie Karels, said initially Wednesday that a former county jail employee who quit recently had the responsibility of turning in the crime reporting numbers to the governor's office. Karels said neither Scaman nor Chief Deputy Derick Johnson, who is acting sheriff during Scaman's suspension, were aware the county was behind in its reporting requirements as a condition of the grants but Johnson promised to correct the situation.
Later, however, Scaman said he filled out the grant applications before he became sheriff when he was working as an investigator for District Attorney Jody Gilliam and said it is his belief that filling out the uniform crime reports is voluntary, not mandatory.
He said he relied on crime statistics from the DA's office, not the sheriff's office, when he submitted the grants and said the responsibility to maintain information for those grants falls in Gilliam's office.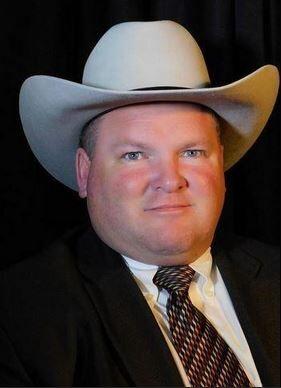 "When I worked for Jody, I did those grants. I pulled those numbers. I didn't get them from the sheriff," Scaman said. "It's a numbers game strictly kept by the DA's office. They are trying to pull this game now because she didn't fill out the proper documentation on the application and she is trying to lay blame. Well, the blame ain't going to be laid here."
Gilliam called Scaman's explanation "complete and utter baloney."
"If the sheriff believes that this is my fault, shame on him because he knows better and he knows that is not true. It is a deflection," Gilliam said.
In the email to county officials obtained by the Tribune-Herald, the governor's office said the grants were ruled ineligible for failure to meet the Uniform Crime Reporting requirement.
"In order to be eligible for funding, applicants operating a law enforcement agency must be current on reporting Part I violent crime data to the Texas Department of Public Safety (DPS) for inclusion in the annual Uniform Crime Report (UCR). To be considered eligible for funding, applicants must have submitted a full twelve months of accurate data to DPS for the most recent calendar year (Jan 2019-Dec 2019)," the email states.
Elliott and Redington said the sheriff's office is responsible for submitting the UCR reports and that Scaman, as sheriff, ultimately is responsible for the loss of the grant money.
"It is 100 percent on the sheriff's office to turn in those reports," Elliott said. "It is no one else's responsibility but the sheriff's office. Ricky wants to blame this on someone who just quit. Those duties were taken away from him in February 2019 when he was demoted.
"If I or my court coordinator don't do something, I take responsibility because I am the elected official," Elliott said. "If something doesn't happen in the sheriff's office, it is his responsibility. Ricky wants to blame this on someone else. I don't want to hear him blame it on anybody else. He should take responsibility, not try to shift blame."
The loss of the grant money represents 2.7% of the county's overall $6.7 million budget and will not be replaced easily, if that is even possible, Elliott said.
"I am frustrated because we lost our grant because of something we didn't even know wasn't being done out there," Elliott said. "We get emails all the time on our other grants making sure we are in compliance. This all just came out of left field.
"For me this is a huge thing. When you are talking about the juvenile program grants, that mentor may be the only sane voice they hear. That is the significance in this. That mentor program is very important for this county's young people," he said.
Likewise, Redington said the victim services coordinator and special crimes investigator funded by the grants are vital to the operation of the office.
"Our office is disheartened by this failure," Redington said. "A lot of people have worked really hard to build these programs so the DA can get justice in these cases — where it is often elusive. This will cost us several personnel that have given these kids the confidence to tell their stories and be brave. The DA's Office will continue to pursue these cases but this is a real setback"
Elliott said Falls County commissioners will meet Oct. 26 to discuss the loss of the grants.
Get Election 2020 & Politics updates in your inbox!
Keep up on the latest in national and local politics as Election 2020 comes into focus.