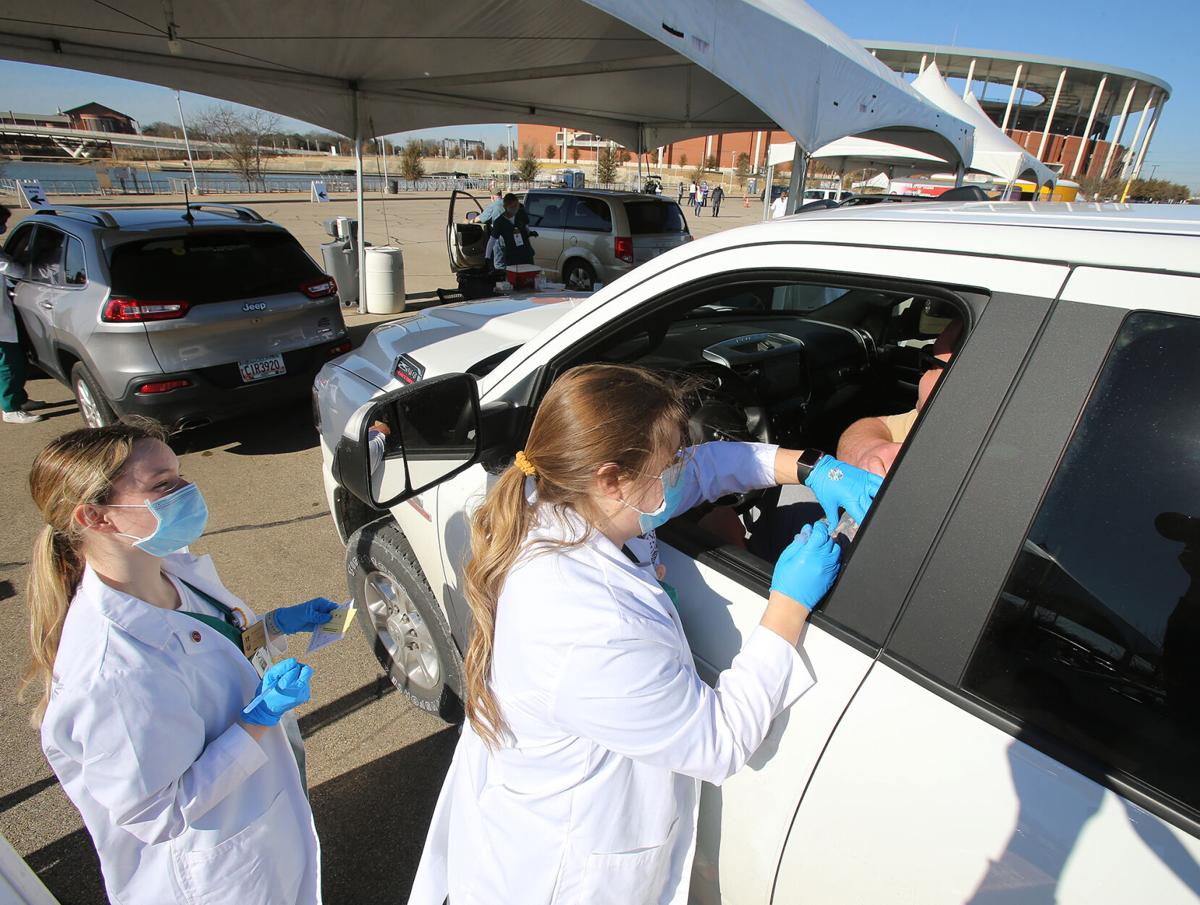 While the government promises to increase the availability of COVID-19 vaccines statewide as production ramps up, local health officials say they continue to make plans to vaccinate as many McLennan County residents as they can.
A Texas Department of State Health Services announcement Friday of a boost in weekly vaccine distribution coincides with Gov. Greg Abbott's mandatory mask order ending next week and potentially millions of Texans hitting the road for spring break.
The Waco-McLennan County Public Health District has been allotted 1,500 doses of the first shot and 1,500 doses of the second shot per week for the past eight weeks, health district spokesperson Kelly Craine said. While more doses will be distributed statewide next week, the health district has not received notice that its allotment for next week will exceed that of previous weeks, Craine said Friday.
"That is what we are planning for," she said. "If we get more, that is great, we will make accommodations to do more. It's all a matter of supply, but we look forward to that time. We are ready for it."
Almost 1.5 million vaccine doses are bound for Texas providers next week. The distribution will include almost a million first doses and almost a half-million second doses, with the second doses matching the number of corresponding first doses sent a few weeks ago, according to a Department of State Health Services press release Friday.
"The significant increase is largely due to a supply of 245,200 doses of the new Johnson & Johnson vaccine coming to the state," the press release states. "The single-dose vaccine was authorized last weekend by the FDA (U.S. Food and Drug Administration) and began shipping this week with 24,000 doses delivered to providers participating in the federally-supported vaccination sites in Arlington, Dallas and Houston."
Besides the health district in McLennan County, Ascension Providence Medical Center, several pharmacies, the U.S. Department of Veterans Affairs and some doctor's offices all are offering vaccines. The state's vaccine distribution list for next week shows five providers in McLennan County set to receive 100 doses each of the Johnson & Johnson vaccine, though their plans for how to offer the doses could vary.
According to state figures, 32,387 McLennan County residents have received the first dose, including 17,205 who have been fully vaccinated. There are 200,781 McLennan County residents 16 and older.
Ascension Providence received 2,340 doses this past week.
In Texas, 4,053,836 have received the first dose, and 2,238,790 are fully vaccinated.
Craine said local health officials have no indication when the state will expand who is eligible to be vaccinated. Eligibility is limited to people associated with long-term care facilities, health workers, people 65 or older, people 16 or older with certain health conditions, pre-K through high school teachers, and child care workers. Teachers and child care workers were added this week as a result of a federal directive to the state.
"It's just a situation of you know when you know," Craine said. "We got that information about teachers being eligible just this week, and there was no indication that was going to happen. We get a steady supply every week. Don't give up if you haven't had your chance yet. Patience and persistence, it seems to be moving along."
A frequently asked question, Craine said, is which vaccine should one get. She said they all have a high efficacy rate, so the answer is "get the one you can get first."
Craine deferred comment to city and county leaders when asked about Abbott's decision to rescind the statewide mask or face covering mandate.
McLennan County Judge Scott Felton said county commissioners will take up the mask issue during a meeting Tuesday.
Felton said he cannot override Abbott's mask order unless COVID-19 hospitalizations claim 15% or more of available hospital beds in the region. He said that rate was 6% late this week and has been trending downward.
Commissioners likely will adopt policies that reflect Supreme Court of Texas orders that require masks in courtrooms and judicial buildings, including the McLennan County Courthouse. However, those orders would not be in effect in the County Records Building, which includes the tax office, the county clerk's office and election administrator's office, Felton said.
Commissioners likely will vote to allow elected officials and department heads to dictate pandemic-related safety policies for each office, including whether to require their employees and the public to wear masks, Felton said.
Felton, who is fully vaccinated, said he recommends anyone who has not been fully vaccinated or had the virus to wear masks.
"People should take the opportunity to evaluate how much risk they want to take and adjust their lifestyle accordingly," Felton said. "They can still wear masks to protect themselves, they should wash their hands. But it is their choice. The choice is in the individual's hands."
Waco-McLennan County health officials reported 44 new COVID-19 cases Friday, bringing the total to 25,335cases, including 167 cases still active. The health district also reported the death of a 91-year-old woman, bringing the COVID-19 death toll among residents of the county to 433. Forty one patients are hospitalized locally with COVID-19, including 13 on ventilators.