The city of Waco is commissioning a citywide trail master plan that aims to put interconnected walking and biking routes within a 10-minute walk of everyone in the city.
The Waco City Council last week awarded a $294,000 contract with engineering firm Halff Associates for the trail plan and a strategic plan for the entire parks department.
The project will begin with a 10-month analysis of the city's trail network and end with designs for new trails and attractions. The firm will also ask for community feedback on proposed designs, Parks and Recreation Director Jonathan Cook said.
Cook said the department has long-term goals for the trail system and a parks master plan, last updated in 2017, that includes inventory of all parks trails.
"Specifically what we're looking at with this master plan on the trails is really a framework with potential connections throughout the city," Cook said. "We're also looking at certain anchor points within the trail system to really activate some public spaces and really make the trails more usable."
Cook said that involves evaluating the city's existing parks and figuring out what parts of the trail system get a lot of traffic. He said population density also plays a role in determining where those spots are. The overall goal to create a system that puts every Waco resident within a 10-minute walk of the trail system.
"We definitely have some strides we'd like to make in areas that have seen recent development in the last 20 years," Cook said. "A lot of this planning has to do with areas that are growing."
Cook said the city's 66 parks will make it easier to reach that 10-minute goal, but an ideal trail system would be much more interconnected, connecting points of interest like the zoo and riverwalk, while connecting neighborhoods with other neighborhoods.
"Obviously, with older cities it's hard to establish sometimes," Cook said.
Cook said the Riverwalk in downtown will be a "huge component" of the system, and waterways like Waco Creek tend to create natural corridors that translate well into trails.
"It's doesn't take long to look at a map and to start seeing the potential some sort of corridor along Waco Creek could really have," Cook said.
Ashley Bean Thornton, organizer of local walking group Waco Walks, said Waco's size makes it a walking-friendly town, but a general lack of sidewalks has prevented people from walking more. She said the council's decision shows the city is planning ahead.
"We have a lot of nice walking trails, which are fantastic, but there's a difference between getting in your car and driving someplace so you can walk on a trail, and being able to walk to where you're going," Thornton said. "What I'd love to see is more of us being able to walk to where we're going."
She said she likes the idea of using Waco Creek as a guide for trails because the creek connects different neighborhoods already and avoids roadways.
Thornton said she sees the proposed Bus Rapid Transit system as an extension of that walkability.
"I think that's going to be our spine of walkability once that gets fixed," Thornton said.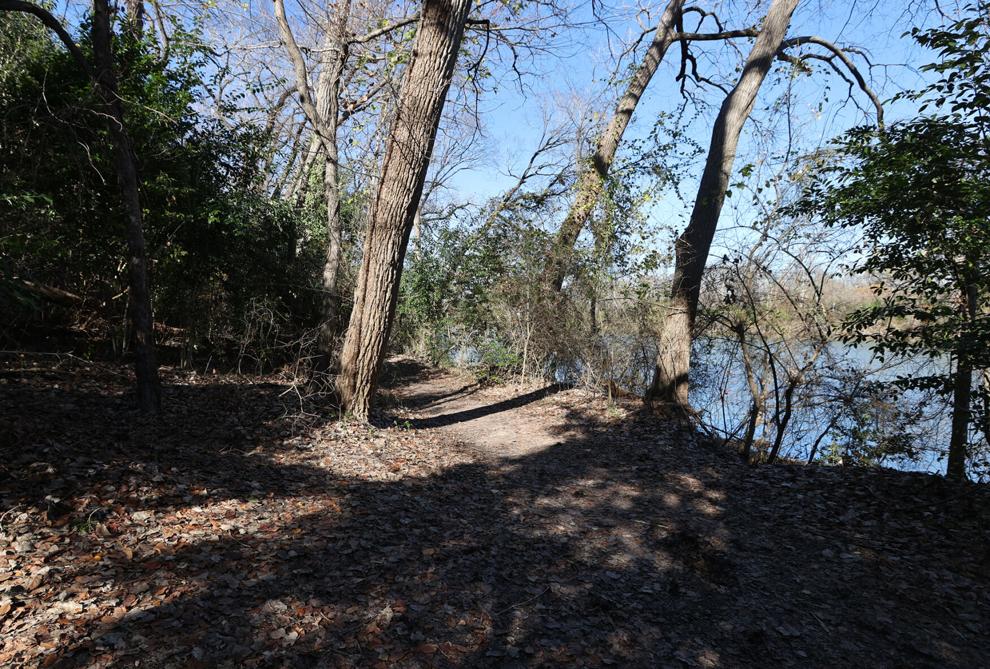 Waco is currently home to 13 miles of urban trails and 24 miles of neighborhood and community park trails, including loops. The remaining 20 miles of trails in Cameron Park has been built up and maintained over the years by members of the Waco Bicycle Club.
Dave Morrow, safety and bicycle advocacy committee chair for the club, said adding bike lanes and a trail connecting downtown to the Baylor University campus helped connect different parts of Waco for bikes and pedestrians. He said Waco's relatively flat terrain and lack of cold winters would make it ideal for commuting by bike or on foot, and he's seen more commuters choosing electric bikes over cars in the last five years.
However, he said Highway 6 and Loop 340 form a pretty serious obstacle for anyone attempting to walk or bike from one part of town to another. The demise of the pedestrian bridge that once straddled I-35 at 8th Street makes getting across the freeway more difficult while the city works on bike lanes at 5th Street.
"People like to ride bikes, they just want to be safe while they're doing it," Morrow said.
The League of American Bicyclists awards bronze, silver and gold rankings to cities for their bicycle safety measures. Austin is Texas' sole recipient of the gold status, but 13 other communities have attained bronze status. He said some cycling enthusiasts he knows stopped riding as much after moving to Waco because of the lack of bike lanes and safety measures.
Some trails are under the control of other agencies, like the U.S. Army Corps of Engineers' Lake Waco Dam trail. Cook said it's possible the dam trail could by extended to connect to the China Spring area.
"A lot of times you're looking for partnerships that can be established. That's going to be a part of this," Cook said.