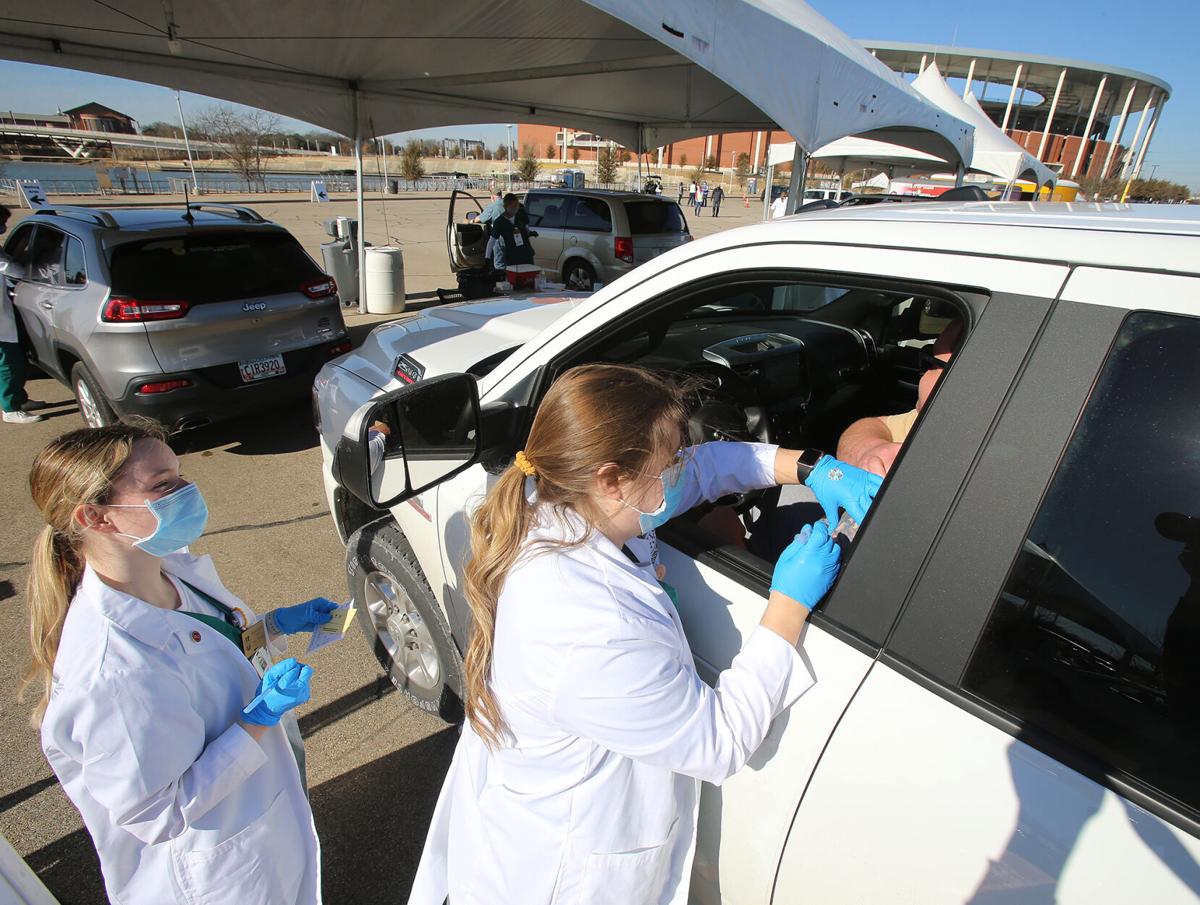 The number of McLennan County residents who have received their initial dose of the COVID-19 vaccine is on track to pass 50,000 this week, as daily case counts and hospitalization rates for March remain down from previous months.
As of Monday, 47,769 McLennan County residents had received at least one dose, and 26,725 were fully vaccinated.
The two vaccine hubs in McLennan County this week are slated to get their usual number of first doses from the state of Texas: 1,500 Moderna doses for the Waco-McLennan County Public Health District clinic at McLane Stadium, and 2,340 Pfizer doses for Ascension Providence.
In addition, Waco Family Medicine and select local pharmacies will get doses directly from the federal government.
The number of county residents with at least one dose has grown from only 2,084 at the end of February. Texas is slated to receive another 900,000 first doses of COVID-19 vaccines this week, according to a Texas Department of State Health Services news release, and another 230,000 doses will be distributed to pharmacies and health centers through federal programs.
Meanwhile, March has provided relief from the fall and winter surge in cases. The health district reported 41 cases Saturday, 33 Sunday and 25 Monday, with two deaths reported Monday.
Of the 25,846 cases reported since the start of the pandemic a year ago, 714 cases have been in March, while 40 of the 447 deaths have been this month. Meanwhile, the COVID-19 hospitalization rate in the five-county Trauma Service Area M was 4.3% Monday, compared with a peak of more than 31% in January. Thirty COVID-19 patients were in McLennan County hospitals on Monday.
McLennan County's positivity rate, which is the percentage of COVID-19 tests that come back positive, has remained around 6% in recent weeks based on a seven-day average, down from more than 20% in early January.
Vaidehi Shah, senior epidemiologist for the Waco-McLennan County Public Health District, said it's hard to pinpoint why the spread has slowed down, but said it could be a combination of increased immunity within the population, fewer people traveling and fewer people taking COVID-19 tests.
"We are hopeful that the lifting of the mask mandate does not cause a third wave of infections but are preparing a response if such a situation arises," Shah said.
At the same time, local waiting lists for the vaccine are shrinking.
Stephanie Alvey, preparedness and medical reserve corps coordinator for the public health district, said the district is vaccinating people who fall in the 1c category, and is nearly at the end of the waitlist that initially had more than 30,000 names on it.
"So we encourage anyone who is eligible and still interested in getting vaccinated to sign up," Alvey said. "After signing up you can expect a notice pretty soon to set up an appointment."
Waco Family Medicine plans to administer 650 doses this week, including 300 from Ascension Providence, 100 from the federal government and 250 left over from a state allocation last week.
Dr. Ben Wilson, the low-income clinic network's associate chief medical officer, said Waco Family Medicine has vaccinated 3,956 people so far, 1,473 of whom have received both doses.
Wilson said in previous weeks he was frustrated with the lack of vaccine allocations from the federal and state government for the clinic, which serves nearly 60,000 people, but that is changing.
"We generally seem to be able to receive as many doses now as we're able to administer," Wilson said.
Waco ISD spokesman Joshua Wucher said 625 Waco ISD employees have received both doses of Pfizer vaccine so far through clinics the district hosted. During those same clinics, about 150 employees from Bosqueville, Connally, La Vega and West ISD also received vaccines.
Midway ISD Spokeswoman Traci Marlin said in an optional survey last week, 504 school employees reported receiving at least one shot, 120 have appointments scheduled, 29 are still waiting and 86 said they don't plan to get the vaccine. She said 739 of the district's 1156 employees responded.
According to a DSHS news release from March 19, Texas residents have received more than 8.8 million doses, 1.2 million more than the previous week. Over 6 million people have received at least one dose and more than 3 million are fully vaccinated.
Almost one in seven Texas 16 or older have been vaccinated, while 59% of Texas seniors have received at least one dose and one in three have been fully vaccinated.
Alvey said the vaccine effort is going to be a "prolonged" one, and volunteers are still needed. Potential volunteers for the McLane Stadium vaccine clinic should visit www.centexmrc.org.