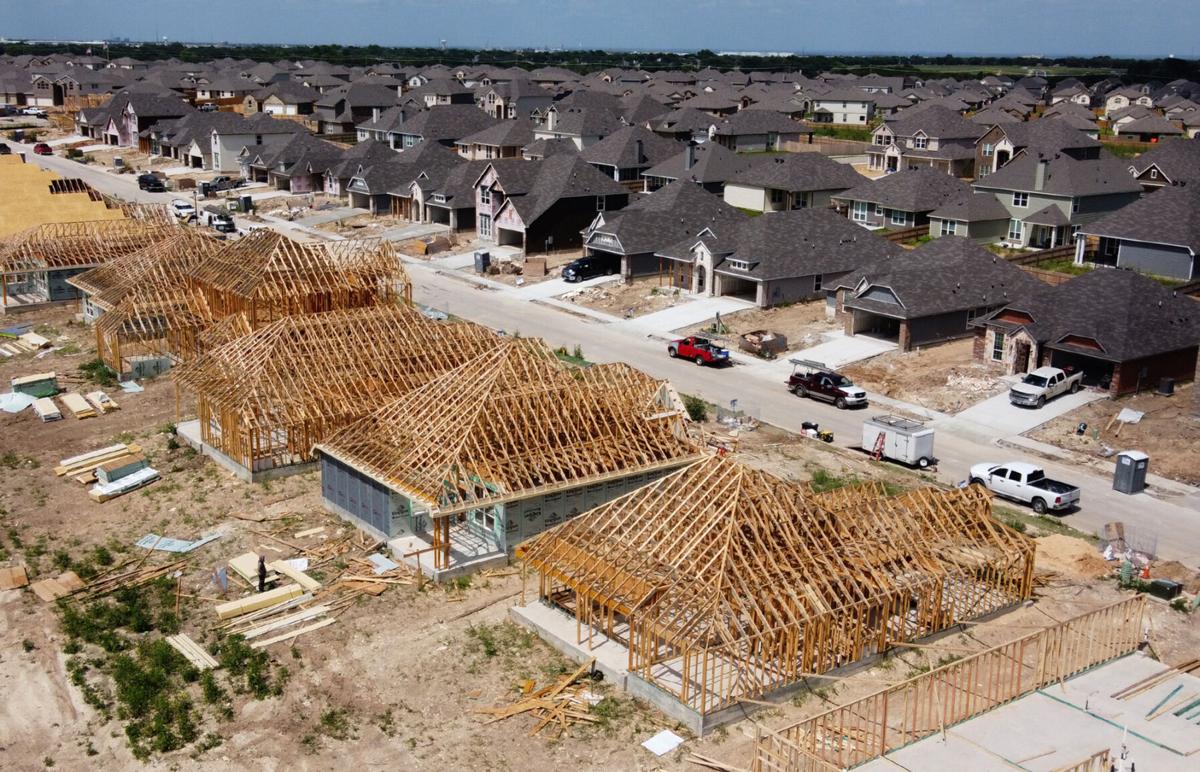 The slow, painstaking process of redrawing Waco's city council districts is underway, and council members will soon be reaching out to constituents for guidance.
Based on 2020 census data placing Waco's population at 139,803, the ideal population for each of Waco's five council districts would be 27,960, redistricting consultant Mike Morrison told the council during a presentation last week. District 1 is short by close to 2,000 people, District 2 is short by 1,600 and District 4 is short by 3,500. District 3 is over by 3,750 people, and District 5 is over by 3,400. District lines will have to be moved so that the deviation between district populations will be no more than 10%.
"There are about a million ways to approach it," Morrison said.
Waco's recent annexation of new territory and a boundary realignment with Beverly Hills mean the total will be revised upward, but at about 139,800, Waco's population has grown almost 11% since 2010 census estimates of about 124,800 residents. The district-level populations indicate the growth has been led by District 5, encompassing much of West Waco along with the China Spring area and the city's territory along Highway 84 west of Woodway; and District 3, encompassing part of West Waco and stretching to boundaries with Woodway and Hewitt.
District 2 Council Member Hector Sabido asked Morrison, an attorney who has worked on redistricting at multiple levels for decades and served as Waco mayor in the late 1990s, what the process of gathering community input will look like.
"No one knows the neighborhood like the people that live in that neighborhood, and no one knows the impact that changes will have like the people in that neighborhood," Sabido said.
Morrison said the city has used citizen advisory committees in the past, but time will be tight this year because of census delays related to COVID-19.
"That approach adds several weeks to the process," Morrison said of the committees. "We can work around that, but it adds several weeks."
As an alternative, he suggested meeting with each council member and two community representatives from each district in three-on-one meetings that would be faster to set up and complete. Morrison said if the federal government challenges the redistricting proposal for any reason, having community involvement and a clear reason for each proposed change will make all the difference.
"I think what would be most useful is for each of the members of council to get some citizen input, show them some of these (suggestions), find out what pinches and what looks like it might be OK," he said.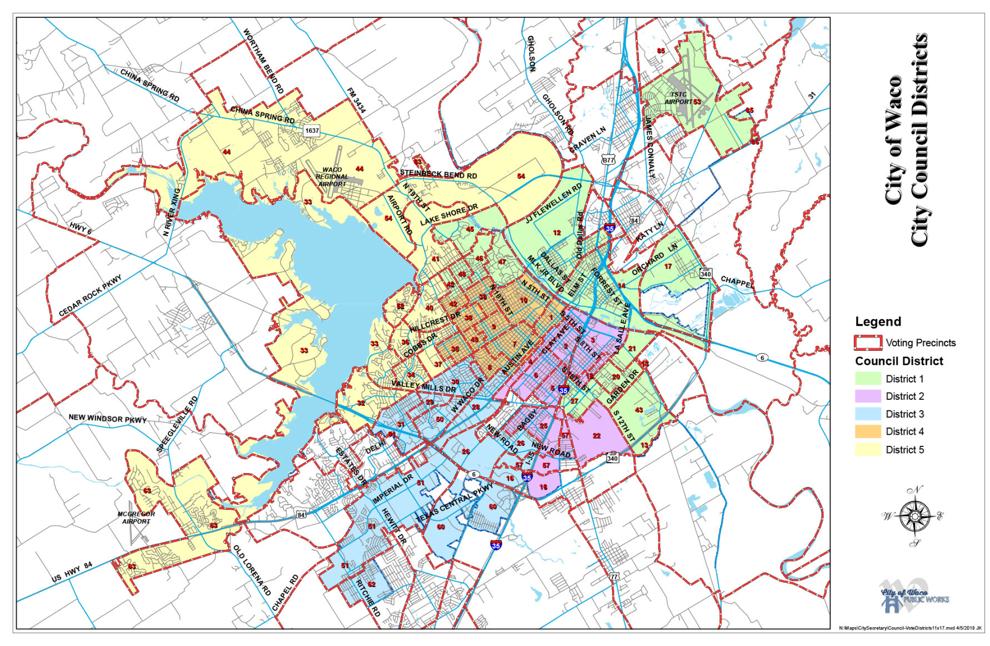 Waco City Council districts as drawn after the 2010 census.
Morrison said his figures will need to be updated as well. Since the census, another 1,300 people in a subdivision that became part of the city of Waco through annexation will be added to the southwestern part of District 3. The figures also do not yet account for the people whose homes are now in the city of Waco following a land swap with the city of Beverly Hills last month.
Morrison presented preliminary suggestions to the city council for the sake of starting the process but said nothing presented that night is set in stone. He said the council should be prepared to voice their opinions candidly.
"It's not going to hurt my feelings," Morrison said. "It helps me to hear what is bad about what we're looking at, because it gives me a place to start working. It's been 21 years since I was sitting where the mayor is. You know your districts so much better."
Decisions to move people out of one district and into another could change the racial demographics of districts, something cities try to avoid while redistricting. He said the changes he laid out would make the map constitutionally acceptable, but the changes proposed aren't "necessarily wise."
The minority profile in District 1 and District 2 have not changed much since 2010, but the total minority profile has dropped by 2% in District 3, about 3.5% in District 4 and 3% in District 5.
"Now, every one of those percentages can probably be improved, but the way to improve it is to start breaking up election precincts, getting some ragged edges," Morrison said. "Nothing wrong with that, but it's not something I would do without input from the council."
He said keeping voting precincts intact instead of breaking them up matters when it comes to how communities organize their elections. If a precinct serves an important organizational role, splitting it up could hurt that community's participation in elections.
"If the election precinct is sort of a synonym for that community of interest, then we want to maintain it," Morrison said.
Morrison said he is going to do his best to keep precincts whole. While it would be possible to redistrict without breaking up any, he said doing so would have "devastating consequences" on voting access for minorities.
"3 and 5 need to offload some things, but 3 and 5 have such a strong non-minority profile that I had to be very careful where I thought about doing that. … Every election precinct I move in could have … a reduction," Morrison said. "By splitting the box, you can ameliorate that to some extent."
Morrison said since he started working on redistricting after the 1970 census, Waco's Hispanic population has grown every 10 years while its African American population has declined slowly, which means the demographic breakdown of each council district is likely to change during this redistricting process.