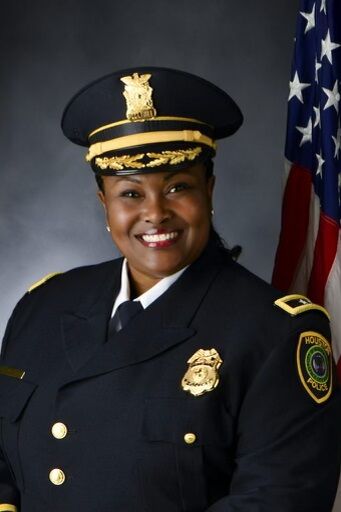 The Waco City Council voted unanimously Tuesday to confirm Sheryl Victorian as Waco's new police chief, making her the first Black woman to hold the position.
Waco City Manager Bradley Ford said Victorian, a current Houston assistant police chief, has extensive experience and an impressive academic background that made her a stand-out candidate compared to other finalists. Multiple people from Houston who have worked with Victorian contacted him to vouch for her, Ford said. Her start date is March 15.
"This hiring recommendation comes at really a historic moment for Waco and the future of policing and frankly that combined with the unforeseen challenges of COVID-19, that's the reason we stopped our process earlier in 2020 and started anew with a thoughtful and engaging police chief process that really ensured robust communication."
The city had named finalists over the summer, when it decided to re-start the search from scratch, partially in response to calls from community groups. The second search included a large panel of community members who interviewed candidates.
"I'm not exaggerating when I say it was the most significant and thorough process the city of Waco has undertaken for any position in the city," Ford said. "That process produced a phenomenal group of candidates."
Victorian, a 28-year veteran of Houston Police Department, has a doctorate in administration of justice from Texas Southern University, a master's degree in criminal justice from the University of Houston-Downtown, and a bachelor's degree in public affairs from Texas Southern University. She is also a graduate of the FBI National Academy.
Waco City Council Member Jim Holmes said Victorian's resume was "outstanding," and said her experience on various task forces and in various divisions was especially impressive.
"You've been in the trenches, Chief Victorian," Holmes said. "We've very fortunate and happy that you have made the decision to come to Waco."
Council Member Andrea Barefield said Victorian's experience with Houston's community policing measures will be especially important to Waco's efforts to form its own program.
"As city manager Ford mentioned, your commitment to innovation and ability to have already walked so many of the pathways of departments within PD, it was incredibly clear and galvanizing for the direction we want to go in our city with policing," Barefield said.
She said Alice Pollard, who passed away in 2019 and was the first Black woman to serve as a Waco police officer, would be proud to see Victorian take the position. Former Sgt. Sherri Swinson, the first Black woman to hold the rank in Waco, also deserves credit, she said.
"I know that of the African-American women on the police force are welcoming you," Barefield said to Victorian. "I know that the shoulders that we stand on are big, but there are no other words that I can say that show how excited we are, how committed we are to growth and development in the city."
Council Member Kelly Palmer said Victorian is "exactly the leader for this moment." and said she has heard from hundreds of Waco residents excited about her recommendation.
"I couldn't imagine a more perfect chief to lead us forward if I tried," Palmer said.
She also noted the decision comes during Black History Month.
Council Member Josh Borderud asked Victorian about her approach to mental health in policing. He said Prosper Waco has been looking for ways to divert people with mental illness away from the criminal justice system and into the treatment they need.
Victorian said Houston Police worked with the Harris County District Attorney's Office to develop a jail diversion program after finding that people with mental illnesses who did commit crimes typically committed low-level offenses.
"We found that putting them in jail and arresting our way out of it is just not the answer so we worked with the district attorney's office to develop a mental health diversion plan," Victorian said. "We have to take a holistic approach, so we need to get everyone around the table."
Victorian said "everyone" includes the families of people with mental illness, the police and mental health professionals. She said another program partnering certified counselors with patrolling officers could also help.
"We have to come up with ways to best address our mental health population," Victorian said.
Borderud also asked her about her intentions to work with the police departments surrounding Waco's jurisdiction.
"Having agencies around us is force multiplied," Victorian said. "We need to work together, do tabletop exercises. We need to share information. We need to use each other's resources. It's just nothing but a win-win if you ask me."
Ford, Waco Mayor Dillon Meek and each council member thanked interim Police Chief Frank Gentsch for serving in the role since former Chief Ryan Holt became an assistant city manager in 2019, then thanked Holt for his service as chief.
Meek said Victorian is inheriting a stable police force because of their leadership.
"I am excited for this moment because we've had these good leaders that have allowed you to get this great police force, and I know you're going to do such a great job at the helm," Meek said.