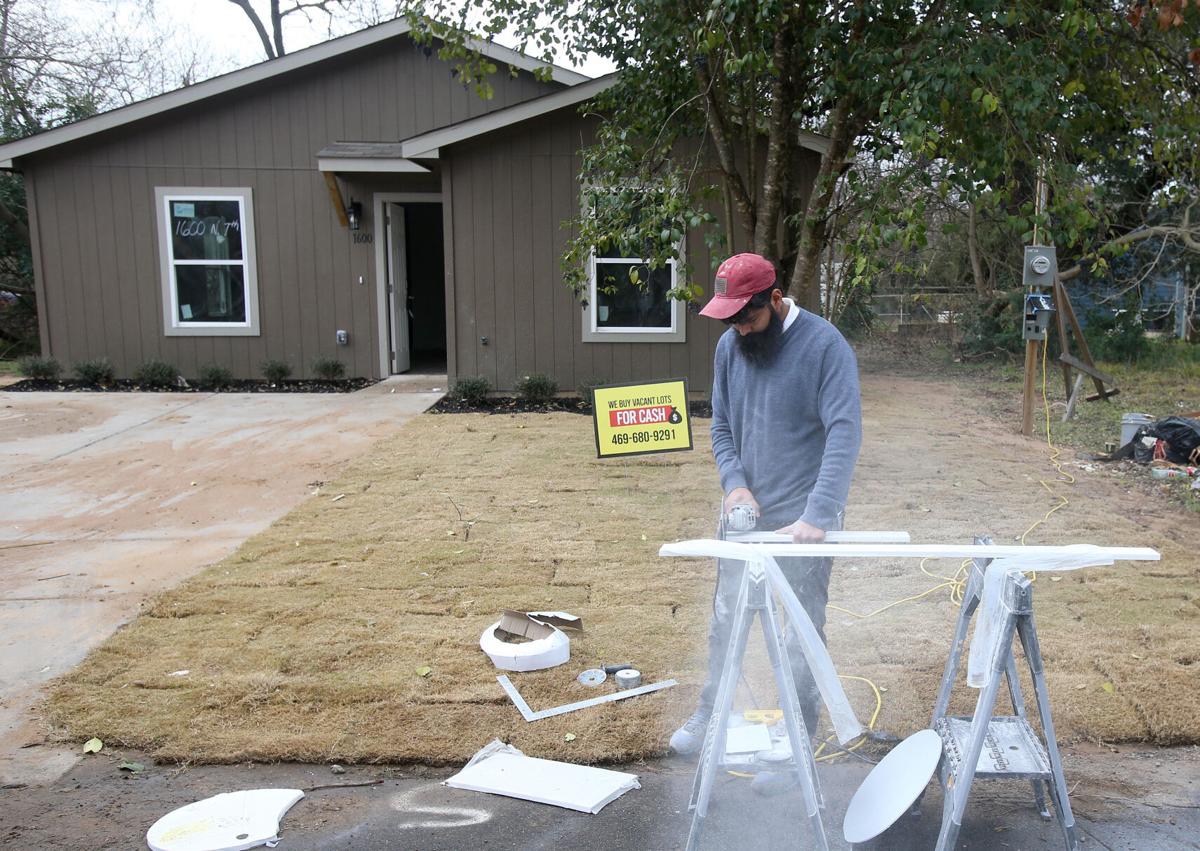 The Waco City Council is weighing a new proposal for citywide design standards aimed at protecting existing neighborhoods from low quality, blandly designed homes.
During a meeting Tuesday, Planning Director Clint Peters told the council the proposed change would apply to all new homes but would especially affect infill development, requiring new houses to fit in with existing houses nearby, while also requiring enough variety to prevent a development from looking completely uniform.
"Good design is where our streetscape starts, and so I think this recommendation makes sure we have good design from the facade to our streets," Peters said.
City staff plans to present a proposed ordinance to the council soon, which would allow for public hearings next month and in May.
The proposed standards include limiting how much of a home's front lawn can be taken up by a concrete driveway to 50%, making sure houses are similar in size to those surrounding them, and requiring architectural features like porches, chimneys, stoops or columns.
One proposed rule would limit the size of front-facing garages to 50% of the home's facade and would not allow garages to protrude more than 10 feet.
Other rules would require a level of variations in roofs, the types of front-facing windows, number of columns and number of dormers to keep residential construction from looking too similar.
District 4 Council Member Kelly Palmer said neighborhood associations were discussing housing long before she was elected to council. She said the problem is much bigger than just one developer, but Ameritex's name has come up at every Brook Oaks Neighborhood Association meeting since October.
As of January, the Dallas-based company had about 90 permits to build homes in Waco. Company officials have met with neighborhood associations since residents raised concerns with the homes' quality and appearance.
"(There is) this sense of frustration from neighbors that they're building these pretty bland-looking houses in historic neighborhoods that don't match the quality or era of the homes, and frustration and concern over whether they're poorly built," Palmer said.
She said the proposed standards are "beautiful" and would make it easier to maintain the look and character of neighborhoods. Palmer said she sees a serious need for more affordable housing in District 4, but design standards should hold for-profit developers accountable and let local housing nonprofits continue the work they do.
She said most of the housing stock in District 4 was built between 1900 and the 1950s, and many of the houses need significant work.
Palmer said she recently bought a house with her husband in the district and found that plenty of homes were on the market for less than $100,000, but many of them needed work that would have cost as much or more than the home.
"I would love to see us spend more money on helping residents rehabilitate their homes," Palmer said. "That sounds like a part of the infill conversation."
Council Member Andrea Barefield said infill housing development in her District 1 has accelerated significantly in recent years. After years of receiving little attention, all eyes were suddenly on East Waco, Barefield said.
Criticism of Ameritex housing in Waco was part of the reason the council reviewed the standards, but was not the only reason, she said in an interview.
"It was time to look at what we allow," Barefield said. "We have a vision. Council has a vision for the growth of this city. We can't demand the best if we don't clearly state what it is and what it's not."
Grassroots Waco Director Mike Stone said he was glad to see the detailed approach of the proposed requirements. He said Grassroots, which builds affordable housing throughout the city, already considers the details of surrounding homes in the roofs, dormers, porches and facades it chooses.
"We already do those kinds of things. We're just glad to see it in writing," Stone said. "We do make that effort to make it blend in with the neighborhood so there's not a stark contrast."
While the proposed design standards would be new citywide, the same type of rules apply in an overlay zoning district created in 2014 to protect the residential areas around Baylor University, Peters said.
Those design standards did away with front-yard parking, limited building heights and required windows to face major streets.
"You can drive around the Baylor campus and see what was built under the new rules versus the old rules, and it's stark," Peters said.
Peters said the planning department already received feedback from Brook Oaks Neighborhood Association in District 4 and plans to get more through the next few weeks. Like other building standards, developers would be able to apply for variances.
Kay Vinzant, executive officer of the Heart of Texas Builders' Association, said the association's board of directors has not met with the city about the proposed standards as of Wednesday.