Waco Downtown Farmers Market is aiming to expand to East Waco, offering food and recreational activities at the new Bridge Street Plaza on Wednesday evenings starting in March.
The city of Waco opened the $6 million plaza in fall 2021 on several blocks just south of Elm Avenue, which itself is undergoing a major renovation. The weekly market at 200 Bridge Street is set to kick off March 29, running from 5 to 8 p.m. each Wednesday. (Editor's note: The opening was originally scheduled for March 15 but was pushed back two weeks.)
Waco Downtown Farmers Market director Bethel Erickson said the plaza's location, size and outdoor stage will let her bring in new activities such as yoga and Pilates.
"Bridge Street Plaza is a really lovely option that is two to three blocks off the river, easily accessible by pedestrian pathways to reach both the river trail and, eventually, the (Waco Suspension Bridge)" Erickson said.
Erickson said she's working with the Cen-Tex African American Chamber of Commerce and the Waco branch of the National Women in Agriculture to bring in East Waco businesses and farmers.
"I'm building out the vendor lineup with a solid base of … meat, veggies and prepared foods, so there's going to be some of those Saturday favorites," Erickson said. "But we're placing priority on seeking out East Waco-based businesses and (Black, Indigenous and people of color) businesses."
The Waco Downtown Farmers Market started in 2011 in a tree-shaded city tract on the river's west bank, but site work for the Riverfront development forced it to relocate in 2017 to the McLennan County Courthouse parking lot, 500 Washington Ave. The market runs from 9 a.m. to 1 p.m. each Saturday.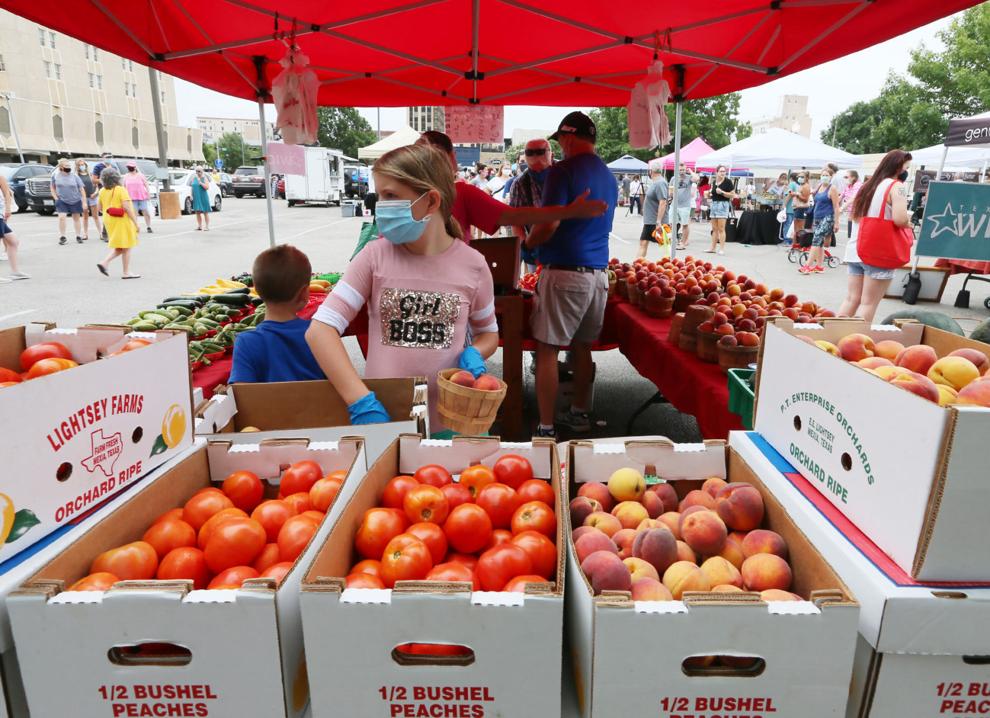 Erickson said expanding the Washington Avenue market's hours has never been an option because vendors typically sell out of their products within the four-hour time window. Adding a midweek market will allow vendors to sell more, especially during peak produce season.
"We've had feedback from customers for a long time that either wish we would expand our hours on Saturday or host market on another day, because families have soccer games on Saturdays or you go out of town for vacation," Erickson said. "So then you're without your market goods for a whole week."
Erickson said Brotherwell Brewing at 400 Bridge Street will serve as a backup indoor location for the market during bad weather, an option the market has never had before. Only eight vendors would have space to set up their booths inside, and those spots would be reserved for vendors selling perishable items.
City parks aren't traditionally allowed to host commercial activities like the market in Waco, but the plaza was designed to host events, Erickson said.
"So we get to serve as a little bit of a guinea pig," she said.
She said the Waco Parks and Recreation department plans to program more events in the space in the future, and Creative Waco will host a concert series in the same venue in April.
She also said she expects customers to linger in the area after they finishing shopping, more so than at the Saturday market on the courthouse parking lot.
"Having a grassy area is much more conducive to people enjoying the evening while they shop and having kids running around with hula hoops and sidewalk chalk," Erickson said.
Erickson said the market saw a "huge increase" in sales in 2020, spurred on by people's desire to shop in open air instead of inside grocery stores. The number of vendors increased from about 37 per week to 45 or more during a normal week.
Waco City Council on March 7 will vote on allowing the recurring event. The city contract will last for one year, but Erickson said the market will likely close after December.