Laundromats and car wash facilities in McLennan County have been ordered to close until Monday to conserve water in a bid to prevent the need for water boil notices.
The cities of Marlin and Mart remained without water service because of weather-related problems at their treatment plants, and water systems in large cities and rural areas statewide were requiring millions of people to boil water before use because of low pressures that create the potential for contamination.
Waco's water system, which also serves much of the surrounding area, usually pumps between 18 and 20 million gallons per day during winter. But a combination of waterline breaks and burst pipes on private property has driven that number up to 38 million per day. Active leaks should be reported to the city at 299-2489.
City Manager Bradley Ford issued a notice requiring Waco's top industrial water users to submit a water consumption plan before using any more water, according to a city press release. Any cities that buy water from Waco will have to do the same, requesting plans from their top consumers.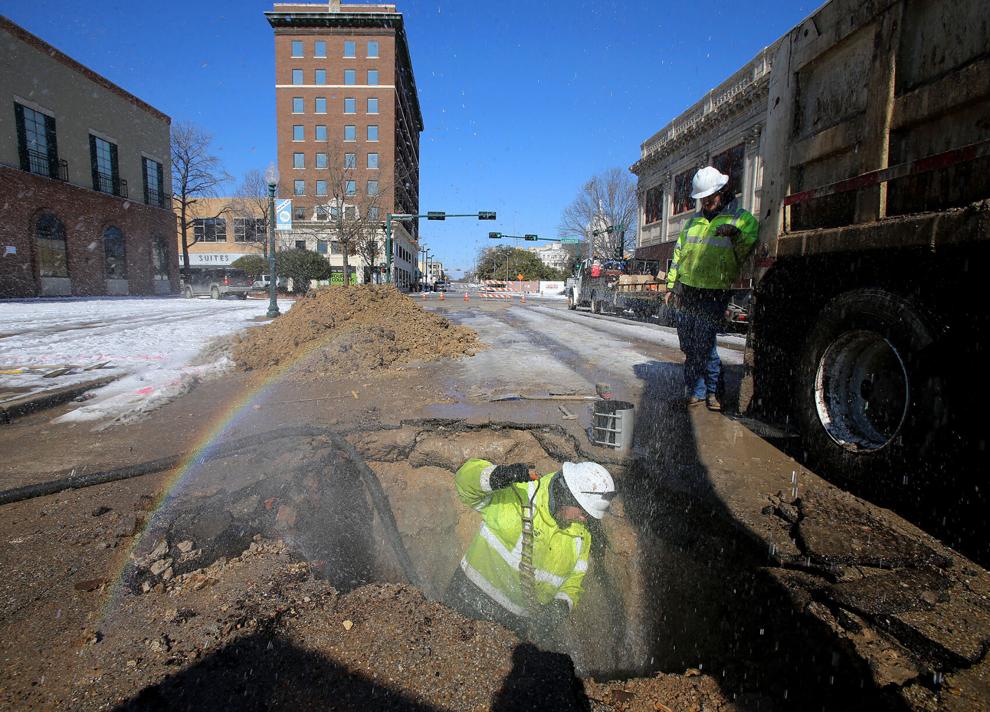 McLennan County Judge Scott Felton and Waco Mayor Dillon Meek signed emergency orders Friday afternoon calling for the closures in their respective jurisdictions. Both orders request residents continue conserving water and avoid hoarding it, and request that restaurants use disposable dishes to cut back on water use.
As of Friday afternoon, there were 26 leaks throughout the system. According to water department spokesperson Jonathan Echols, there are more leaks on private property that the city cannot fix.
Under the county's order, any water provider that is not a city of Waco customer and is not suffering from waterline breaks, freezing pipes, outages or other problems can be exempt from the order by presenting a notice to Felton in writing.
Violating the order is considered a Class C misdemeanor and could carry a fine between $1 and $1,000.
As of Friday morning, localized shutoffs to accommodate repairs in various areas of town had left about 300 residential customers without water service. The city received a donation of 100 pallets of water from Coca-Cola Co., delivered in six 18-wheelers from out of town, and distributed the water to customers affected by the shutoffs, according to city social media posts.
The city will distribute the water from 11 a.m. to 3 p.m. Saturday at Third Street and Washington Avenue, near the Waco Convention Center. Residents can pick up water free of charge while supplies last, with a limit of one case per family. Another distribution will be scheduled for Sunday.
Waco passed four pallets on to the city of Marlin, where water service has been out since Tuesday. Repairs to the city's treatment plant remained ongoing Friday, and it had been able to secure one pallet of bottled water for purchase.
"Thank you, Mayor Meek, for your willingness to share during a time when no state or federal support appears to be forthcoming," Marlin Mayor Carolyn Lofton said in an email to city residents.
Lofton also said Marlin resident Charles Simpson had helped city employees pick up the water for distribution to residents in need.
Meanwhile, Mart's water treatment plant started struggling after pipes burst, Mart City Council Member Trevor Baize said. Repairs were underway, but the water department hesitated to turn the water back on on Friday because of leaks that sprung up overnight, he said.
"We've had our public works director and director of our water plant out there for about six days straight, sleeping there," Baize said.
In a Facebook post, Mart Mayor Len Williams said one of the plant's pumps was working, but struggling to refill the city's ground storage and keep up with demand from customers. He said water service would have to be delayed, or the nearby tower could be depleted in less than four hours if too many leaks occurred.
"The risk is too great without any reserve water," he wrote in all capital letters.
Brotherwell Brewing, a brewery in East Waco, started distributing water to residents in need Friday. Vicky Ward was among them, picking up cases of water to distribute through her faith organization, The Initiative of the Whole Body.
She said her sister's family, who lives across the street from her in Bellmead, lost power but her house never did. Her sister's family came to stay with Ward's. Later, they found out her father and mother, who live in East Waco, were among those hit by the outages for multiple days. She said she was especially worried because they are both in their 70s.
"They didn't tell us they were without power the whole night, until 8 in the morning," Ward said. "But we made it. They came over and stayed the night, and their power came back on."