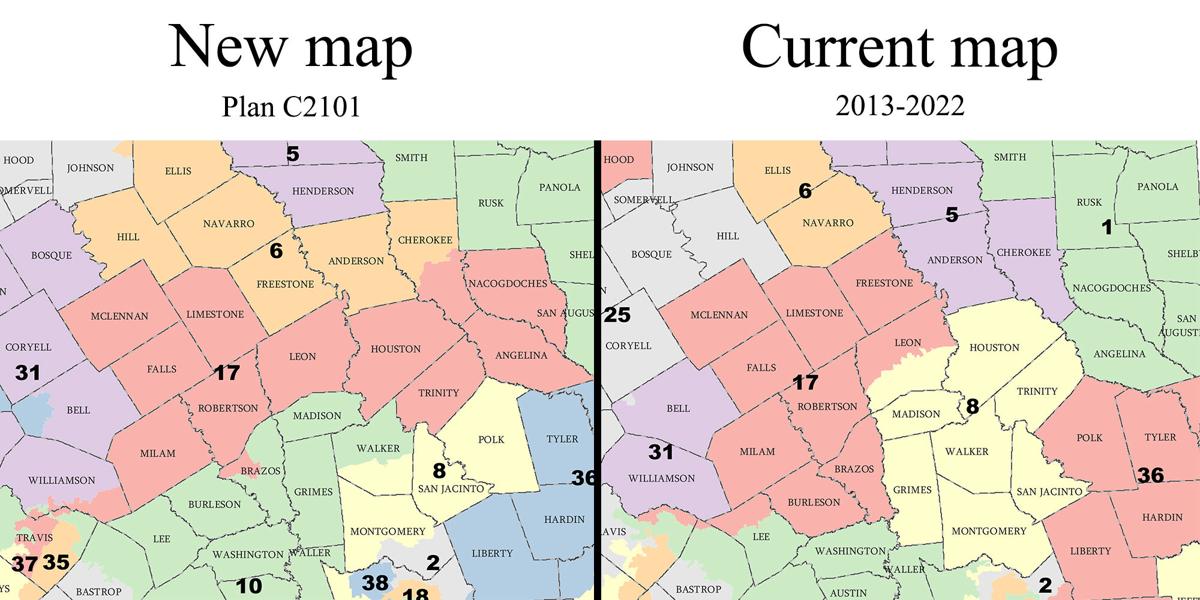 Not that long ago, Waco's congressional district cut a swath down Interstate 35 through a vibrant economic development corridor that included Bell County and Fort Hood.
Later, with the drawing of new lines, the district shifted a bit eastward to include the Brazos Valley corridor, Bryan-College Station and the home of the fighting Texas Aggies.
When state lawmakers released proposed new congressional redistricting lines on Monday, it revealed that District 17, represented by U.S. Rep. Pete Sessions, R-Waco, will take another decidedly eastern sojourn through the Piney Woods of East Texas all the way to just this side of Louisiana.
If approved, the congressional district that serves Waco would include McLennan, Falls, Milam, Limestone, Leon, Robertson, Houston, Trinity, Angelina and Nacogdoches counties and small portions of Brazos, Cherokee, Williamson and Travis counties.
The current district includes Brazos, Burleson, Falls, Freestone, Limestone, McLennan, Milam, Robertson counties and portions of Bastrop, Lee, Leon and Travis counties.
Or as Texas Monthly put it, "TX-17 gets stretched out from thick to thin: where once it looked like a stout lil' dog, sitting like a good boy as it awaited a treat, it's now a nattering seahorse of a district."
The twin cities of Bryan and College Station in Brazos County will now have separate representation, with most of College Station, including Texas A&M University, shifting into District 10.
Sessions represented Dallas for two decades before losing his seat and moving to Waco to run for the office formerly held by Republican Bill Flores. Sessions declined repeated requests for telephone interviews last week and did not answer questions in emails and text messages from the Tribune-Herald. Instead, his office issued a statement.
"There have been dramatic changes in population and dramatic changes that will affect every single one of our members in the Texas Delegation. It will be up to the State Legislature to work through their own process and be responsible to draw new maps that comply with the law," Sessions said in the statement. "I intend to be a source of support and will lend a helping hand in any way needed to help accomplish this challenging task."
The state picked up two seats in reapportionment — one in central and west Austin and the other in west and northern Harris County — which it appears will be split between the Republicans and Democrats. Analysts have said the proposed new political map protects most Republican incumbents while reducing Black and Hispanic majority congressional districts, despite minorities spurring the state's population increase between the 2010 and 2020 censuses.
Chet Edwards, who served as Waco's congressman for 20 years, fell victim to redistricting after surviving as a Democrat for years in a largely red district.
"During my 20 years of representing Waco, the maps were redrawn four or five times in an effort to win this district," Edwards said. "Bell and McLennan counties were together for over a century. They were the core of a compact Central Texas district. They had a common bond of Fort Hood, VA hospitals, Baylor, shared TV markets. All that changed when (former House Majority Leader) Tom DeLay pushed for a once-in-a-century, mid-decade redistricting in 2003 and said, 'If we don't get Edwards, (Lloyd) Doggett and (Martin) Frost, it wasn't worth it."
While acknowledging that redistricting is and always will be a partisan exercise, Edwards said the new District 17 map baffles him, noting that Nacogdoches is almost three hours away from Waco.
"Nacogdoches is closer to Louisiana than it is to Waco," Edwards said. "Does it make sense to have Nacogdoches in the district and not Hillsboro? I have never seen a map even close to this one. Put aside the interests of Waco for a moment, but in the bigger picture, when the vast majority of congressional districts are either overwhelmingly Republican or Democrat, members of Congress have no political incentive to work on a bipartisan basis. That leads to gridlock in Washington, lack of compromise and problems like government shutdowns and a $29 trillion national debt.
"This Texas map will make partisanship in Washington worse not better. Is that what we need for our country?"
McLennan Community College history professor Ashley Cruseturner said he does not view the proposed district map as "anything crazy or all that unusual," saying it is part of the normal redistricting process to move pieces around, especially in district margins. When some areas are moved, other areas must be moved somewhere else, he said.
"There is really no wrong or right," Cruseturner said. "But there is a sense that Waco is going to be the heart of this district. There is the Poage Library, Chet Edwards, who was the model for a long time of a Democrat holding on to a red district for a long time. Even before Chet, there was Marvin Leath, a Falls County guy. Chet wasn't from Waco, Bill Flores wasn't from Waco, Sessions certainly wasn't from Waco, but there is this sense that Waco is going to be the fulcrum for that district. Waco is still the most important part of this district, and playing around on the margins is not going to change too much."
Cruseturner said that despite the dramatic shift to the east, District 17 remains a safe place for Sessions in a re-election bid.
"I don't think he would feel threatened by anything that is happening here," Cruseturner said. "It is still a really good district for the Republican incumbent. I don't think this is sending shivers through his congressional office or anything.
"I don't know if they are ever going to get partisanship out of the redistricting process. It is political hardball. All their jobs are at stake and I don't know what the nonpartisan answer is," he said.
Sessions did not respond when his office staff was asked how much input he had in the remapping process.
"Redistricting is not a new art," Edwards said. "It has been practiced by both parties for many years. But with modern-day consumer data, it has become a science, where map-drawers literally can decide the outcome of elections rather than voters."