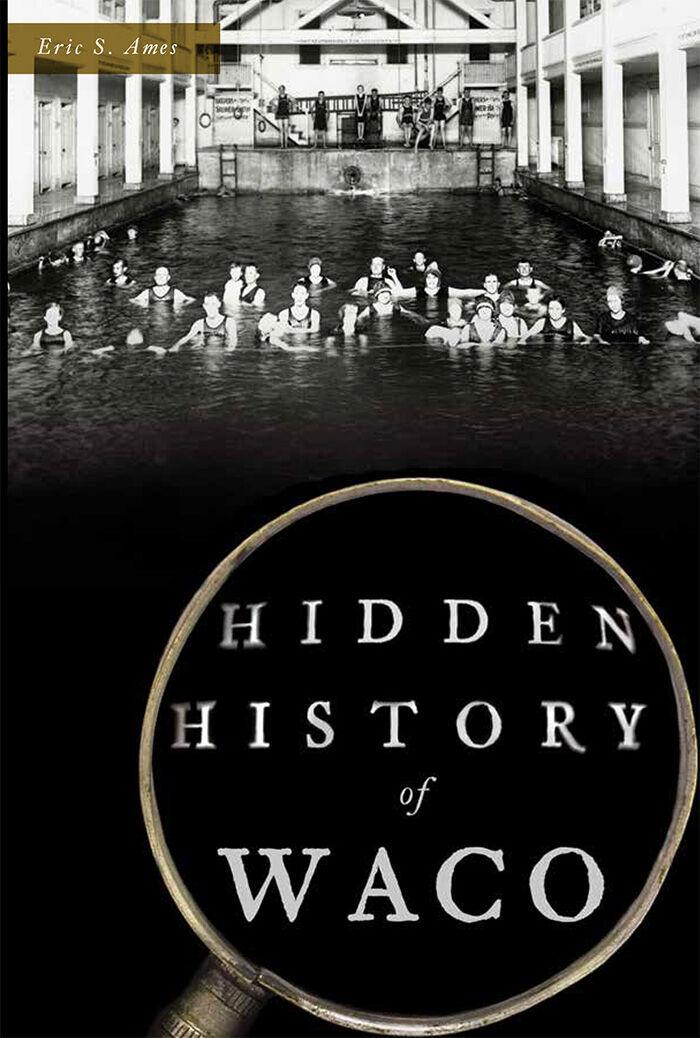 But how well they know the smaller bits that often fall between the cracks of remembrance may vary. The city's once-famed artesian wells and water quality led to a downtown hotel with a giant indoor pool at its center. Dreams of steamboats on the Brazos River have come and gone. One eccentric wealthy landowner was rumored to be entombed sitting at a table with cards, whiskey and a revolver.
Other bits include the story of literary provocateur William Cowper Brann, whose incendiary opinions triggered a downtown shoot-out and his death, the last publicly attended hanging in Texas with a crowd of more than 4,000, the 1911 church built in a single day, and a Ku Klux Klan Fourth of July parade up Austin Avenue in 1924.
Many of those odd bits of Waco's past make up Eric Ames' latest illustrated book of Waco history, "Hidden History of Waco," a follow to his "Images of America: Waco" and "Images of Modern America: Waco" released by Arcadia Publishing.
Ames, a spokesperson for Baylor University Libraries and Information Technology Services, tackled his third book at the request of The History Press after Arcadia Publishing bought it. He had not planned a third history, but could not turn down the History Press proposal.
"I love the history of this town so much the allure of a trilogy was too much," he said.
Many of the subjects Ames pursued in "Hidden History" he had encountered in his previous research, but where photographs drove much of his earlier books, he discovered a comparative lack of photos for some subjects meant more narrative to write. The eclectic stories of lesser known history also shaped "Hidden History."
"Complicated and quirky are two good words for it," he said with a chuckle. "Of my three books, this definitely has more of my personality."
Ames found much of his material in the holdings of Baylor's Texas Collection, the Lee Lockwood Library and Museum, the Cooper Foundation, newspaper archives and back issues of Historic Waco Foundation's "Waco Heritage & History" magazine.
He supplemented that with some findings on his own. The size of Telephus Johnson's second and current burial crypt suggests the elaborate rumors of his first one, reportedly large enough to hold a table and chair, were a result of good storytelling and little else. And the rumored "key" that connects characters in Madison Cooper's "Sironia" to their real-life Waco inspirations no longer exists — if it ever did. Ames, in fact, read all 1,000-plus pages of Cooper's novel, one of the longest novels in the English language, as research for his book.
The final chapter of Ames' book features histories still hidden, several intriguing photos for which the stories are missing. Ames said there are plenty of unrecorded chapters in Waco's history, particularly from Waco's African American, Hispanic, Jewish and Asian communities.
Subjects he would like to see others explore and research are the city's Urban Renewal project of the 1960s and 1970s from the perspective of those forced to move from their neighborhoods, Waco's historic African American churches, Waco musicians, and the Hispanic Calle Dos or Second Street neighborhood.
Ames said family histories can fill in some of those gaps, and he urges people to take the time to write or record their family stories for that reason.
"Don't overlook your own history," he said.
Be the first to know
Get local news delivered to your inbox!