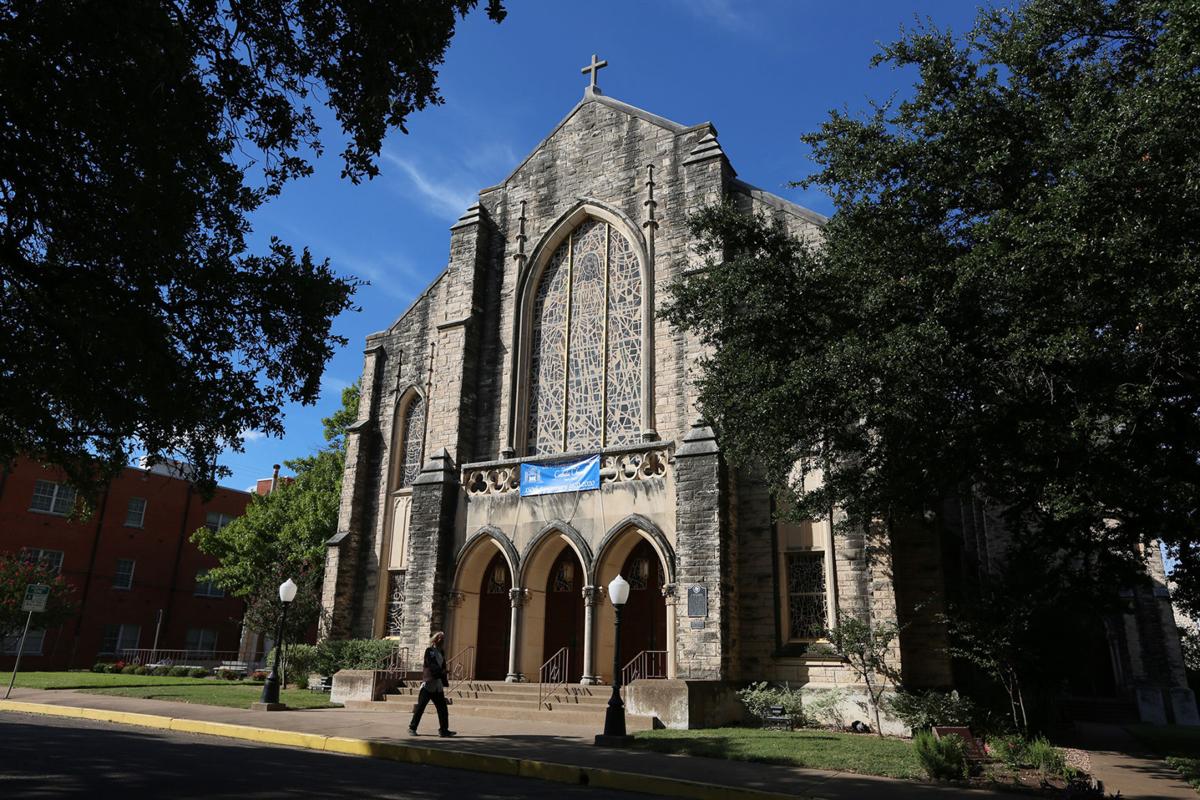 St. Mary of the Assumption Catholic Church, the "Mother Church" of Catholicism in Waco, is celebrating its 150th anniversary Sunday, maintaining its grand plans with some modifications because of COVID-19.
"Ours is the oldest Catholic parish in this area, and we have a lot of elderly," said church administrator Cathy Smith, 69, literally a lifetime member, having been baptized at St. Mary's five days after she was born.
Some older parishioners understandably fear gathering at the house of worship as COVID-19 continues to menace the public. St. Mary's has live-streamed services since the virus started forcing changes locally.
"I've talked to several who don't come, and they're still kind of hesitant," Smith said.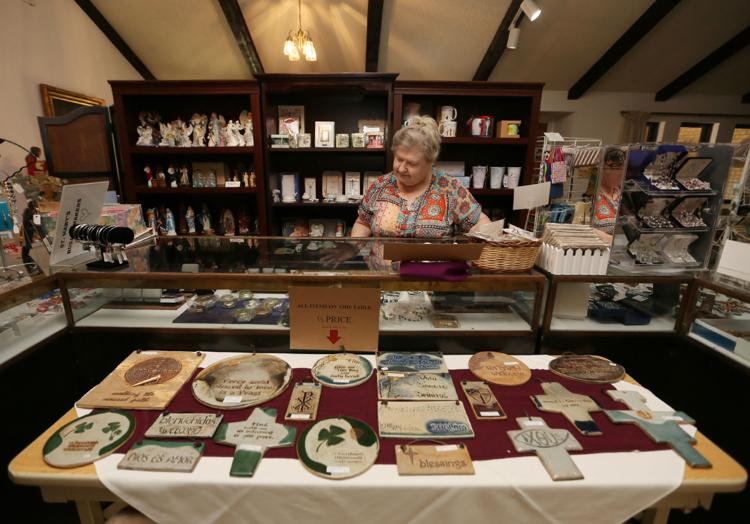 About 540 families call St. Mary's their spiritual home, but circumstances will keep most away. Smith estimated 150 individuals will attend Mass at 10:30 a.m. celebrated by Bishop Joe Vasquez from the Diocese of Austin.
St. Mary's has not survived and thrived 15 decades, multiple relocations, fires, pestilence and 14 pastors by bending a knee to adversity.
Much of what has been two years in the planning is set to unfold.
"We actually will have a little gift for everyone who attends, a rosary made by our rosary-making group and a holy card with a picture of Mary on it placed in a blue velvet bag, which will be sealed in plastic," Smith said.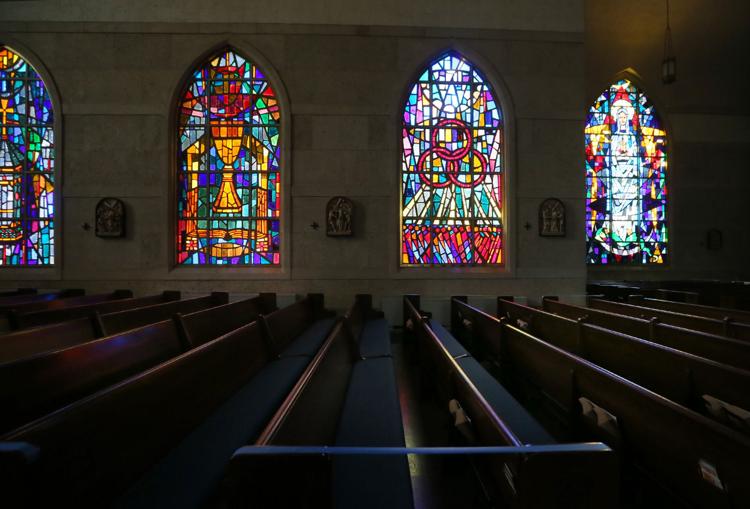 A photo-filled memory book that includes a chronology of church milestones, pictures of each pastor and images reflecting its rich history, both sobering and inspirational, will be made available to each family requesting one.
"We printed 250 but can print more," Smith said. "We didn't know how many to order, and we didn't want to have a lot sitting around."
And to those who say every celebration worth its salt includes a commemorative T-shirt, St. Mary's responded with an amen.
Adults pay $15, youngsters $5 for a blue one that features the church outline in white, as well as the St. Mary's name and anniversary dates.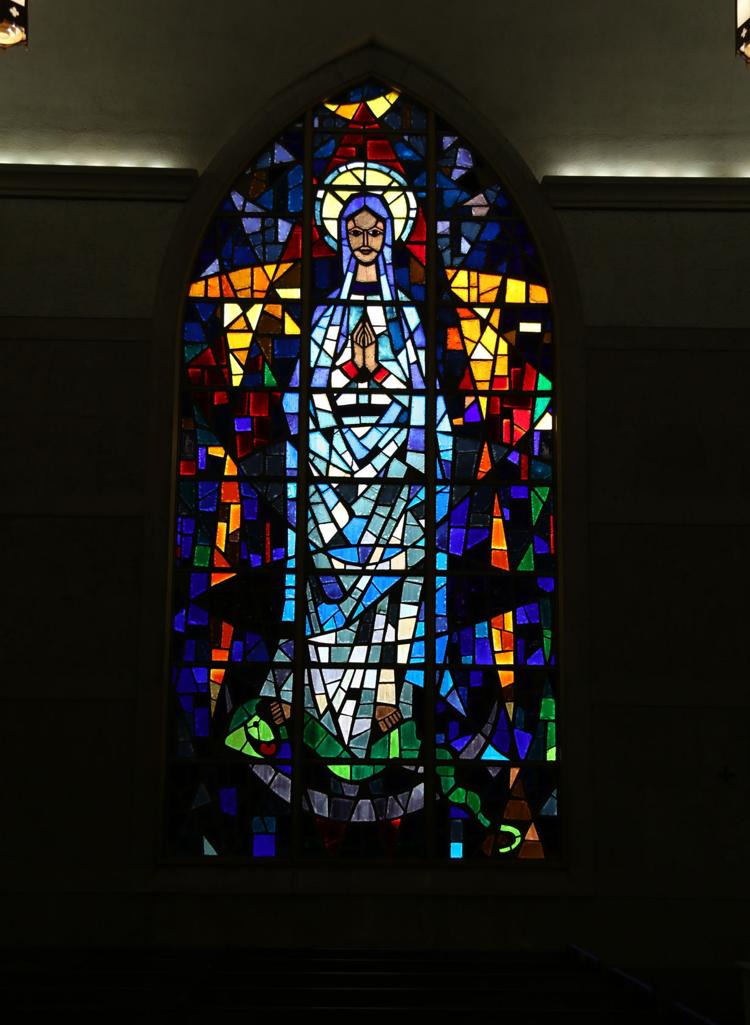 St. Mary's Parish was established in 1870 and was known as Assumption Parish, according to the church's website. It first was located at Sixth Street and Washington Avenue, eight blocks from its current address. The traditional cornerstone was laid there July 24, and even as construction continued, services were conducted there starting in 1872.
That first church was dedicated on March 3, 1873.
Growth created the need for more space. The parish in 1880 acquired property at Ninth Street and Washington Avenue, where a small brick building fronting Ninth Street became St. Mary's second manifestation.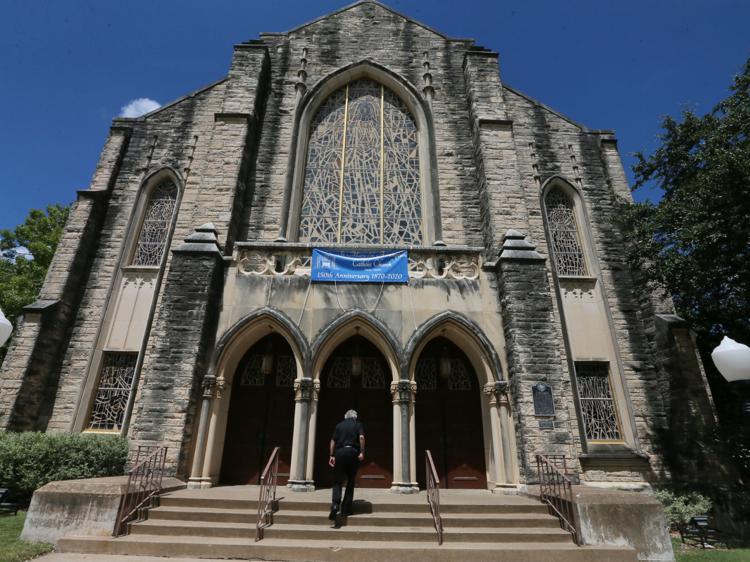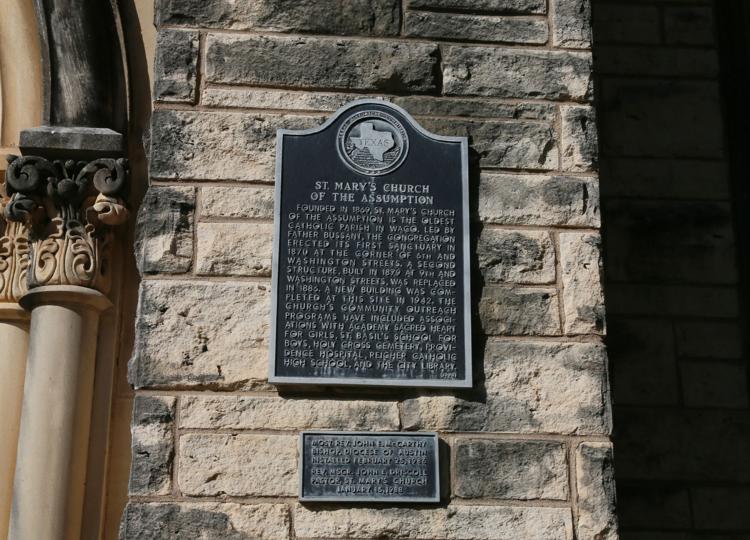 Three years later, in 1883, the cornerstone for yet a third church was laid at that same intersection, though the building was reoriented to face Washington Avenue. A bell for the church was bought in France and donated to the parish in 1900. A rectory later was constructed at Columbus Avenue and Ninth Street, while the church itself was remodeled in 1910.
"Number two burned, and number three was built at the same location," said Smith, relying upon her memory bolstered by research.
As World War II raged, a mansion at 1401 Washington Ave. became church number four. It was christened Church of St. Mary of the Assumption.
"Work began in 1941, and it was dedicated in Sept. 13, 1942," Smith said. "During World War II, a lot of construction had to stop. But since the rock for the church had been delivered, we were granted an exemption and were allowed to continue working until the project was finished."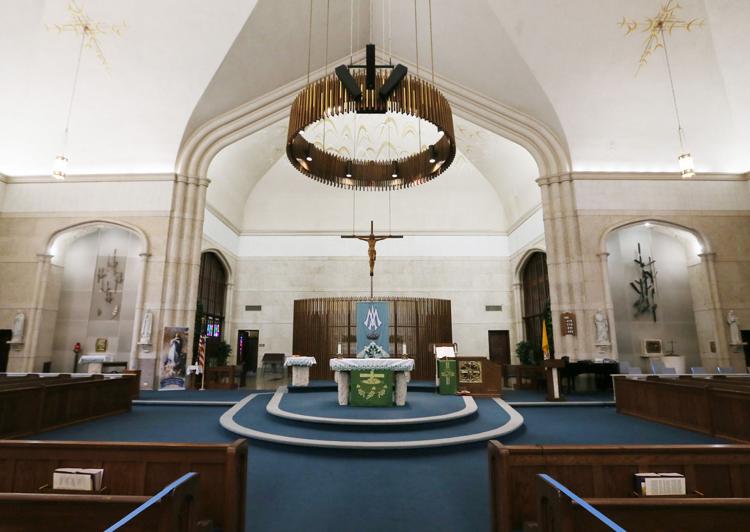 Catholic churches all over Greater Waco and beyond fell from the St. Mary's family tree, formed as missions of necessity as flocks grew. Among the fruit on the branches were St. Francis on the Brazos in 1924, St. Joseph's Parish in 1951, St. John's in 1953; Sacred Heart in 1957; St. Louis Parish in 1968; and St. Jerome's Parish in 1983.
"St. Eugene's in McGregor and St. Joseph's in Elk were originally missions of St. Mary's," adds a church history summary on the St. Mary's website.
"Every time the population grew outside downtown, a new church was formed, all from St. Mary's," Smith said. "Before St. Louis was built in the 1960s, we had about 2,500 families. We were bursting."
Smith said stability with diversity now describes St. Mary's.
"We are very multi-cultural, which is wonderful: Black, white, Filipino, German, Czech, Irish, you name it," Smith said.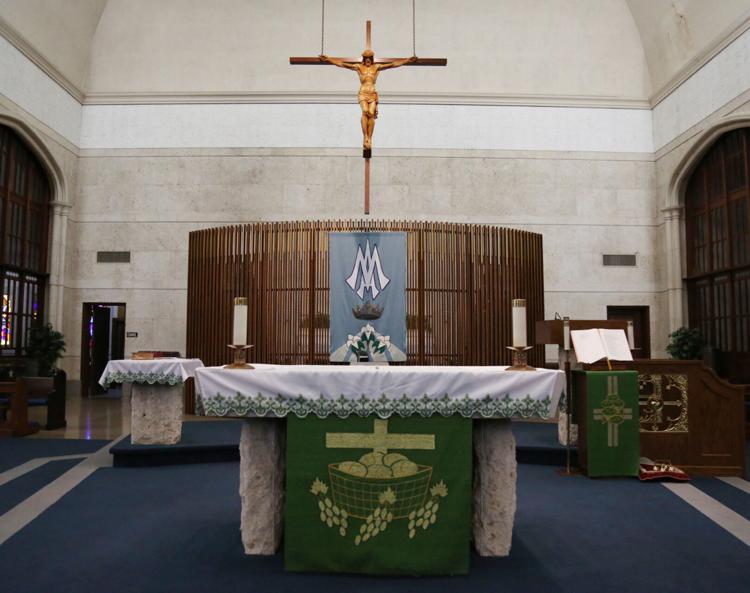 St. Mary's once had a school, but it closed in 2001 because of financial considerations. It continues to operate a book store and gift shop that welcomes members and non-members. Smith said the shops offer religious articles important to Catholics and unavailable elsewhere in Waco.
This year, the church has taken steps to deal with COVID-19, Smith said.
Parishioners wear protective masks, and the church has marked seating to preserve 6-foot distancing. Hand sanitizers are everywhere, and the sanctuary is cleaned and sanitized between celebrations of Mass.
"We're trying to do the best we can," Smith said. "We've not really had complaints about our policies, though we have received phone calls from people asking, 'Are you insisting on people wearing masks?' We say we highly encourage it, but we've not had to say to anyone, 'You must put on a mask.'
"We still have people who will not attend Mass, who will not go anywhere, probably two-thirds of our people."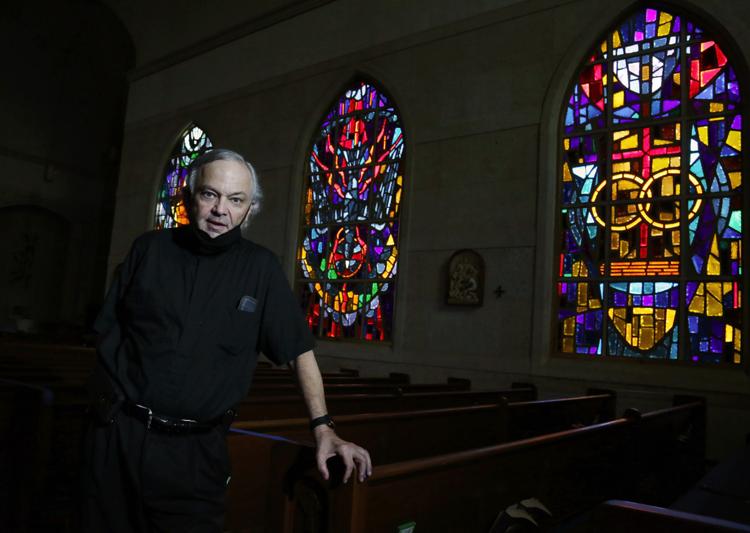 She was initially worried about the pandemic's potential effect on the church, but as leaders started live-streaming Mass, viewership was topping 50 daily, she said.
"I think it's a credit to Father Geleney and the way he delivers his homilies," Smith said. "He's very knowledgeable and makes very good presentations."
The Rev. Joseph Geleney Jr. arrived in 2010.
Of the building where parishioners will gather to celebrate Sunday, Smith said, "I think it's one of the most beautiful churches in Waco."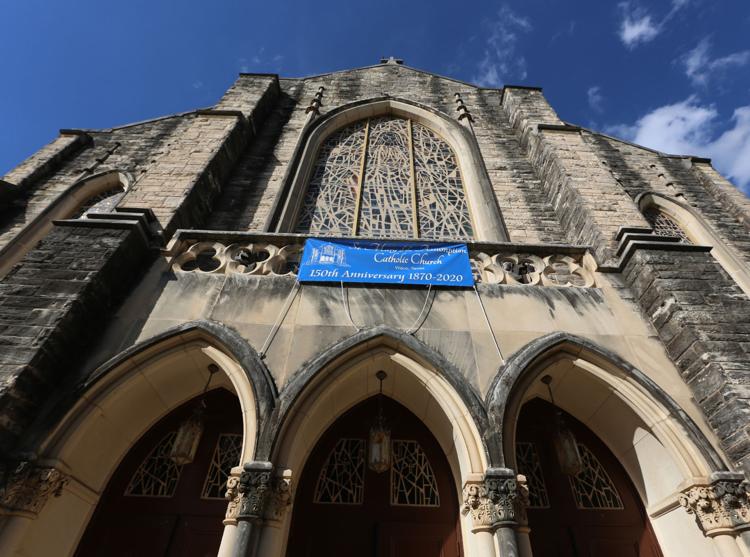 Concerned about COVID-19?
Sign up now to get the most recent coronavirus headlines and other important local and national news sent to your email inbox daily.