One summer afternoon in 1955, a Baylor University geology student was roaming the dry streambed of Tonk Creek in Crawford.
Bill Atlee was looking for fossils around Tonkawa Falls Park, lugging his geologist's hammer. What he found instead was a human mystery: a set of carved figures, or petroglyphs, chiseled into the limestone bed of the creek.
"They were not deeply incised, but the sun was at just the right angle and made a shadow," Atlee recalls. "I said, wow."
Atlee spent the next few months investigating and mapping 51 petroglyphs and published his findings in a regional archeological journal the next year.
Atlee, 87, a retired petroleum geologist, will join other local and state experts Saturday at Tonkawa Falls Park to talk about the petroglyphs as part of a celebration of the archaeological site organized by the Crawford Community Historical Society. The event runs from 11 a.m. to 3 p.m., with discussion scheduled for 1 p.m.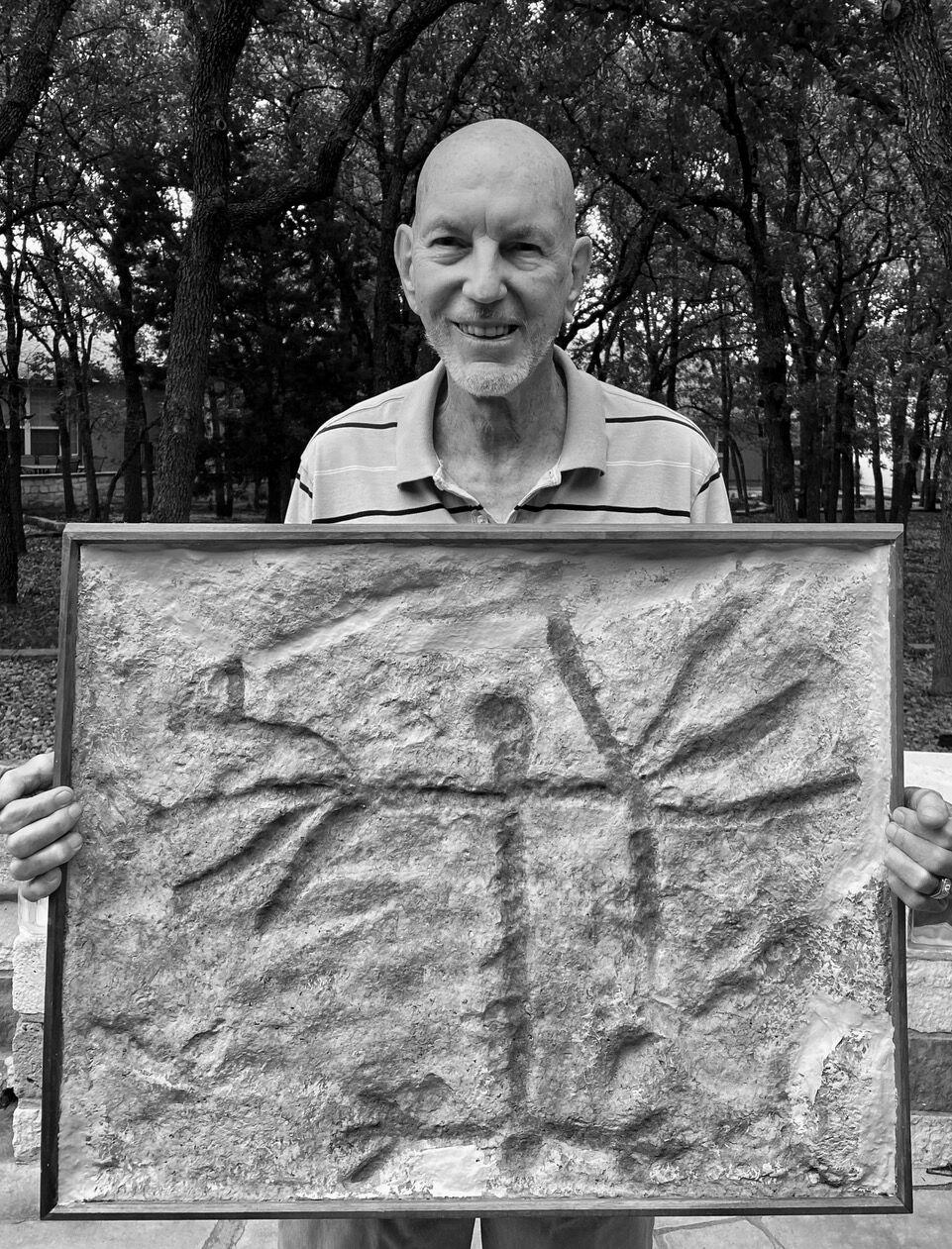 Since Atlee's discovery, the site has been deemed a state archaeological landmark, and further studies have mapped about 50 more petroglyphs.
But Atlee and others who are speaking Saturday said the key questions raised by the carvings remain unanswered: Who made them, how long ago, and what do they mean?
"It's a mystery and I think it will remain a mystery until we can figure out how to interpret and date petroglyphs," said David Lintz, a member of the Central Texas Archeological Society who has helped document the site for several decades and will speak Saturday.
Techniques such as radiocarbon dating do not work for petroglyphs, leaving archaeologists to rely on contextual information, such as patterns of petroglyphs at other sites, or artifacts found in the immediate area.
Tonkawa Falls has traditionally been associated with the Tonkawa Indians, a nomadic and warlike tribe that roamed Central and South Texas before being forced onto reservations in the mid-1800s and ultimately exiled to Oklahoma, where a remnant of the tribe still lives.
But the petroglyphs could just as easily have been made by Paleoindians thousands of years before the Tonkawa were known to be here. Atlee said artifacts such as spear points have been found in nearby rock shelters have been dated as far back as 5,000 years. Not far away, the Horn Shelter on the Brazos River yielded two intact skeletons dating to some 11,000 years ago.
In an interview with Tribune-Herald reporter Jules Loh in 1956, Atlee speculated that the glyphs dated to the 1700s, based on the resemblance of some of them to crosses and the Catholic symbol of a sword in a heart, possibly indicating contact with Spanish missionaries.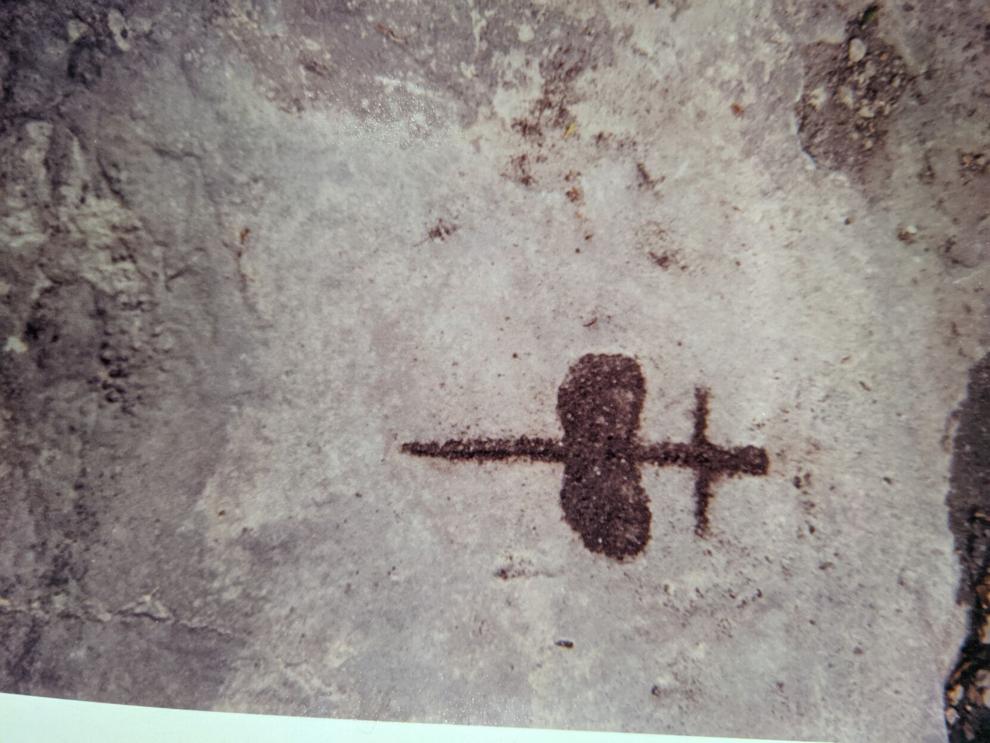 But Atlee, who published an article on the site in the June 15, 2013, issue of the Archaeological Journal of the Texas Prairie-Savannah, now believes the petroglyphs are much older.
"Archaeologically it is believed they are quite old," he said. "There are no historic clues such as a bow and arrow or horses."
Becky Shelton, regional archaeologist for the Texas Historical Commission, will be among the speakers at Saturday's event. She said it is an open question whether the markings are hundreds or thousands of years old.
Shelton said new techniques such as three-dimensional imaging could help shed some light on that question. So could further comparative study among petroglyph and pictograph sites.
"It's going to be inherently difficult to date, but there has been an advance in the inventory (of sites)," she said. "We may be able to do more comparative analysis, looking at symbols and comparing them to other rock art throughout the region."
Shelton said the Tonk Creek site is a "treasure," and complimented the work by the Central Texas Archeological Society in mapping, photographing and preserving the petroglyphs.
The society, which was founded by avocational archaeologists such as Frank Watt, recorded petroglyphs at the Tonkawa Falls site in its first bulletin, published in 1937. Those petroglyphs, which were in a different part of the park, may have been destroyed or covered over. The 1937 bulletin also mentions a burial under a rock shelter, downstream of the waterfall, that was unearthed "recently" during construction of a public park, but it was vandalized and destroyed.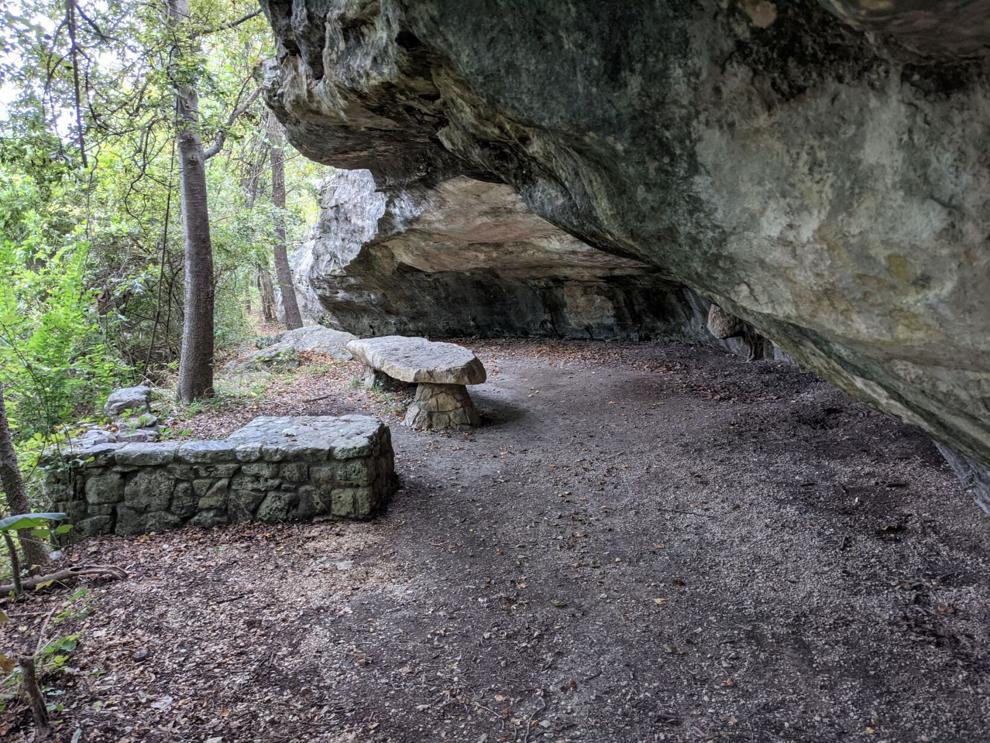 A 1967 Tribune-Herald article also refers to work crews unearthing human bones in the construction of the park in 1934.
Even now in Crawford, locals tell stories of how the exhumed remains were displayed in a shop window in Crawford's tiny downtown.
According to the 1967 article, the park was developed over several years through a federal Depression-era work program starting in 1933. The work included stone stairs and buildings, including a caretaker's cottage.
Misti Turbeville, who grew up in Crawford in the 1960s and '70s and is part of the historical society, said her father lived in that caretaker's cottage. Though the 1967 article paints a picture of Tonkawa Falls that had fallen on hard times, Turbeville remembers swimming there often as a child.
"I still think there was a perception that it was worse than it was," she said.
The city of Crawford worked to repair and clean up the park in the 1970s, and in 1976, the archaeological society resurveyed the petroglyph site as part of a bicentennial project. Member Ralph Vinson spent years studying and mapping the results but never published them, and he ended up devoting most of his time to excavating bones at what became the Waco Mammoth National Monument before his death in 2009.
Lintz, who worked with Vinson and preserved his materials, said he is thankful for Vinson, Atlee and others who volunteered on the petroglyph studies.
"We owe them a lot for documenting it first of all," Lintz said. "We wouldn't have any of this if that hadn't happened in the '30s, '50s and '70s. It's documented, and even if it's never found again, at least we know what was there."
Saturday's event, which includes live music, games and food, will serve both as an educational event and as a fundraiser for the Crawford Community Historical Society. The society is hoping to create a new museum in downtown Crawford about the area's history. Leaders of the group said Tonkawa Falls would loom large in that museum.
Marilyn Judy, a historical society board member and former Crawford mayor, said she hopes the event Saturday will show the public why Tonkawa Falls is special beyond its reputation as a swimming hole. She said the public can help protect the site from vandalism and misuse.
"We want people to respect it," she said. "That doesn't always happen in the summer. I think the more we show we care about it, hopefully we're building respect. In the summertime when people come it's just awful. Sometimes when you have a treasure it's a burden."