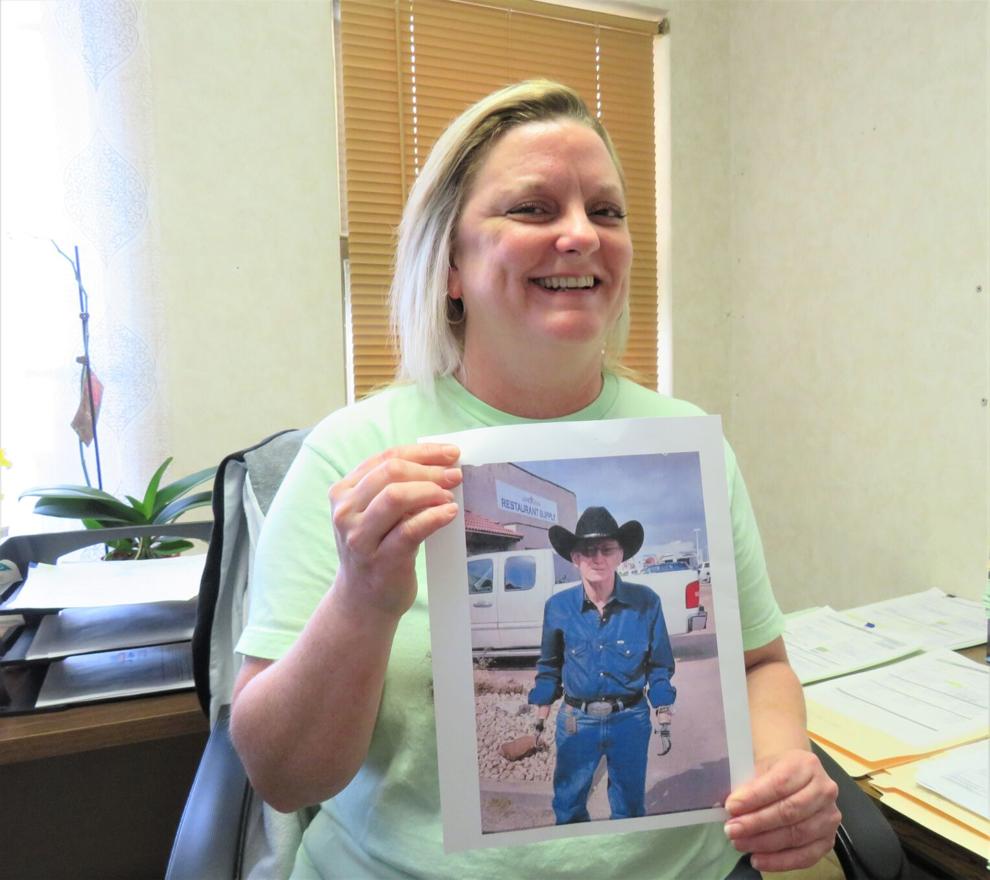 Every little girl looks up to and loves their daddy, and Chantel McKey Greer is no exception. When the Gatesville resident was in middle school, she did a history report on her father, Larry Wade McKey, who had served in Vietnam.
Greer asked her father if she could interview him, but he ended up recording it because he discovered he couldn't talk about it in front of his daughter. There were many occasions when he stopped the tape because he was overcome with emotion.
Through the years, Greer learned a lot about her father from her grandmother, her father's mom. Born and raised in Corsicana, he left there as soon as he graduated high school to join the U.S. Marines, despite having band scholarships to go to college. "He felt like it was his duty to go into the Marines and fight in Vietnam," Greer said.
On Feb. 22, 1971, just after he turned 20, McKey found himself in the Quang Nam Providence of Vietnam. Attached to Fox Company of the 1st Platoon of the 1st Marines 2nd Battalion, he served as a platoon leader.
It was dangerous, to say the least. The men were taught not to accept packages from any Vietnamese child because they often tried to infiltrate the Marines with homemade bombs.
One day, a man new to the platoon was spotted by McKey talking to a Vietnamese boy about 7 or 8 years old and holding a package. McKey knew instantly something was wrong and sprinted over, grabbing the package, which exploded, killing the boy and seriously injuring McKey.
The explosion was so strong it blew off one arm above his elbow and the other arm right below the elbow. He also suffered several wounds to his side and stomach and got shrapnel in his chest and face.
McKey was taken against his wishes to an Army evacuation hospital in Da Nang before transferring to a Veteran Affairs hospital in Oakland, California. He had wanted to stay with his fellow Marines, but that wasn't going to happen. Although Greer doesn't know how long he was in the hospital, she estimates he was there about eight months.
McKey was medically discharged with honors and a Purple Heart. He returned to Corsicana and met and married Sandra Kay Hume. They were married 21 years, and together they had three daughters, one of whom, Tammy, has died.
Greer never paid attention to her father's prosthetics. They seemed natural and normal to her. "If anything, I wondered why other daddies didn't have them," she said. "He could do amazing things with his hooks. He could pick up pens and glasses and even cook with them. He also dressed himself. He was very independent. There wasn't anything he couldn't do with those prosthetics."
In the years after he was released from the Marines, McKey worked for Goodwill in Tyler. He ended up running the plant and had his own office.
Approximately six years ago, McKey was notified by doctors that he only had about six months to live because of congestive heart failure.
"Six months became six years. He was a very tough and determined man," she said.
Greer became his caretaker. She took him at least twice a week (with usually three appointments a day) to the VA hospital in Temple. She took him to every appointment, pushing him in a wheelchair in and out of elevators at the VA hospital. "I was very proud to be able to do that because everyone at the Temple VA Hospital were so very nice."
As they sat with veterans, Greer heard her father exchange stories. "He felt at home there because he was with his brothers," she said, adding "It was a very humbling experience pushing my dad … up and down the halls of the VA hospital … sick or not. I didn't want him to be sick and neither did he, but it still was a very humbling and proud experience."
Larry Wade McKey passed away March 20, 2021 at home. He is survived by his daughters Chantel and Shelly LaFranco, of San Antonio, as well as eight grandchildren and five great-grandchildren. He is buried with full military honors at the Central Texas State Veterans Cemetery in Killeen.
Greer, who works for Johnson Roofing, misses her father terribly. She is planning on spending Memorial Day visiting his gravesite, where he finally has a headstone that she hasn't yet seen.
Greer did indeed get her history report done on her father. She will never forget it. "He was very proud to do the report," she said. "He was very proud to be a Marine."
"I loved my dad very much," she added. "I thought of my dad as my hero."
"Veterans' Voices," featuring stories about Central Texas veterans, publishes every Sunday. To suggest a story about a Central Texas veteran, please email veteransvoices@wacotrib.com. "Veterans' Voices" is proudly sponsored by Johnson Roofing.