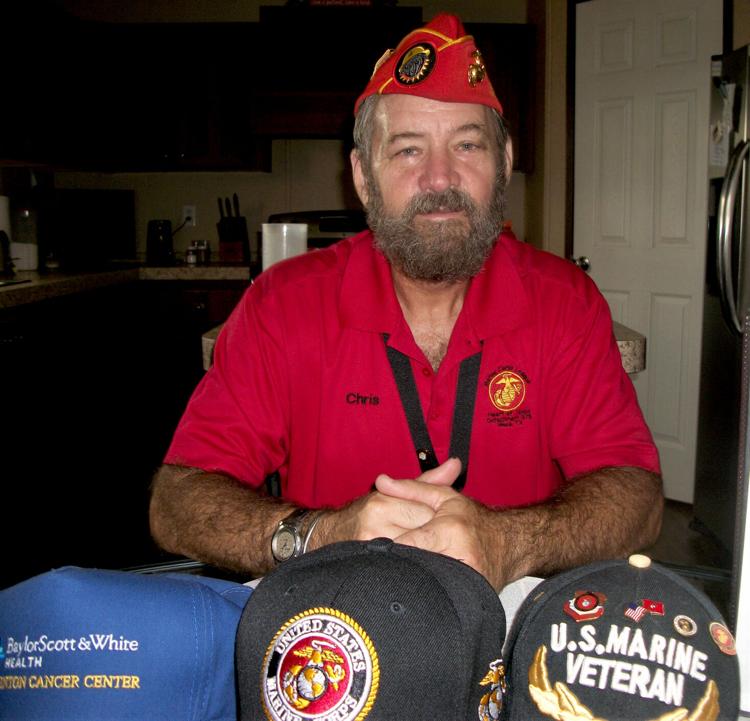 Axtell resident Christopher A. Bean, 62, has been through some hard knocks in his life — including cancer and a divorce at a young age.
Born in Dallas, Bean grew up in the Arlington area after he was adopted from an agency run by the Catholic Diocese of Dallas. He was married and divorced before graduating from Sam Houston High School in 1977.
Bean went to work for a time at a drywall company before deciding to join the Marine Corps on June 10, 1979. He was still getting over his divorce and licking his wounds.
His first day in, he wrote a letter home to his father saying he wanted out. By the second day, he had changed his mind and wrote another letter home saying he was okay. By the third day and a phone call, he assured his father he wanted to stay.
After basic training, he went to advanced training as a machinist. His first assignment was to the 14th Marines Artillery Unit in Dallas, where he did tank maintenance. Bean did that for a couple of months before meeting a captain who changed the course of his career. The captain suggested he might want to work for him at Marine Air Group-41 or MAG-41, as it's more commonly known.
He went to school in Aberdeen Proving Ground in Maryland and came back to Dallas, where he oversaw the group armory.
One of his favorite jobs during his service was going to rifle ranges and helping people shoot better and more safely. There were two or three times where he almost got shot. Once, a guy got careless and accidently discharged his weapon right next to Bean; the percussion damaged his hearing.
Bean was never deployed but was once on standby for Operation Desert Storm. He instead stayed at the group armory until 1990. Then, his career took another turn and he got into career retention planning. Similar to recruitment, Bean did that for a couple of years before he left the service in 1992 as a staff sergeant. He served a combined 12 years in the active and reserve Marines.
Bean worked several jobs after he left the service, but his favorite was at the Army and Air Force Exchange Service in Waco.
In 2001, he married Constance Reed. They have been married since. He has one son and one daughter.
On Jan. 23, 2017, Bean was diagnosed with stage 2 squamous cell carcinoma. He had taken his wife to an appointment at the doctor when the doctor noticed a problem with Bean and checked him out.
"I was numb," Bean said of the cancer diagnosis. "I didn't know which way to turn down the road I was going."
In a week and half, the cancer had moved to stage 4. Bean underwent 10 weeks of treatment, including several hospitalizations when he became so sick.
Bean went through a time of depression and wanted to give up. But he describes an "angel" as showing up and saying just what he needed to hear in his time of need. From that point on, Bean turned his life over to God and things have gotten better, he said. He rang the bell at the Baylor Scott & White McClinton Cancer Center to signify he is over his cancer, but he won't be safe until he's declared cancer-free for one year.
"I got the best care from the VA than I've ever had in my life," Bean said.
Helping further with the depression ― and his relationship with God ― Bean became chaplain of the Marine Corps League 975. He had prayed for a way to give back and felt this was the answer. His third day in, he had to conduct his first funeral. He's done about four of them now.
Despite everything, Bean is on the road to recovery, and has good memories of his time in the military.
"I miss it," Bean said. "It was an honor to serve. I would have done it all over again. I would have done some 30-odd years if they let me. It's what molded me into the person I am today."
Corrections: In last week's article on Tom Guest, it should have read that he had 30 years of service in the Air Force. He retired from his position as Grand Secretary with the Grand Lodge of Texas Masons in 2015.
"Veterans' Voices," featuring stories about Central Texas veterans, publishes every Sunday. To suggest a story about a Central Texas veteran, please email veteransvoices@wacotrib.com. "Veterans' Voices" is proudly sponsored by Johnson Roofing.
Be the first to know
Get local news delivered to your inbox!