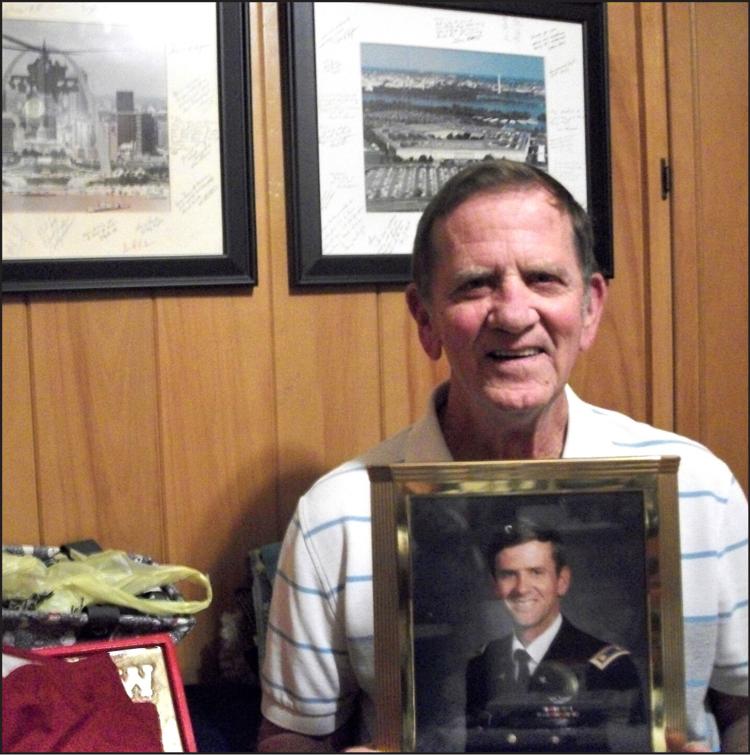 It started with a helicopter ride, although the seed was planted even before that for Hillsboro resident Larry Rochat Sr. He was just 11 or 12 when his father, a military career man and helicopter pilot, took the boy for a ride. It fueled his desire to become a helicopter pilot in the U.S. Army.
Rochat, 70, was born in Brownwood to a family that moved just about every two years. Rochat spent three years in Panama when he was young. He ended up attending Mineral Wells High School when his father was stationed in Fort Wolters.
Graduating in 1968, he attended Tarleton State College (as it was known at the time), where he earned a bachelor's degree in physical education with a minor in English. While there, he applied for the Reserve Officers' Training Corps and attended it all through his college years, including Army Ranger School through a special program. He graduated as a second lieutenant in 1972. He was assigned to Fort Hood and became a tank platoon leader.
Rochat was there for four months before an opening became available and he went to basic training at Fort Knox, Kentucky. He spent two years with tanks before he went to flight school, where he received helicopter training. He started with the Huey, but soon applied for ― and learned to fly ― the Cobra gunship. It was armed with rockets, cannons and machine guns.
"It was an awesome helicopter," Rochat said.
Rochat was assigned to Fort Bliss in El Paso, where he joined the 3rd Armored Calvary Regiment. While in Fort Bliss, he met his future wife, Debra Giles, whose father was also a pilot and a colonel in the Army. They ended up as best friends when he took his father-in-law for a ride in the Cobra. Larry and Debra married in 1977.
After Fort Bliss he went to advanced training at Fort Knox at an armor school (there was no aviation branch at the time). He then went to Fort Polk, Louisiana, and joined the 5th Mechanized Infantry, where he was an operations officer for the 4th of the 12th Calvary Squadron.
During this time, his son, Larry Jr., was born and Rochat found himself missing his son's growing years. His schedule was such that he left the house when the baby was sleeping and came back late at night, with the baby asleep again. He never saw him, so he decided to leave the regular Army in 1979 and try the civilian world.
Rochat went to work for Texas Instruments and joined the Army Reserve in Dallas. He worked a couple of years before he came across a special program, the Active Guard and Reserve (AGR), which he applied for and was accepted. He went back on full time in the Reserve. He was a captain when he came back in and served as an aviation officer for the AGR program with the 300th Aviation Company. Rochat estimates about 20 percent of reservists are full time.
After the 300th Aviation, Rochat went to the Army Personnel Center in St. Louis, Missouri, where he was an aviation personnel manager. One day, when he was giving a briefing, a colonel from the Pentagon recruited him to come and work for him.
"It was a budget office," Rochat said. "People don't realize the Pentagon is a budget office. And you go to about 20 meetings a day."
Later, he became a mobilization officer with additional duties. He went to training in San Antonio. While he was at the training, Saddam Hussein invaded Kuwait and started the Gulf War. Rochat was immediately put on the team for mobilization of the Army Reserve. "That hadn't been done in 20 years," he said. It was a complex process activating the reservists and getting them over to the war.
He did that for a year and half until the troops came home. "It was fascinating. It was an amazing thing," he said.
After the Gulf War, he transferred to Dallas to the 28th Aviation Group and returned to flying. He retired in 1996 as a lieutenant colonel. He served about 8½ years in the regular Army and a total of 23 years.
Today, happily retired, he raised his son, Larry, who is now a lieutenant colonel in the military like his father, and his daughter, Amanda Vineyard, who is married to an Army chaplain.
Rochat is proud of his service.
"I never went to war as a soldier," he said. "I volunteered a lot, but never went. But you prepare for war. That was our job. I feel pretty good about it. You serve with a lot of really, really, great people … Americans."
"Veterans' Voices," featuring stories about Central Texas veterans, publishes every Sunday. To suggest a story about a Central Texas veteran, please email veteransvoices@wacotrib.com. "Veterans' Voices" is proudly sponsored by Johnson Roofing.
Be the first to know
Get local news delivered to your inbox!