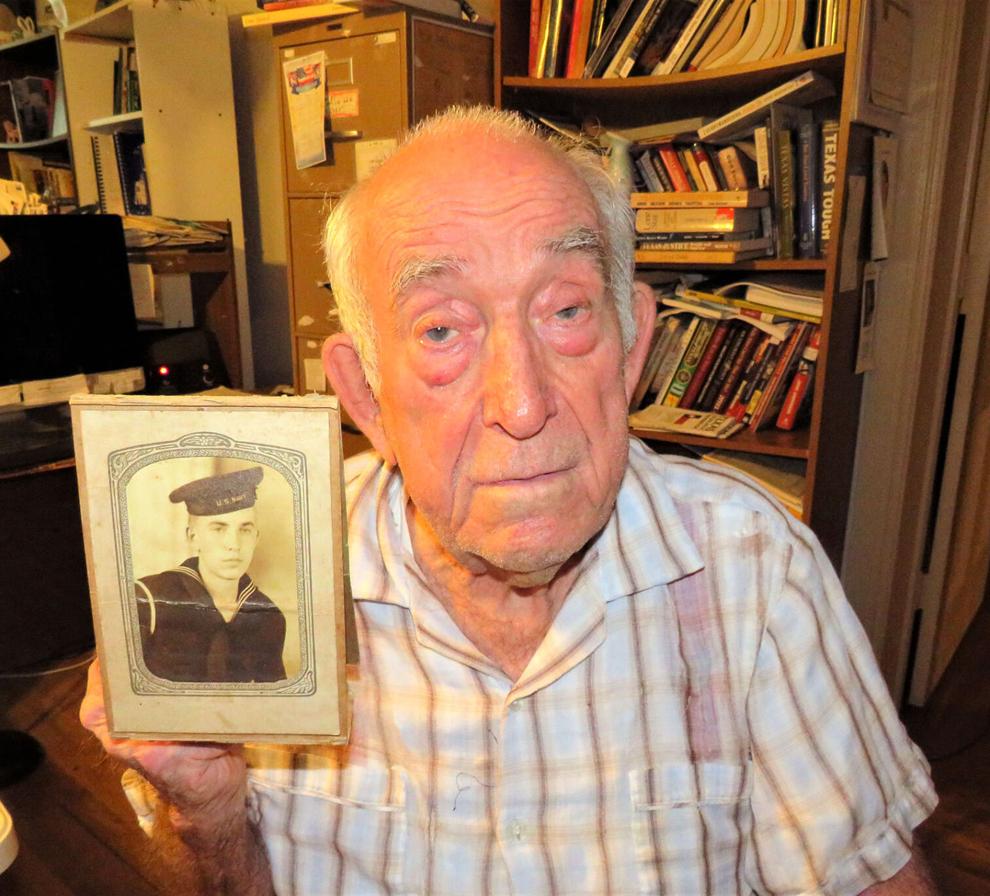 If the name Lyle Clarence Brown sounds familiar, it's because for years he taught political science at Baylor University. What you may not know is Brown served five years of active duty in the military and an additional 24 years in the Reserves.
Brown, 95, a Robinson resident, was born and raised in the town of Hume near Rochester, New York. He completed eight grades in seven years in a one-room schoolhouse before attending Fillmore Central High School, where he graduated in June 1943.
For a brief time, Brown had a job on the Erie Railroad in a carpenter gang. He lived with his boss and would ride with the group to work every day. He made 35 cents per hour.
In the meantime, there was a war going on and Brown didn't want to miss it. He signed up for the U.S. Navy on his 17th birthday with his parents' permission. At basic training at the Sampson Naval Training Station on Lake Geneva in Wisconsin, he spent a week serving as an instructor of the rifle range of Unit E.
Brown wanted to join the Army, but would have to wait a year, so he decided against it. "I was afraid the war would be over by the time I turned 18," he said.
He was sent to radio operator school at Texas A&M University. He was in the Reserves but was trained for active duty right away. To this day, he remembers Morse code.
Brown was selected for officer training and in February 1944 attended Polytechnic Institute in Ruston, Louisiana, where he began four semesters in the V-12 Unit. When he was finished, war had ended in Germany and Brown was transferred to the Naval Reserve Officer Training Corps at the University of Oklahoma in Norman, where he was commissioned as an ensign in May 1946.
He served for a brief time as athletic officer, supervising softball and boxing teams, along with intramural programs, at the Naval Amphibious Base in Coronado, California.
In July 1946, Brown got orders to report to Landing Ship Medium 463, which carried tanks and troops. "Because it had a flat bottom, we would stream right up on the beach," he said.
The ship first made trips around the Hawaiian Islands for a couple of months, hauling troops and cargo for the Army and Navy. There were 25 enlisted men, the crew and four officers, including Brown. He had four jobs: officer for communications, supply, commissary and gunnery officer. When the ship's navigator transferred out, he became navigator, too.
The ship then sailed for Yokosuka, Japan, then to Shanghai, China. As a unit of Service Squadron Three, LSM 463 was deployed to Tsingtao in North China. It traveled up and down the Korean coast, from one side to another, supporting the U.S. Army at Inchon, Pusan, Kunsan and Chinhae.
Brown left Korea in 1947 and went back to the University of Oklahoma to finish his degree. For the fall semester of 1948, he moved to Austin to take a doctoral program at the University of Texas.
The day after North Korean forces invaded South Korea on June 25, 1950, Brown volunteered for active duty. He flew to Okinawa for a communications and cryptology position on the staff of Commander, Service Squadron Three, aboard the USS Piedmont, a destroyer tender. At this time, he was promoted to lieutenant junior grade.
It was the first time Brown saw action, and he participated in Gen. Douglas MacArthur's amphibious landing at Inchon. Cruises and destroyers were providing gunfire support to Marines fighting pretty close to shore, he said. He spent most of his time encrypting and decrypting code. During this time, all staff was transferred to the USS Hector, including Brown, and the Hector sailed for Sasebo, Japan, where it was homeported.
After peace negotiations began in 1951, reservists who had volunteered for active duty could return to inactive status. In the fall of 1951, he was back at UT to finish his graduate work. He remained in the Reserves until his retirement as a commander in 1971, serving mostly in intelligence units and participating in mobilization billets to a variety of places, such as Brazil, Argentina and Panama. In all, he spent five years on active duty and 24 years in the Reserves.
In May 1949, he married Sylvia Dru Sills. She passed away last year after 71 years of marriage. Together, they had three children and four grandchildren.
Today, Brown continues to spend his time writing articles and publications. He is the lead author of "Practicing Texas Politics," now in its 17th edition; the book was updated in 2020. Brown is known throughout the teaching circuit; he taught in Mexico and other U.S. universities, including Baylor from 1963 to 1996.
"My military service was very helpful because it gave me an opportunity to get college training," Brown said. "And it helped me learn about international affairs, which later became part of my work."
"Veterans' Voices," featuring stories about Central Texas veterans, publishes every Sunday. To suggest a story about a Central Texas veteran, please email veteransvoices@wacotrib.com. "Veterans' Voices" is proudly sponsored by Johnson Roofing.