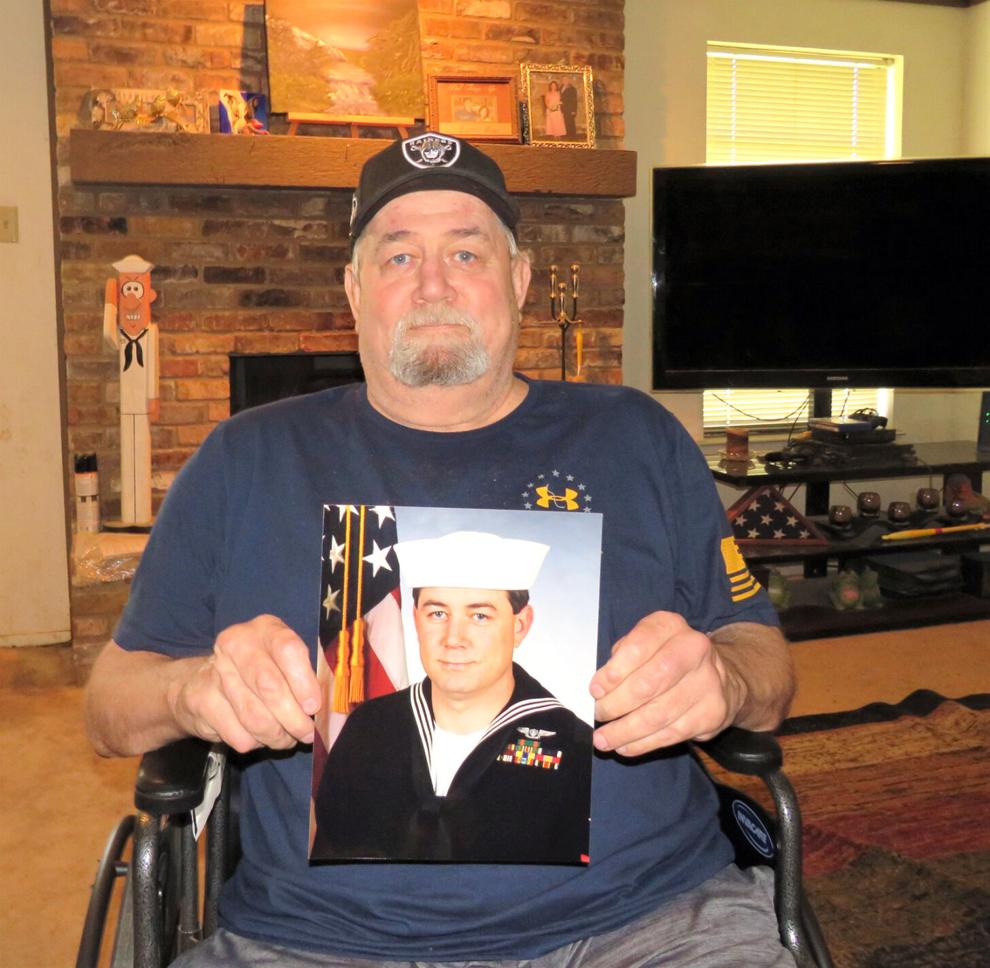 "I had the time of my life," said Hewitt resident Ron Eaton, 64, referring to his Navy service. "It was one of the best things I ever did for me."
Eaton, a native of Lancaster, California, spent 20 years in the service. Moving to Norwalk, California, he graduated from high school and entered the Navy in September 1975 through a delayed entry program.
Assigned to be an airman apprentice, his first duty station was Point Mugu in California and San Nicolas Island off the California coast. He worked at an air terminal directing traffic, moving bags and whatever else was needed.
"After my second year, I realized I hadn't gone anywhere," he said. He was close enough to his home to commute on weekends. He decided to re-enlist for four more years in 1977. He was promptly sent to Cubi Point in the Philippines, a naval shipyard and airbase.
The job there was to support incoming aircraft. As an air crewman, Eaton flew as a passenger out to the fleet. When they got about 200 to 300 miles offshore, Eaton and the others would provide support through mail, cargo and passenger runs.
He also got to fly in a T-39 Sabreliner, a VIP-type of plane for E-6s and above. The highest-ranking officer he helped support was a four-star admiral in charge of the Western Pacific.
"I liked it. I had a good time there," he said.
In 1980, Eaton re-enlisted for another four years. He was assigned to VP-30, a patrol squadron in Jacksonville, Florida. As an air crewman, he was an aft observer during training exercises for pilots. He found it extremely boring, he said. At that point, he decided he didn't want to fly anymore and left for Mayport, Florida, where the USS Forrestal became his new home.
As an electrician by trade, Eaton was a supervisor for the floor, ensuring all engines were ready for pilots. He then moved out of the jet shop and became supervisor for 62-ECHO generator control units. In 1982 he was assigned to Naval Air Station Willow Grove in Pennsylvania to maintain the C-1A plane that came off the aircraft carrier.
Continued service
In 1985, Eaton re-enlisted yet again. By this time, he had 10 years in. "That's when I knew I was staying (in the Navy)." Up to this point, he hadn't been sure. He was an E-6 aviation electrician 1st class.
In 1985, he went to Memphis, Tennessee, to take a long, advanced series course in electronics. He spent eight months in school before resuming his duties. He served at locations that included Fallon, Nevada, and NAS Whidbey Island in Puget Sound.
From 1988 to 1990, he joined the VAQ-132 Scorpions. In 1990, he was deployed on the USS Saratoga to the Mediterranean in support of Operation Desert Storm. Working on the EA-6B Prowler, he went into the Red Sea after passing through the Suez Canal. He would see planes take off fully loaded with bombs come back completely empty.
The Saratoga went to the Indian Ocean to relieve the USS Kennedy and didn't come home until March 1991 to Mayport, Florida. He then returned to Whidbey Island.
That was the longest Eaton had been at sea. During that time, he worked 12 hours on with 12 hours off, seven days a week. His work was so exemplary, he earned Scorpion (Sailor) of the Year in 1990.
In 1992, Eaton finished his tour with the Scorpions and re-enlisted for a final four years. He served his remaining time back at Point Mugu. In June 1995, he retired as an E-6 petty officer 1st class. In addition to the Scorpion of the Year award, he received a Navy Commendation Medal for his service on the Saratoga during Operation Desert Storm, a Navy Achievement Medal and an Operation Desert Storm Medal.
After he left the service, Eaton continued with his electronics career, working at several companies, usually on anything electronic in airplanes. In 1993, he took a job with a private contractor to go back to Iraq, installing vibration monitoring equipment. He also worked on a big surveillance balloon with a video feed that sends information for analysis. The balloon would float up to about 3,000 feet. It was his job to maintain the electronics.
He eventually took a job with L-3 Communications (now L3Harris), moving to Hewitt in 2010. He retired in 2015.
Eaton, a lifetime member of VFW Post 6008, is married to Kristen Burr. They've been married nine years. Between the two, they have seven children, four grandchildren and three dogs.
Today, Eaton still talks with the friends he made in the service. "I had the time of my life," he said. "It was my privilege and honor to serve my country."
"Veterans' Voices," featuring stories about Central Texas veterans, publishes every Sunday. To suggest a story about a Central Texas veteran, please email veteransvoices@wacotrib.com. "Veterans' Voices" is proudly sponsored by Johnson Roofing.