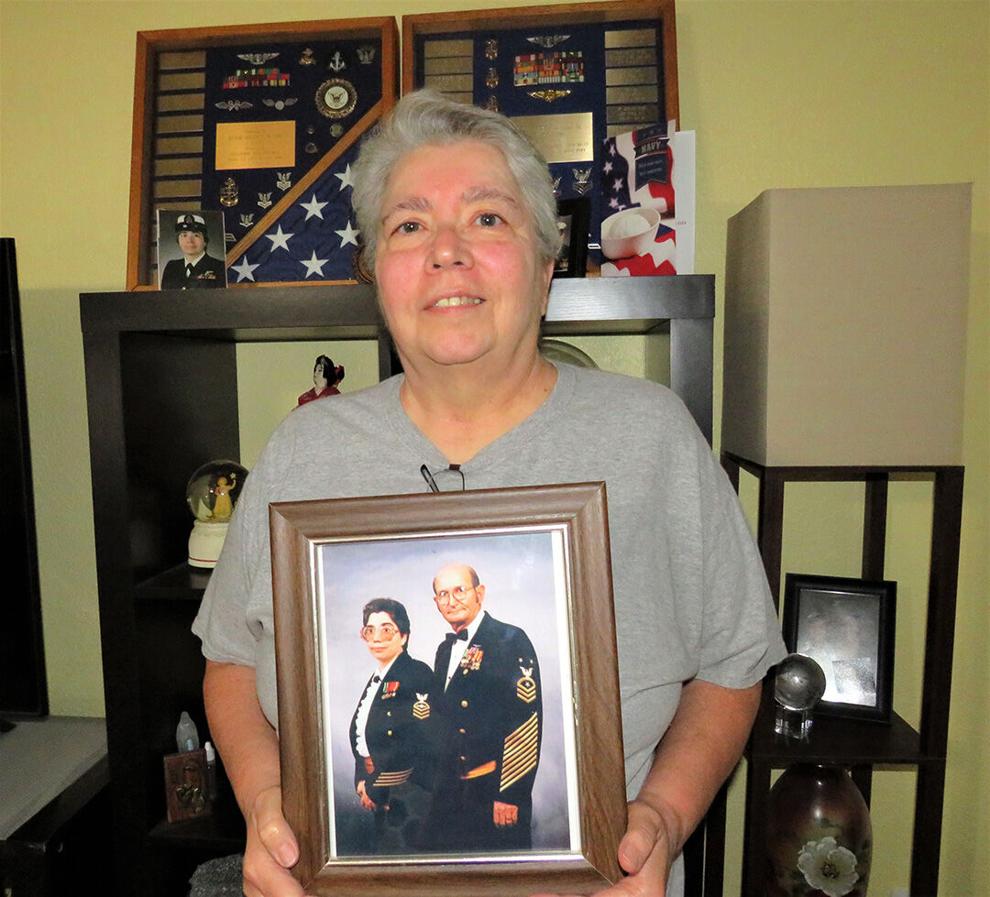 When Rosalie A. De Long, 70, was in the military, she achieved a major first in her career belt when she became the first-ever female chief aviation electrician's mate. But that didn't happen overnight for the Woodway resident.
Born and raised in Chicago, her father was a World War II veteran, so De Long was more than familiar with the lifestyle. When she graduated from St. Mary High School in 1968, she was 17 and wanted to sign up for the military. At the time, however, women needed to be 21 to join or had to have parental permission. Her father refused to sign her up ― at least for a time.
De Long worked in downtown Chicago. It took her a while to convince her dad that she wanted to sign up, and not to serve with her brother in Vietnam.
"I wanted to serve my country," she said. "There's a war on and I wanted to do my part."
Finally in January 1971, before her 20th birthday, she joined the Navy with her father's permission. She attended boot camp in Bainbridge, Maryland, followed by advanced training at Naval Air Station Memphis, where she was trained as a storekeeper.
In 1971, women were restricted to limited careers, including medical, dental and clerical. Some men resented a woman's presence and plainly said so. De Long took it in stride, determined to get ahead in spite of such sentiment. She was sent to a clerical typing pool, but she didn't let it stop her from achieving her goals. She cracked the aviation storekeeper books and studied, getting promotions often faster than the men.
Within three years, the military had opened many more careers for women and De Long decided to switch to aviation electrician. She had passed aviation storekeeper 2nd class, so when she switched positions, she became an electrician 2nd class, a bit of a boost for her career.
She took a new job teaching aviation electrician school at NAS Memphis. She did this for two years before being transferred to a squadron in Meridian, Mississippi. It was a squadron that trained T-2 pilots to land on aircraft carriers. She spent three years doing that.
De Long married and left the Navy in April 1978 to have a son. In September, she joined the Reserves and in 1981 was reactivated. Since they were searching for electrician teachers back at NAS Memphis, she applied for, and got the job. By now, back on full duty, she was an aviation electrician 1st class.
In 1983 she became the first female chief aviation electrician's mate. There was even an article published about it. Now she was charged with more than just her sailors' physical careers. She had to worry about their personal lives as well. A chief always takes care of his, or her, sailors.
"It's hard to explain," she said. "It's just special. Even your uniform changes."
She was transferred to recruiting duty for a time but didn't care for it. From there, she was transferred to NAS Keflavik, Iceland. It turned out to be her favorite assignment.
"I was born and raised in Chicago, which they call The Windy City, but you haven't seen wind until you've been to Iceland," she said.
After about two years, De Long was transferred to a helicopter squadron in San Diego. She had never worked on helicopters before, "but a wire is a wire," she said. She was division chief of the electric shop and line division chief.
In June 1993, she requested retirement, and in 1994 she retired after serving 23 years.
Fresh out of the service, De Long attended the University of Central Missouri, where she obtained her bachelor's degree in geography and political science.
Graduating in 1998, she married Sam De Long on July 17, 1990, bringing her son and daughter to the marriage. They were married a decade before he passed away from complications due to Agent Orange exposure. He had spent 37 years in the Navy and was a command master chief when he left.
De Long worked for a time in Independence, Missouri, when a good friend from the Navy told her of a position in San Antonio. She moved and was there for five years before she took another position processing Medicaid applications.
She moved to Waco when her granddaughter was to begin attending China Spring High School, where she's now a senior. De Long has been in Woodway ever since.
De Long thinks she been out now longer than she was in, but she still has many friends in many ports.
"It's a family," she said. "It's a great, wonderful family. I miss it. I am very proud of it, and I would do it again."
"Veterans' Voices," featuring stories about Central Texas veterans, publishes every Sunday. To suggest a story about a Central Texas veteran, please email veteransvoices@wacotrib.com. "Veterans' Voices" is proudly sponsored by Johnson Roofing.