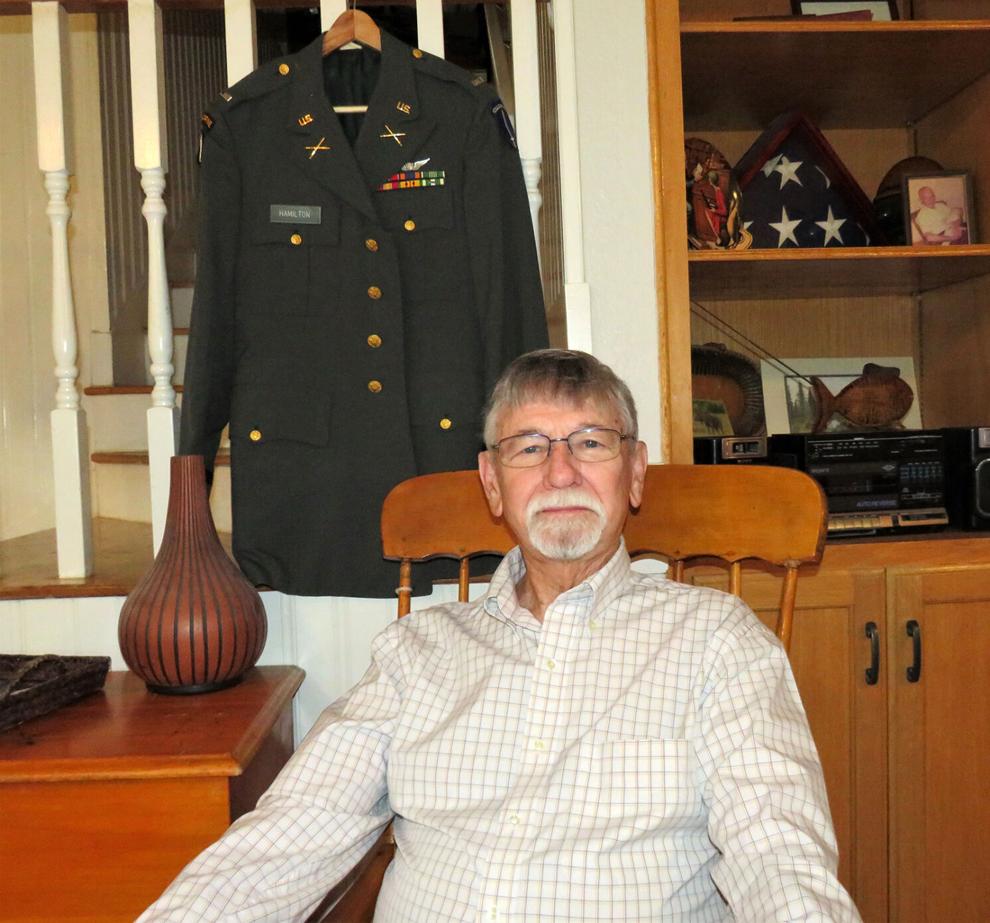 Denton native and China Spring resident Scott Hamilton was on a straight path through college. The Denton High School graduate had just received his master's degree in psychology and was planning to start his Ph.D. when he knew his number was up for the draft. He decided to preempt it by joining the U.S. Army.
Hamilton, 76, was raised in a military family. His father served on the USS Yorktown in the Navy in World War II and also served in the Korean War. Hamilton had lived in Hawaii for a couple of years before returning to Denton. He went to the University of Texas in Austin and enrolled in engineering but switched at some point to psychology.
He ended up at the University of North Texas, where he received his master's degree. That's when he knew his number was up. He went to basic training, received advanced training in artillery and attended Officer Candidate School, graduating as a 2nd lieutenant in 1970.
After Hamilton received his commission, it was off to Vietnam and the I Corps region, the northernmost part of South Vietnam located at the Demilitarized Zone. He spent his first six months in the jungle.
"You could look through binoculars and see people in the towers in the north and they could see you," Hamilton said.
During the time he was in the jungle, Hamilton was a forward observer. It was his job to spot the enemy and direct artillery fire, and not just tube artillery, either. It included jet bombers and armed helicopters.
"When I got to Vietnam, I was told the average lifespan for forward observers at that time was … about 14 weeks," he said. "They see an antenna sticking up and they would fire because it represented some activity with a commander of some sort."
Hamilton carried an M-16 and a .45 pistol, but he was usually too busy to use it. Sappers would come in at night and try to kill the men but there was always someone on watch. During actual fighting it would be noisy, with the radio crackling, guns going off, rocket fire and people shouting.
"You learn about combat," he said. "You learn about death; you learn about dying. It becomes very, very real when one of your troops is dying in your arms."
His fire direction team was small, comprised of Hamilton, a reconnaissance man and the radio telephone operator, and they were usually attached to an infantry platoon. One of his biggest incidents took place at Firebase Rip Cord.
The firebase was being overrun, and it was Hamilton's job to try and stop it from being taken. As a forward air observer, he directed fire from a helicopter. The fighting was hot and heavy, with casualties on both sides. Eventually, the U.S. withdrew troops from the base, and it was lost to the enemy.
In fact, it was such an intense period that Hamilton is writing a book on his experience with Rip Cord. It will be historical fiction based on real action.
After six months, Hamilton spent the remaining time as a fire direction officer, who computes how and where to aim the gun. He was on two different firebases, and he felt immeasurably safer than being out in the jungle. For one thing, he had a bunk.
When Hamilton left Vietnam, he went back to Denton to collect his wife and child and went to infantry school, where he was to teach infantry soldiers about artillery. That didn't happen. When the Army discovered his educational background, he was pressed into service as an individual and family counselor until he was honorably discharged as a 1st lieutenant in January 1972.
He earned numerous honors, including a National Defense Service Medal, a Republic of Vietnam Campaign Medal, Army Commendation Medal and a Bronze Star.
Hamilton returned to the University of North Texas where he got his doctorate degree in psychology. He went to work for a time at the Texas MHMR before becoming a commercial builder. He joined Profiles International, a worldwide company, where he worked until his retirement in 2015.
Hamilton was married to Carolyn Blake in 1968. They were married 52 years before she passed away. They had three children together, plus one grandchild.
Today, Hamilton and his companion, Linda Teal, enjoy spending time together.
Regarding his military service, Hamilton deems his experience as "good."
"The reality is getting shot at is an experience," he said. "Getting hit is a whole different ballgame. My military experience would be dramatically altered had I been wounded, injured and so forth. I am very sympathetic for veterans, and I support veterans. I have a good relationship with the VA.
"I learned things about people. I experienced it as a psychologist, for one thing. So it helped me understand people with traumatic suffering better."
"Veterans' Voices," featuring stories about Central Texas veterans, publishes every Sunday. To suggest a story about a Central Texas veteran, please email veteransvoices@wacotrib.com. "Veterans' Voices" is proudly sponsored by Johnson Roofing.