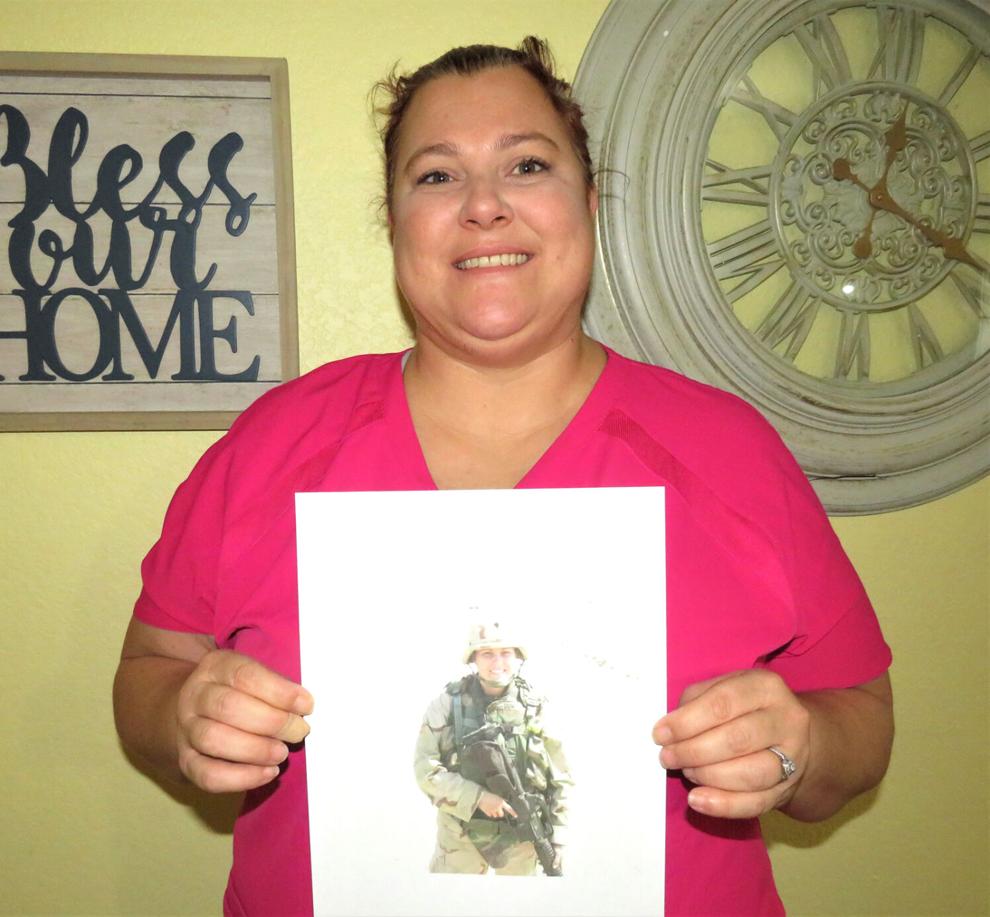 Sometimes when you are young, you're just not ready for what life may have in store. Such was the case for Tanis Clarke, 39, of Robinson.
Born in Webster, Texas, she was raised in Ingleside and graduated from high school there in 1999. That's when Clarke decided she wasn't quite ready for college. She was working and going to school full time and it wasn't panning out for her. She decided to join the military instead.
In 2002, Clarke joined the U.S. Army, taking her basic training at Fort Leonard Wood in Missouri. She came back to Texas and Fort Sam Houston for her advance training as 91 Whiskey (combat medic). She had the idea to become a nurse when she got out, but that didn't happen.
Still, Clarke did nearly everything a nurse would do. Her first order of business was basic emergency medical training. That was followed by intensive work in dozens of tasks, from chest tubes and tracheostomies to wound care and birthing babies. "So many things I would never get to do as a civilian," she added.
Clarke's first duty station was in the now-closed Harvey Barracks/Kitzingen Army Airfield in Kitzingen, Germany, in 2003. She was a part of the Big Red One (1st Infantry Division) 701st Battalion, Echo Company. She wasn't there too long, however.
While stationed in Germany, Clarke was deployed in February 2004 to Kuwait to prepare for the coming invasion of Iraq. For a time, the soldiers stayed there in tents, waiting for their vehicles to arrive from Germany. They stayed in Kuwait for about a month.
"There were sandstorms like crazy," Clarke said. "Some so strong you couldn't see your hand in front of your face."
She had a regular Humvee without the "up armor" of extra protection that later Humvees would have. Instead, they used sandbags inside the vehicles as a barrier against any possible bombing. "It slows (the vehicles) down and they're already slow," she said.
It took about four days of solid driving for them to reach Northern Iraq. "I've never been that tired in all my life," said Clarke, who was driving. She was so tired that when the convoy stopped for gas, she fell asleep in line. When she woke up, there was a big gap between her car and the one in front of her.
They arrived in a forward operating base in Tikrit, Iraq. They weren't under attack, but they could see the tracers at night.
Among her medical duties, Clarke sometimes treated the area children. One child showed up and held up his shirt. He was covered in burns. There were also injuries from wrecks and rollovers to tend to. Usually, however, they served the soldiers.
Frightening time
She went back and forth to Kuwait several times and got her license to drive a special vehicle that was similar to a small bus. One of the biggest challenges they faced was improvised explosive devices, which could be found everywhere. Even things like a piece of trash was suspect, as often the enemy would put an IED in there.
Clarke's scariest moment came while traveling down a divided roadway that had four lanes separated by the middle of the highway. It was nighttime and they were "tasked out" to another unit as combat medics. A guy driving on the other side of the roadway cut across and spun his car right in front of Clarke's vehicle and stopped.
Her instinct was to slam on the brakes, but at the last second, she floored it and hit the car on its quarter panel. The vehicle was flung far off the road and blew up. Her superior told her later if she would have stopped, she would have been dead. Convoys were often the target of vehicle-borne IEDs.
Clarke returned to Germany in December 2004. She then went to San Antonio because she was hurt from the accident and needed treatment. She stayed in San Antonio until she left the service in 2006 as a specialist. She had spent four years in the service.
By this time, Clarke was ready for college and attended Texas A&M-Commerce. Instead of nursing, she switched to social work, where she felt she could have more of an impact. She graduated with a bachelor's degree and then went on to get her social work degree at Baylor University. For a time, she was a school social worker at Crestview Elementary, but later took a job with Alamo Hospice, where she works today.
She is raising four kids from a previous marriage. In 2017, she married Kevin Clarke, who is also a veteran.
Despite not being ready at first, Clarke took the military way and made good.
"I think it was a great experience," she said. "I'm really glad I served."
"Veterans' Voices," featuring stories about Central Texas veterans, publishes every Sunday. To suggest a story about a Central Texas veteran, please email veteransvoices@wacotrib.com. "Veterans' Voices" is proudly sponsored by Johnson Roofing.