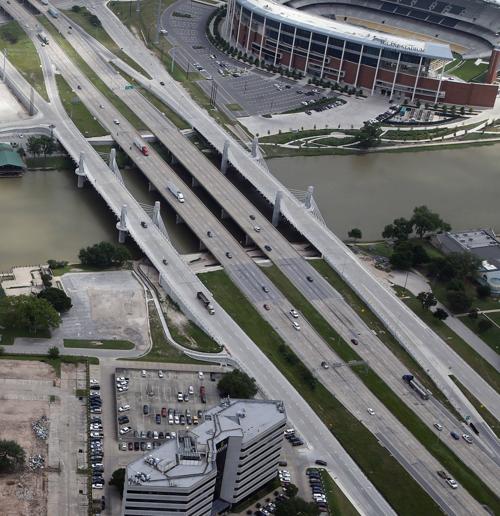 Starting Tuesday through mid-2021, a five-mile stretch of Interstate 35 through the heart of Waco will be constricted as crews shift all mainlane traffic to the northbound side of the freeway.
The Texas Department of Transportation will close the southbound side of Interstate 35 between Business 77 and 18th Street at 7 p.m. Tuesday to prepare for the demolition and reconstruction of two overpasses and the Brazos River bridge.
Crews are set to begin that process Wednesday by tearing down the southbound lanes over Martin Luther King Jr. Boulevard, cutting off east-west traffic on that cross-street through midday Friday.
The southbound overpass over University Parks Drive will fall next week, causing temporary closures at that crossing. Next up will be the southbound bridge over the Brazos River, which could take weeks to demolish using barge-mounted equipment, said Clayton Zacha, TxDOT's Waco-area engineer.
During the process, Interstate 35 drivers will have two northbound and two southbound lanes throughout the five-mile stretch. Zacha said that's already the case along much of the zone, but the shift is expected to slow traffic because the lanes will be divided only by a barrier, with no shoulder.
The bigger issue for travelers may be the closure of some popular exits into the middle of Waco, he said.
The southbound Exit 337 for Business 77/Elm Avenue will close, with traffic rerouted to Exit 338A, or the Waco Drive exit.
The southbound Exit 335B for University Parks Drive, Fourth and Fifth Street will also close, with traffic rerouted to Exit 335C, the MLK Jr. Boulevard exit.
Sometime in 2021, the reconstructed southbound roadbed will reopen, and northbound traffic will be shifted onto it until that side of the freeway is finished.
TxDOT began last spring on the $341 million project to rebuild I-35 from North Loop 340 to South 18th Street, expanding it to four main driving lanes in each direction.
Get local news delivered to your inbox!
Subscribe to our Daily Headlines newsletter.