Waco Symphony Association executive director Susan Taylor found a lot to do that fell outside an ordinary job description. She helped introduce internationally known violinist Nadja Salerno-Sonnenberg to fishing and rodeo. She took members of Henry Mancini's band out to see the Branch Davidian compound at their request, days before it burned.
Taylor arranged an after-hours, post-concert meal at an East Waco Cajun restaurant for trumpeter Doc Severinsen. And she has seen a bald Art Garfunkel before he put on his toupee.
On the other side of the stage, she has not quite enjoyed the fruit of the Waco Symphony Association's efforts: years of classical concerts by the Waco Symphony Orchestra accented by regional and world-class stars.
Concert nights brought their own distractions: performance logistics, concertgoer problems to resolve, pre- and post-concert events for patrons. Still, she found a way.
"I enjoy listening at dress rehearsals," Taylor said. "I can't totally relax in the concert, but (in dress rehearsals) I can sit and not have to worry about anything."
Those experiences will come to a close at the end of summer as Taylor, 73, is leaving as executive director Aug. 31 after 44 years. She has been the only executive director in the symphony's history and said it is simply time to step aside for someone new.
"I've done exactly what I've wanted to do with the symphony," she said. "We've grown slowly. We've brought in the most wonderful artists to play with this orchestra and we've done it with this community supporting it."
After decades of organizing seasons, ticket sales, performances, fundraising and more, she was foiled from her original plan of retiring in the orchestra's 60th anniversary season, the 2022-23 season, by something beyond her control: the coronavirus pandemic that put a whole symphony year on ice.
Coping with yet another year of concerts in question — a November pops concert with the band America is the only one presently on the orchestra's horizon — and the challenge of being computer literate versus computer fluent nudged her into her decision.
Stepping down now will give her time for her own pursuits and to spend with her four grandchildren.
"I'm ready to leave. It's been wonderful and a wonderful job," Taylor said.
Stephen Heyde, whose 34 years as the Waco Symphony Orchestra's music director has stretched through most of Taylor's years as executive director, said Taylor's work as director made it possible for the symphony to raise its musical bar.
"There's nothing a music director can do if the resources aren't there to support the dream," Heyde said. "It's very rare for a community orchestra our size to have the artists we've had and that's (due to) Susan."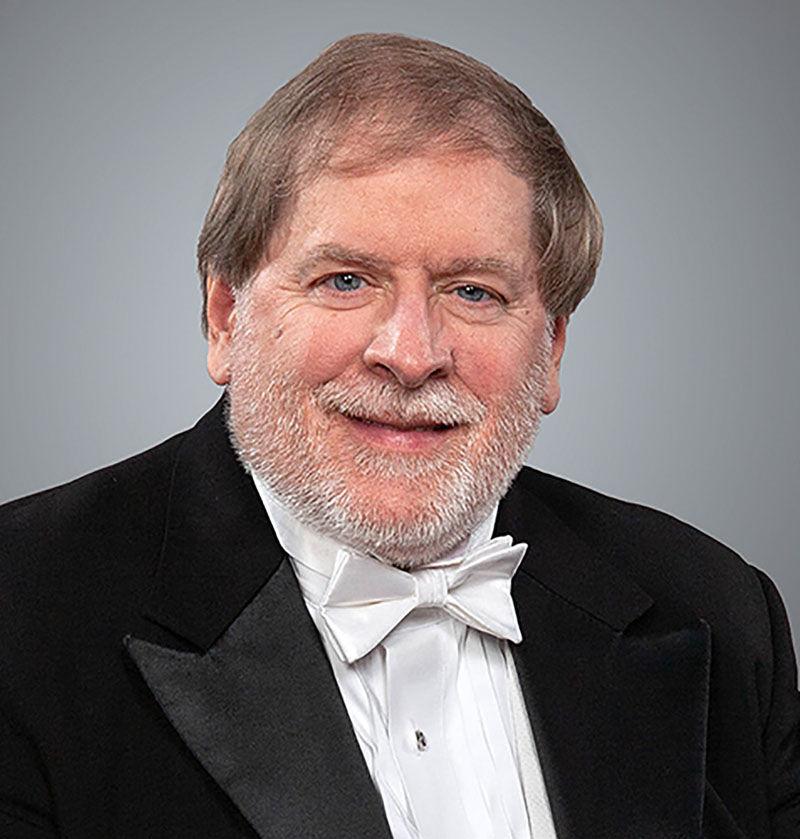 Taylor and Heyde married nearly four years ago, a second marriage for both, and though the 71-year-old Heyde said he has contemplated his own retirement as music director, it is not his time yet.
"I still love both orchestras (Heyde also leads the Baylor Symphony Orchestra), but as we're aware, times are changing," he said. "The orchestra is needing new blood and at some point it will be important to let that happen, but I haven't made that decision yet."
Waco Symphony Association President Heyward Green, a longtime board member and symphony supporter with his wife, Marsha, said Taylor's resignation was not unexpected, but a little sad nonetheless.
"She has been the face of the Waco symphony for a very long time," Green said. "She bridges the only two music directors the symphony has had. In many ways, it's her baby."
The search to find Taylor's successor is underway with notices posted both locally and nationally through organizations including the League of American Orchestras. Board member and former association President David Guyer leads a six-person committee meeting weekly to find a new director. He hopes the association will have a director in place before Taylor leaves so she can help train her successor and introduce her or him to the community.
"She brought us a long way," Guyer said of Taylor, praising her skills in organization, securing guest artists and helping create a board that is not only productive, but enjoyable to serve on.
Taylor's first introduction to the symphony came as a fourth grader, when she attended a concert led by Baylor School of Music Dean Daniel Sternberg. Sternberg would become the symphony's first conductor, its music director for 25 years — and her boss.
Flash forward a decade or so. A University of Texas graduate with a degree in art history, Taylor was a stay-at-home mom in Waco with two young children, 3-year-old JoAn and 1-year-old David. Her father, Charles "Bud" Gervig, a Waco Symphony supporter, informed her of a part-time position at the symphony, helping with concert ticketing and the like. That position eventually led to Taylor's appointment in 1976 as executive secretary under Sternberg.
Eleven years later, Sternberg stepped down as music director, handing the reins to the symphony's concert master and Baylor conductor-in-residence Stephen Heyde. A Waco Symphony Association reorganization created the position of executive director, which Taylor assumed and has filled ever since.
Much like its home city, the symphony organization grew slowly and steadily over the years, expanding seasons, programs and a solid financial base that enabled it to weather the occasional season where revenue fell short.
Seasons were expanded to five concerts with regular pops concerts. Performances of Tchaikovsky's "The Nutcracker" with regional ballet companies became periodic holiday offerings, as did a Christmas-themed holiday concert.
The Waco Symphony Belles program was expanded and young men added in 1990 as the Symphony Brass. The Waco Symphony Youth Orchestra started in 1990 and continues today. The Waco Symphony Association also raised money to help buy an acoustic shell for Waco Hall, the symphony's longtime home at Baylor University.
Other ventures such as a Waco Symphony Chorus, a Waco Children's Choir and a Sunday Sounds chamber music series did not last as long and were closed when they were no longer financially self-sustaining. Creation of different levels of patron support, a reserve fund and a Waco Symphony Foundation expanded the symphony's financial resources to where the association was managing a pre-pandemic budget of just under $1 million.
Under Heyde's leadership, the symphony evolved from a somewhat ad hoc creation of professional classical players and Baylor music faculty assembled on the day of the concert to one with broader membership and a cohesion built over multiple rehearsals and performances.
The combination of the orchestra's musicianship and community financial support made the Waco Symphony Orchestra a magnet for classical and pops superstars, with Waco playing host to world-renowned talents including violinists Itzhak Perlman, Joshua Bell, Midori and Pinchas Zukerman; cellist Yo-Yo Ma; trumpeters Chris Botti and Doc Severinsen; opera soprano Renee Fleming; composer Henry Mancini; pianists Emanuel Ax and Andre Watts; actor Henry Winkler; plus a host of others.
Heyde credited Taylor's persistence in landing many of those superstars, staying in touch with artists' managers over the years — some 15 years for Yo-Yo Ma — to signal Waco's interest in their clients.
"She knows how to be persistent without being obnoxious," he said.
Taylor also developed an informal network of symphony supporters who could be relied on for extra giving during times of budget shortfalls or for superstars' performance fees of up to $100,000.
"All she has to do is pick up the phone and call someone, and it seems to happen," Guyer said.
Taylor found most of the the orchestra's guest artists gracious visitors and well-received by Waco audiences. Actor Henry Winkler, in fact, felt comfortable enough to visit Magnolia Market at the Silos with his wife and eat at Magnolia Table without an escort to mediate fan attention.
"For most of the classical artists, you give them a bottle of water and a dressing room, maybe a snack, and they're happy," she said.
Singer Renee Fleming, though, specified a dresser backstage to help her change outfits as part of her contract.
Pop artists who mandated beer and liquor in their dressing room — forbidden on the Baylor University campus where Waco Hall is located — required more extended contract negotiations and substitutions.
There were occasional stumbles over the years, such as when Frank Sinatra Jr. stiffed a local private post-concert reception, though it had been specified in his contract, and the concert by jazz star Al Jarreau, which saw audience walkouts after he began scatting, vocal improvisation, rather than singing lyrics.
There were concert complications and near embarrassments, too. Sonnenberg's introduction to horse riding saw her get kicked in the hand before her performance. Pianist Annie Aniko-Myers chipped a tooth the night before her performance, requiring emergency dental work, which she got from a dentist on the symphony board. One of the Righteous Brothers died after the symphony had booked him on a season.
Pianist Andre-Michel Schub's mileslong jog from the Waco Hilton down University Parks Drive took him far past Baylor University — and, to his mild alarm, sources of water on a warm Texas day. Then there was the evening when Taylor, working the Waco Hall box office hours before a concert, almost forgot her other duty: bringing the evening's guest singers to the concert hall.
Taylor's replacement will start with the daunting task of rebuilding audiences after a devastating year lost to the pandemic, in a world of increasingly diverse entertainment options and shrinking, aging classical music audiences.
That makes the Waco Symphony Association search committee's work a challenge, but a good one, said committee chair Guyer.