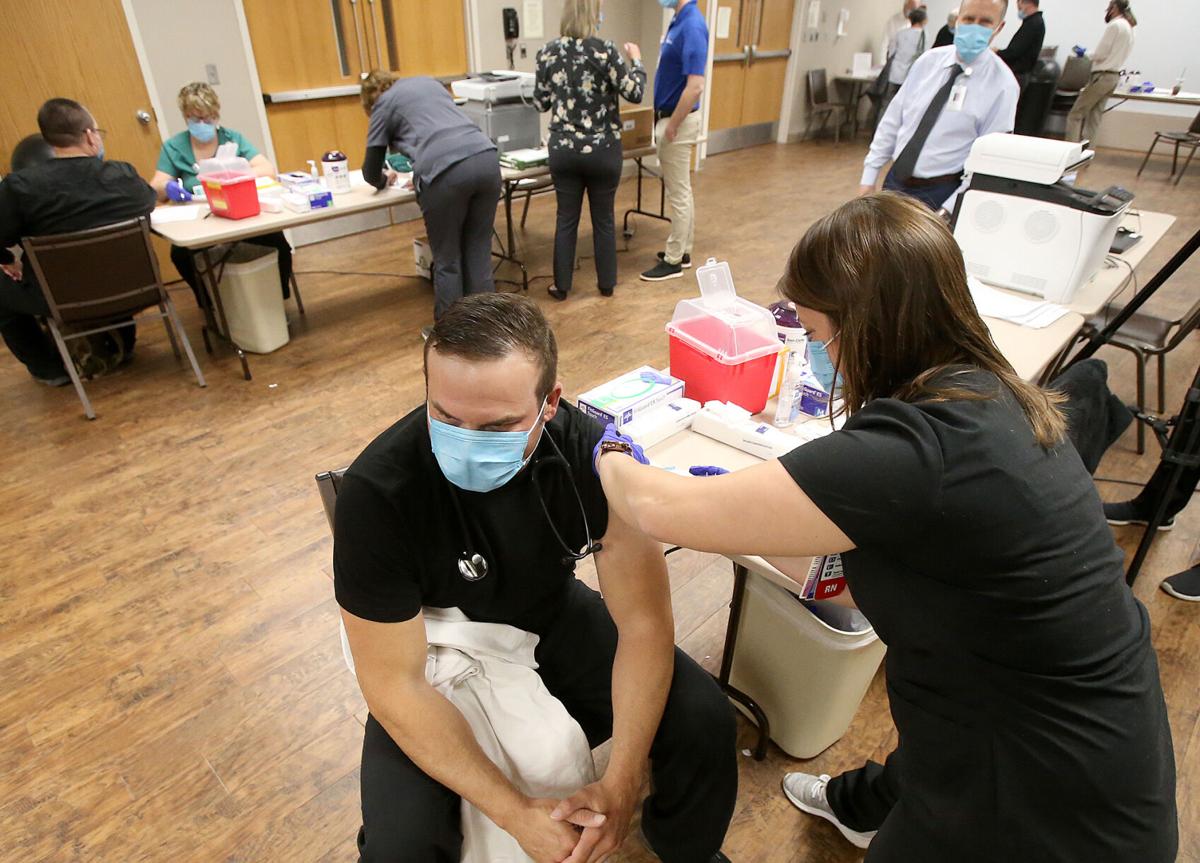 COVID-19 cases are on the rise globally but on the decline in McLennan County, and work is underway to encourage more and more residents to get vaccinated, local and health officials said Wednesday.
The Waco-McLennan County Public Health District has done away with its vaccine waitlist, and anyone who signs up can receive a vaccine relatively quickly and, as always, for free, officials said during a monthly COVID-19 press conference Wednesday. The city-organized press events had been weekly for much of the pandemic, and Wednesday's is the last one planned, Waco Mayor Dillon Meek said.
The health district is turning its attention from centrally located large-scale clinics to more mobile vaccination events aimed at groups who have not received the vaccine yet, as well as growing a volunteer ambassador program, Health District Director LaShonda Malrey-Horne said.
"We have about 20 trained ambassadors that are able to answer commonly asked questions about COVID-19, and we're also looking at ways to expand the footprint of this into more of a layperson … that's a little less formal," Malrey-Horne said.
She said she wants to get trusted community members involved, work with the school districts ahead of the next school year and make sure the program has Spanish-speaking ambassadors.
Malrey-Horne said there is a correlation between not yet getting the COVID-19 vaccine and a general lack access to the health care system, like someone without health insurance. She said making sure people understand the vaccine is free and is now widely available to the public will be key to reaching more of the population.
"We don't have hard data that says that's why people aren't accessing vaccine, but based on the data that shows us our populations that are getting vaccinated, we can say those that are not are more likely to be uninsured or under insured than those that are getting vaccinated just based on how people access health care in general," Malrey-Horne said.
Meals on Wheels will assist with another mobile clinic Saturday. Some Salvation Army staff members got vaccinations through a mobile clinic, and Waco Housing Authority will host a clinic May 16. There are also plans for a vaccine clinic at this year's Juneteenth parade and celebration.
The health district reported 60 new cases in McLennan County residents Wednesday, while the estimated active case count decreased to 142 cases. There were 17 COVID-19 patients in McLennan County hospitals, and the cumulative confirmed case count stood at 26,896. Three deaths of McLennan County residents have been reported this month, and a total of 454 local deaths have been attributed to COVID-19.
A total of 73,967 residents, almost 37% of the 16-and-older population, have received at least dose of a COVID-19 vaccine.
Waco Family Medicine CEO Dr. Jackson Griggs said vaccines are "the pathway out of the pandemic," but he is especially worried about reaching people avoiding the vaccine for ideological reasons.
McLennan County gets three new COVID-19 cases per 100,000 residents each day on average, compared to 11 for the state and 18 for the nation. Griggs said that means community spread is still happening, but the figure has been dropping for "eight wonderful weeks."
"Globally, mortality has increased for six consecutive weeks, but the local death rate has steadily decreased since peaks midwinter. And, saying that, as long as there is spread of the virus in our community, we will continue to see neighbors perish from this disease," Griggs said. "So while these numbers are so promising, for the future, we must stay vigilant."
Griggs said the number of COVID-19 tests being conducted locally is lower than it should be, and has been for some time, but an average of just 4% of tests were coming back positive as of Wednesday.
Griggs said McLennan County's vaccinated population combined with those who have natural immunity from exposure to the virus are the reason spring break activities and travel did not lead to an increase in cases locally. In many countaries, however, the virus has not slowed down, which carries risks globally.
"Young Americans' numbers are improving due to vaccine access, while several countries lacking access are seeing record breaking incidence, and the bulk of the virus worldwide does create new risk for variants," Griggs said.
Dr. Brian Becker, chief medical officer for Ascension Providence, said the hospital has had 10 or fewer COVID-19 patients for the last two weeks, and only a handful are in the intensive care unit.
"We will continue to collaborate closely with local and state health officials to ensure that we're doing everything that we can to get vaccine in patients who are desiring that vaccine," Becker said. "It is important, step by step, to help prevent the spread of this serious disease and to protect loved ones around you."
Dr. Umad Ahmad, interim chief medical officer at Baylor Scott & White Hillcrest, said conditions are similarly improving at his hospital. He said demand for the vaccine has fallen recently among Hillcrest patients.
"We have more availability than the community is seeking," Ahmad said.
Ahmad said 60% of the variant cases of COVID-19 found in Texas have been the strain first detected in the United Kingdom, which has some increased risk of transmission and death but can be prevented with the COVID-19 vaccine. The similarly preventable variant first detected in California makes up 6% of Texas' variant cases. The variant first detected in South Africa, the one that shows the most indication of resistance to current vaccines, makes up 2% of variant cases.
"The message that I would like to send to the community is variants are going to be there and the message will continue changing, but please get vaccinated," Ahmad said.
Ahmad also said it is important to keep up with hand hygiene and masking. The dearth of influenza cases in the 2020-21 season so far proves hand hygiene and masking are tried and true ways of stopping the spread of a virus.
During the Wednesday press conference, Meek thanked a list of officials who have collaborated with the city of Waco during the pandemic response, including public health authority Dr. Farley Verner, Health District Director LaShonda Malrey-Horne, Assistant City Manager Deidra Emerson, who served as interim health district director from July 2020 to January 2021, and the entire Waco-McLennan County Public Health District staff.
"And last, my thanks to the Waco community who have rallied together to support each other in an incredibly difficult, sometimes confusing and certainly challenging year," Meek said. "To those health care providers, city and county staff members, teachers, and other frontline workers who have sacrificed, thank you. To those who have endured pain, to those who have suffered in the hospital, to those who have lost loved ones, our hearts go to you and my prayers are still for you."