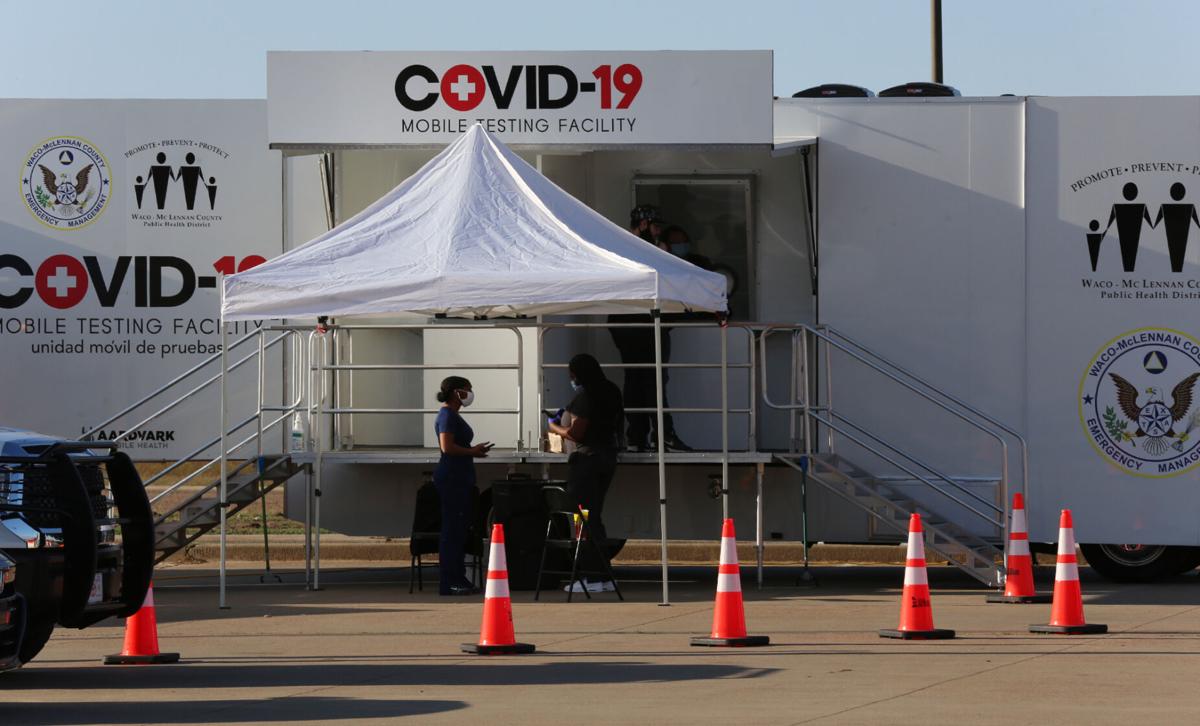 McLennan County could have to roll back the reopening of certain businesses and further limit occupancy if the area's COVID-19 hospitalization rate continues to creep upward and surpasses 15% of available beds.
For the fourth consecutive day, COVID-19 hospitalizations in the Trauma Service Area that includes McLennan County have hovered at about 12% of the total number of licensed beds, dipping to 11.5% on Sunday. The Trauma Service Area also includes Limestone, Hill, Falls and Bosque counties.
Waco hospitals were treating 72 COVID-19 patients Tuesday, including 53 McLennan County residents and 11 people who on ventilators.
The Waco-McLennan County Public Health District also reported another resident of the county has died from COVID-19 complications, bringing the county death toll to 165 people.
The health district reported 119 more residents have tested positive for the disease caused by the novel coronavirus. At least 11,408 McLennan County residents have been infected by the virus.
An estimated 922 people are currently sick with the disease, an increase of 331 people in the past seven days.
Health district spokesperson Kelly Craine said COVID-19 continues to spread among families and during get-togethers with family members outside the home or with friends. But even within the same household, one person could be infected and before they learn they are sick, they could infect the other members of the household, she said.
Because the risk for contracting COVID-19 is greater right now, the health district is urging families to celebrate the upcoming Thanksgiving holiday with only members of the same household, Craine said.
"Even small groups have a risk of spreading the virus," she said. "At this point, it's such a high risk activity that we're recommending that you should just stay home."
Reducing group activities, also in schools, will have the domino effect of decreasing the number of COVID-19 hospitalizations, as well, Craine said. All it takes is one person who is infected but is not showing symptoms to spread the disease to others.
"The only way we're going to slow it down is to slow down our group activities and not have those large group gatherings," she said.
The county's testing positivity rate had increased to 14% by Monday on a rolling seven-day average basis, after remaining at 6% from Oct. 15 to Oct. 29, then at 7% through Nov. 1. The positivity rate had dropped slightly as the average number of tests conducted daily increased in mid-October. The U.S. Department of Health and Human Services is continuing to offer free tests daily at multiple sites in the county.
Meanwhile, Midway High School plans to remain open, despite 22 students and four staff members who were on the campus testing positive for COVID-19, district spokesperson Traci Marlin said. Most of those students are virtual learners who only came on campus for extracurricular activities.
Unlike Waco ISD schools, Midway High School has not had to quarantine as many staff members because most cases stem from extracurricular activities including volleyball and basketball, or stem from students congregating off campus, Marlin said. By quickly conducting contact tracing, the district has been able to identify those who may have been exposed and quarantine them to prevent further spread.
"We're not immune to what's happening in the community," she said, referring to the increase in COVID-19 spread in McLennan County.
Midway ISD Superintendent George Kazanas said in a statement that the district has no plans to close the high school right now, although "nothing is off the table regarding COVID-19."
"Because the majority of current cases are confined to extracurricular programs, we are temporarily closing programs rather than schools, and quarantining the people directly exposed," Kazanas said in the statement. "The programs affected by cancellation of practices and competitions are volleyball and JV boys basketball, with preventative measures such as restricted travel and some quarantines for football, baseball, the dance team, and marching band."
Moreover, many middle school athletic competitions have been canceled because they were scheduled against schools that have temporarily closed, Kazanas said.
"Until this point we have experienced that nearly all of the spread has been from community and personal activities outside of school, whereas safety protocols on campuses for the general student population have been very effective. Should all students convert to virtual learning, we have no way to limit social situations and implement safety protocols," he said. "We will continue to closely monitor every case and to consult with healthcare professionals in decision-making, keeping safety as our number one priority in school and to the extent feasible out of school."