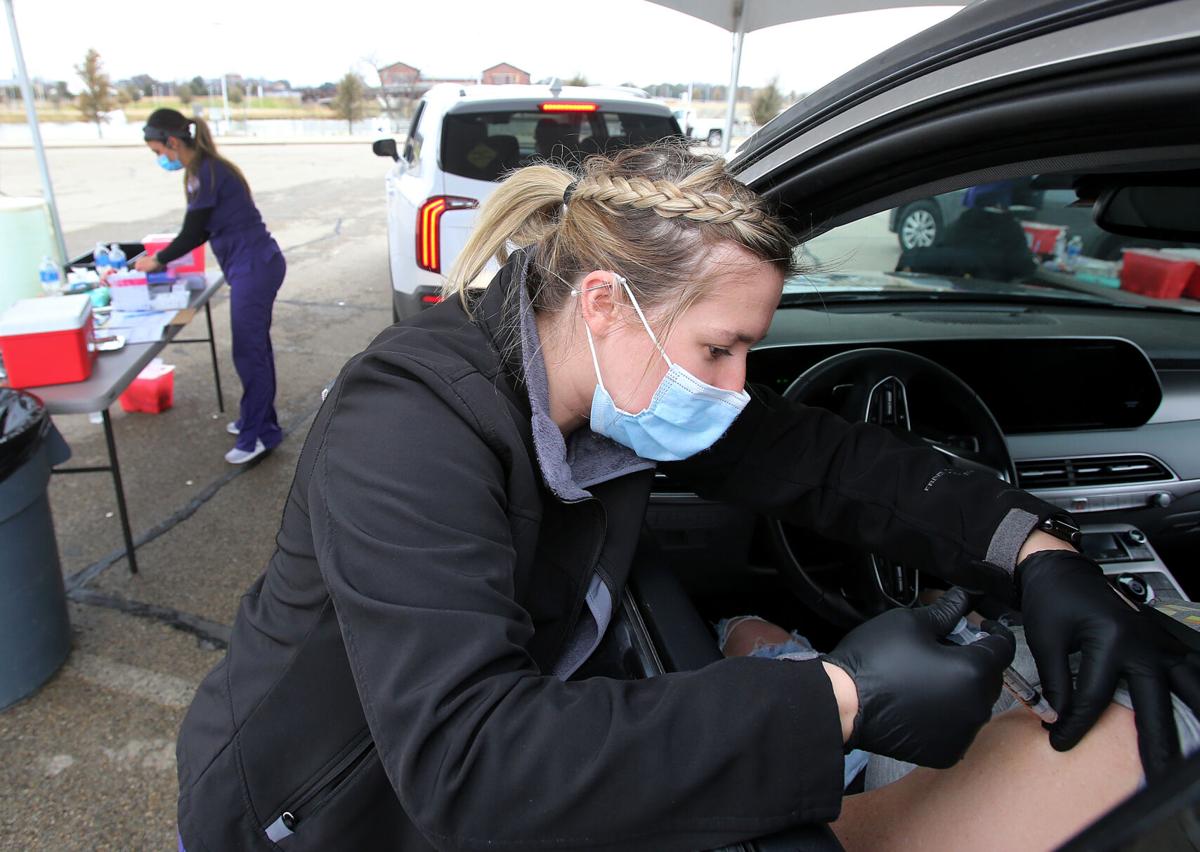 More than 30,000 people have received their first COVID-19 vaccine dose in McLennan County, the equivalent of 15% of the county's 16-and-older population, state data showed Monday.
The numbers jumped after the Waco-McLennan County Public Health District made a full-court press to use up its backlog of Moderna vaccines, giving 5,259 shots over three days ending Saturday at McLane Stadium.
The health district's vials stacked up after it cut short clinics the weekends before and after the historic freeze in mid-February. This past week, the health district hub and Ascension Providence hub administered a record 7,958 shots, including second doses. By Monday, 30,058 people had received their first dose in McLennan County and 14,089 had received their second shot.
Health district spokeswoman Kelly Craine said the effort last week proved the ability of the health district vaccine hub to scale up.
"We definitely have capacity," she said. "We can definitely increase the amount we vaccinate. We just need the vaccine."
The health district in recent weeks has gotten 1,500 first doses and 1,500 second doses of the Moderna vaccine, and it will continue with that amount with this week's clinics at McLane Stadium. A waiting list for the shots is available online at www.blockitnow.com/wacowaitlist.
Ascension Providence, McLennan County's other state-designated hub, will also get another 2,340 first doses of the Pfizer vaccine and an equivalent number of second doses this week. The health care system has been holding weekly public vaccination clinics at its hospital, available for reservation at https://healthcare.ascension.org/COVID-19/Vaccinations.
Ascension Providence has also used some of its allotment on its own selected patients and at clinics at local school districts.
Residents can also check for vaccine availability through the Federal Retail Pharmacy Program, which includes certain CVS, H-E-B, Walmart and Good Neighbor Pharmacy locations across the state.
Meanwhile, a health district report on COVID-19 trends from Saturday to Monday showed that the decline in cases over the past few weeks has continued. The health district reported 44 cases Saturday, 28 Sunday and 36 Monday. Three COVID-19-related deaths were reported Monday involving a 92-year-old white female, a 66-year-old Hispanic male and a 78-year-old white male. Fifty-five residents remained in McLennan County hospitals with COVID-19, including 45 from McLennan County.
Across the five-county Trauma Service Area M, which is anchored by Waco, COVID-19 patients accounted for 7.8% of COVID-19 admissions, the lowest rate so far this year.
Free public testing for the coronavirus is available 8 a.m.-5 p.m. Tuesday through Friday at two Waco sites: A drive-through site at McLennan Community College, 4601 N. 19th St.; and a walk-up clinic at the Waco Multipurpose Center, 1020 Elm Ave.