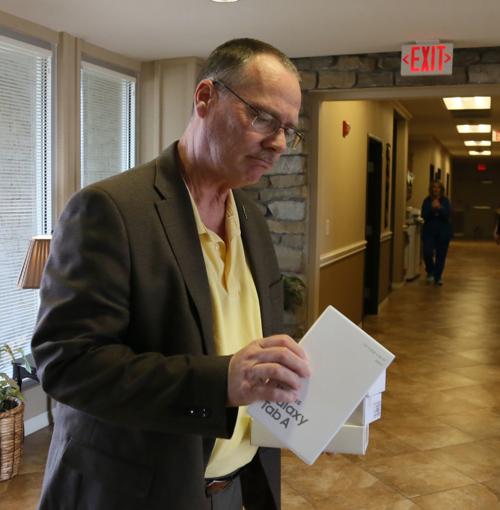 The Trib has dropped its paywall on all the coverage related to the coronavirus. Find all the coverage on our coronavirus latest page.
---
Mental health professionals are turning to technology to help their clients from a distance as the world at large deals with the unfamiliar and the added stress of isolation under measures to control the spread of COVID-19.
As Waco enters another week under a shelter-in-place order and medical facilities restrict visitation as a precaution, technology stands in more and more for in-person interaction.
Bill Hoy, a clinical professor of medical humanities at Baylor University, worked with associate social work professor Helen Harris to buy a set of tablets for patients at Providence Hospice and Scott & White Hospice at Hillcrest. The pair, who have former students at medical institutions throughout the city, realized people in hospice would be cut off from their families.
"They're not going to be here for months or years in most cases," Hoy said. "This will allow them to get some virtual support at least from chaplains and social workers, and it will also allow them to interact with family and that sort of thing."
As officials implemented restrictions related to the coronavirus, hospice workers across the country started raising the alarm about psychosocial and spiritual staff not being able to reach patients, Hoy said.
About that time, one of Hoy's students told him a relative of hers in hospice could only speak to her through FaceTime, and only after a nurse volunteered her cellphone.
"Most elders living in skilled nursing facilities don't have a cellphone. They don't have a smartphone they can do FaceTime on," Hoy said. "I think we're about to see people using them everywhere."
Hoy and Harris approached Providence volunteer coordinator Sonya Wilson, offering a remote solution. Nurses will take the devices to patients and disinfect them between each use. Hoy said it is only a start, because the tablets are not ideal for patients who have impaired hearing or vision.
"There is absolutely no substitute for a beating heart in the room, the presence of another person, but we just can't do that so we've got to find what might be a distant second to that," Hoy said.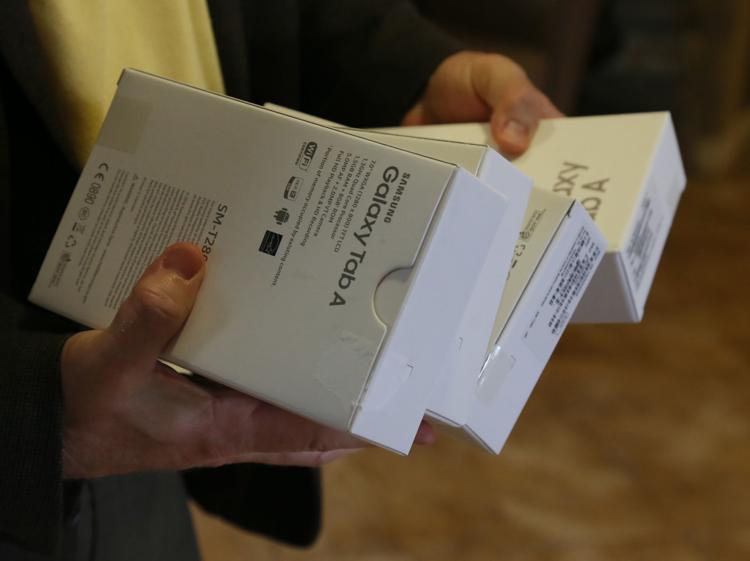 Counselors and therapists also are relying on technology to conduct remote therapy sessions under the constraints. Some, including licensed professional counselor Colby Walters, have been using remote counseling tools for years. Walters started using Better Help, an online therapy forum, in 2018, and has been helping her colleagues make the sudden jump to therapy via chat sessions, texting, phone calls and video calls since social distancing measures went into effect.
She said each medium has its advantages, but she personally finds video calls the most helpful.
"When you don't know them personally, it's always good to have a face you can put with the client," Walters said. "What I found with this type of therapy is that you'll really get to know your clients."
Now, she is helping other counselors navigate the daunting number of platforms available for therapists. Some are designed to comply with medical privacy laws, while others, including FaceTime, are not.
Walters said there are even some positives that come with talking to a client in their own home. Clients are in their comfort zone and can show their counselor important parts of their lives, whether it is a pet or an ongoing project.
"A lot of the clients I'm seeing, we're not talking about what brought them into therapy," Walters said. "We're not talking about trauma. We're not talking about relationships. We're talking about 'Do you have food? Do you have resources? How are you taking care of your family?'"
Walters said self-care, which can seem like an afterthought in the face of so much upheaval, is the first step to surviving.
"Find something that makes you happy and stick with it, because you can't pour from an empty cup," Walters said. "If you can't take care of yourself, you can't take care of others."
Lee Carter, a psychologist practicing for 37 years, said he could only compare the collective trauma of the coronavirus pandemic to that of the Great Depression.
"As people feel their circumstances are dire, they could become too self-focused and lose sight of others' rights and needs," Carter said. "We need to be careful to watch for that. I think people who try to hoard staples and food and money and forget the need to share may find themselves in unnecessary conflict."
Carter said in a crisis, most people's tendency will be to look out for themselves first, but that does not mean people are hardwired against helping one another.
"The unique nature of this crisis is such that people are rallying around one another and being supportive of one another, even talking to strangers or people you don't know well and asking 'are you okay?'" Carter said. "I've seen a lot of that."
Carter said he and his wife have found themselves doing exactly that during walks they take every evening, striking up conversations with strangers from 6 feet away.
"There's been a lot more people out, and people will stop to talk as if to say 'I hope you're doing well,'" Carter said. "Those kinds of small gestures not only are good for the recipient, but also for the person who shows concern for their neighbor."
He said while social distancing is necessary, complete isolation is not, and poses a serious threat to a person's well-being.
"You might develop assumptions that are not based on reality by focusing too much on the worst case scenario, and you can get yourself worked into an emotional and even physical frenzy," Carter said.
Baylor psychology professor Wade Rowatt said one way to cope is to go through a grieving process, allowing oneself to grieve for victims of COVID-19, the loss of normality and experiences missed out on as a result.
"A lot of the stresses we face today are acute. They're short-lived. This one is chronic," Rowatt said. "It's going to take a different skill set to adapt and adjust to a new normal."
He said everyone, even those who avoid direct effects of the disease, has lost something, whether the opportunity to walk across the stage at graduation or the normalcy of a work or school routine. He said it is important to acknowledge the reality of the loss, work through the emotions surrounding it, adjust to changes and form an enduring connection with the loss before embarking on a new journey.
"We are all, right now, going through those kinds of paths, trying to figure out what that loss process is and embarking on new journeys," Rowatt said.
Rowatt said he has found himself using his phone and social media more often since restrictions started, but technology can be a double-edged sword. Staying in contact with friends and loved ones is key to staying stable during a period of isolation, but social media can also lead to becoming obsessed with the pandemic and losing perspective.
"If we're using social media constructively to stay connected, I think that's a really good use," Rowatt said. "If we're using social media and we find that we're getting emotionally distressed, that's an important time to recognize that and take a break."
Rowatt said the continual run on grocery stores will likely continue as long as people perceive scarcity.
"When people feel like there's not going to be enough to go around they go and try to take what's there," he said. "We have to reframe things. Right now, there is enough food, and there are enough staples to go around for everybody, even if it looks like H-E-B and Walmart are falling behind because we've cleared them out."
People might also be inclined to hoard because they fear the stores are contaminated, he said.
"This is kind of a spiral," Rowatt said. "If you perceive that the place you get your food is contaminated, you might clean them out at a higher rate."
Perceptions around grocery stores are not the only ones driving irrational behavior, said Jeff Levin, a professor of epidemiology and population health at Baylor.
In a recent Q-and-A with Baylor public relations officials, Levin warned against turning any one group into a scapegoat for the current situation.
"It's horrible, it's inexcusable, and I don't want to be flippant, but it's epidemiologically ridiculous," Levin said in an interview. "It has no basis in reality."
According to an ABC News report, the FBI's Houston office sent an analysis to law enforcement agencies around the country predicting a spike in hate crimes against Asian-Americans.
"There can be downstream effects that pollute us as a community, as a culture," Levin said. "When we feel powerless, when we feel out of control and bad things are happening, there's kind of a human tendency to want to look for people to blame."
Levin said while the tendency is irrational, it is common. He pointed to animosity toward Mexican-Americans during the 2014 Ebola scare and the massacre of European Jews during the 14th century Black Plague as examples of the same pattern of irrational hate.
He said aside from being inexcusable, that type of scapegoating is also a useless distraction from real safety measures.
"There's a saying in epidemiology that diseases don't know national borders or demographic categories," Levin said. "It doesn't mean a whole lot to them. They have their own mission. They spread where they're going to spread."
During the Q-and-A, Levin also cautioned against apocalyptic thinking. He said the 1918 Spanish flu pandemic, which killed more people worldwide than World War 1, also led people to feel as though the world was ending.
"There was so much going on, and there was a sense that we'd come to the end of time, to the end of the world," Levin said. "I think that the proliferation of those sorts of sensibilities today is a downstream effect of that pandemic."
Levin said it is important to remember the coronavirus pandemic also is serious but also is not the end of the world.
"It's not nothing, and it's not the end of the world," Levin said. "It's a very serious public health challenge, and we all know what we need to do about it."
---
Photos: Scenes from across America as nation responds to coronavirus pandemic
Concerned about COVID-19?
Sign up now to get the most recent coronavirus headlines and other important local and national news sent to your email inbox daily.