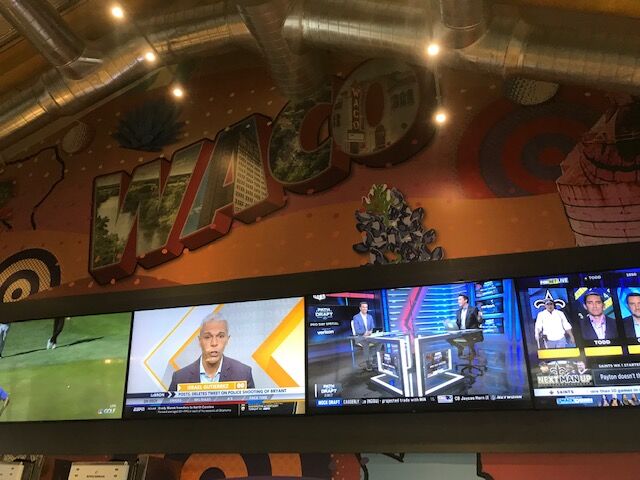 Topgolf, the Dallas-based company specializing in climate-controlled driving ranges and grill-to-table dining service, has entered into its first "naming rights agreement" with an education partner: Baylor University.
Topgolf on April 23 opened its new Topgolf Waco at New Road and Interstate 35, part of NewQuest Properties' 143-acre entertainment destination that will include a 14-screen Cinemark theater and a Main Event fun center.
Baylor will get exposure all over Topgolf's sprawling complex, its brand flashing before the eyes of "key demographics," said a news release.
"Baylor Field at Topgolf Waco" will become part of the digital replays of golf shots launched by those driving, slicing and hooking to their heart's content in one of 30 outdoor hitting bays. This exposes the Baylor brand to thousands spending an hour or two at Waco's newest family attraction.
J.F. Prata, Topgolf Media's COO, said the company will use the Baylor pact "to showcase partnerships of this kind in future markets as well."
Baylor earlier this spring cozied up to Topgolf, with counselors bringing prospective students and their families to a Topgolf Live event at McLane Stadium. Under this new deal, counselors can bring would-be students and their families to Topgolf Waco daily at specified teams, said the release, adding the venue lends itself to other student recruiting events.
As a bonus, Topgolf Waco will set aside four hitting bays exclusively for current and prospective students and school employees who may play at discounted prices. The Baylor brand will appear on digital advertising and on Topgolf TV programming scattered throughout the clubhouse.
Baylor "will have opportunities to explore additional partnership placements at other Topgolf facilities across the country," said the Baylor release.
Jason Cook, Baylor's vice president for marketing and communications, said the collaboration allows the school to "extend the Baylor campus further into the Waco community" for residents and visitors from across the country.
Twin Peaks successors 0-for-2
The third time apparently was not a charm.
Yet again a restaurant has folded in the former Twin Peaks building at Central Texas Marketplace, site of a deadly biker shootout in May 2015 that left nine people dead. A sports bar called Scotty's Brewhouse followed Twin Peaks into the 7,000-square-foot space, but it lasted less than a year.
Now Louisiana Crab Shack apparently is long gone. An Austin-based ownership group remodeled the space to fit its choice of Cajun decor, signed a long-term lease and promised to create a good-time place with TVs on the wall, beer on tap and food prepared in accordance with family recipes.
Waco real estate agent Clay Fuller, son-in-law of former Lady Bears basketball coach Kim Mulkey, put Louisiana Crab Shack in that building as an agent with Turner Behringer Real Estate. Mulkey has moved on to Louisiana State University, and Fuller now is affiliated with Coldwell Banker Commercial.
Amy's Attic joins New Road party
Amy's Attic Self Storage has joined the party on New Road, near Interstate 35 and Bagby Avenue, an area where apartment construction has flourished and NewQuest Properties' Cottonwood Creek Market will feature residential construction after Topgolf, Cinemark and Main Event are in place.
An Amy's Attic news release says the three-story facility "is enormous at over 100,000 square feet, making it almost twice as large as the national average." Amy's Attic offers units ranging from 5-by-5-foot to 10-by-30-foot, with monthly rates from $65 on the low end to more than $200, said the release.
The company operates other storage facilities in Belton, Copperas Cove, Harker Heights, Killeen, Salado, Temple and Morgan's Point Resort.
Its Waco location will host a grand opening on Friday, June 11.
Waco area in midst of roofing boom
Noticed lots of roofing crews in my North Waco neighborhood in recent weeks, and a smattering of hammer-banging here and there. The local Associated General Contractors office tracks building permits issued with a value above $5,000, including those to have new roofs installed or repaired.
Ginger Ritchison at AGC checked her files and found that Waco and surrounding communities since Jan. 1 have issued 195 permits to install new roofs on homes and 16 permits to reroof commercial buildings.
That's not a comprehensive list, since $5,000 represents the threshold.
Ritchison said the 195 permits for new residential roofs is about 50 more than had been issued through the same period last year.
So Waco indeed appears to be enjoying a roofing boom.
Made in America expansion
Exchange services, including the Army & Air Force Exchange, provide merchandise to retail stores located on military bases. AAFES operates a distribution center locally, on Exchange Parkway, near where Amazon is building a fulfillment center that will employ at least 1,000 upon completion.
A news release from San Francisco says AAFES, as well as exchanges for the Marine Corps, Navy and Coast Guard, have contracted with a company called RangeMe to source as much US-produced merchandise as possible.
"This endeavor is part of the ongoing commitment from the exchanges to bring more American-made products into their retail stores while enhancing categories that include pet supplies, personal protective equipment, housewares, toys, and more," said the release from RangeMe.
RangeMe, said the release, has access to more than 175,000 suppliers and a vast array of brands representing nearly 1 million products.
Besides operating stores at military installation worldwide, exchanges have an online presence open to all honorably discharged veterans.
They can avail themselves of tax-free shopping and discounted items.