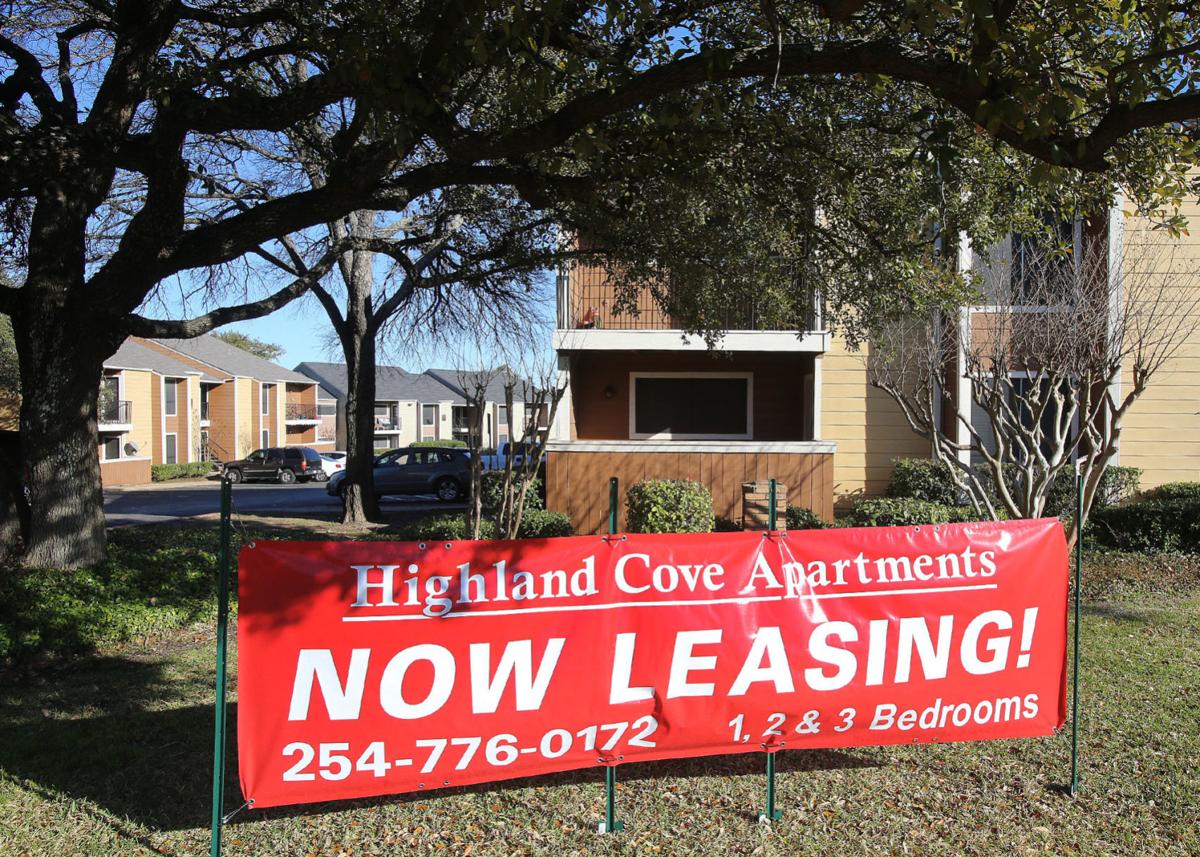 High rents, lower income levels and strong demand for rental properties all contribute to the cost burden for Waco area renters being higher than both the state and national norms, according to a recent report by the Harvard University Joint Center for Housing Studies.
Almost 49% of Waco area renters pay more than 30% of their income for housing, or are considered cost-burdened, according to the report. That is up from the state rate of 46.5% and the national rate of 47.5%.
But the gap is greater between the share of households locally and at the state level who are severely cost-burdened, or pay more than half of their income for housing. Slightly more than 26% of Waco area renters are severely cost-burdened, which is closer to the national rate of 25% but higher than the state rate of 23.5%.
"There's a larger gap between the rents and the incomes in Waco, compared to the state of Texas in general," said Whitney Airgood-Obrycki, lead author of the center's "America's Rental Housing 2020" report. "The burden rate in Waco for renter households is slightly higher than the national level, and some of that comes from fairly strong rents but relatively lower median income."
While the median Waco rent is about 18% lower than the state, median income levels are 33% lower, Airgood-Obrychki said.
That comes as no surprise to some of the organizations in Waco that work to turn renters into homeowners and get the homeless into housing, including NeighborWorks Waco and Compassion Ministries.
NeighborWorks Homeownership Planner Juan Tello said many of the clients who come to him are spending more than 30% and often more than 50% of their income on rent, making it difficult for them to save for a down payment on a house. He attributes part of the problem to the housing market in Waco, which has seen increasing home values.
Like Tello, Compassion Ministries Executive Director Jill McCall also believes part of the issue is Waco's growing economy, thanks in part to the popularity of Baylor University and former "Fixer Upper" stars Chip and Joanna Gaines' Magnolia Market at the Silos and other enterprises.
"I am thrilled Waco has had the boon in the economy it's had, but along with that boon has come problems," McCall said. "In many ways, it has at least forced us to look at this whole situation through a different set of glasses."
McCall said the residents at the 14 Austin Avenue apartments where the nonprofit houses recently homeless families with children have been denied access to certain apartments because they do not make more than three times the amount of rent per month, a common requirement for apartment dwellers.
"Several years ago, a two-bedroom apartment might be $600 to $700 a month," she said. "Now, it's $1,000."
McCall knows her clients should not be spending more than 30% of their income on rent because that stretches their budgets too thin and does not allow for savings for emergencies. Instead of trying to get her clients into rental properties, McCall has been working with organizations including NeighborWorks and Habitat for Humanity to make her clients homeowners.
"We're having more luck getting folks into those programs than into apartments," she said. "They can afford that. They cannot afford what is currently the going rate for apartments."
Likewise, NeighborWorks also would rather help clients get a mortgage with a low interest rate because the payments are generally cheaper than current rental rates, Tello said.
NeighborWorks Vice President and Chief Operating Officer Delisa Burnell-Smith said the best advice she gives people paying more than 30% of their income on housing who do not qualify for housing subsidies is to find another source of income, downsize, move back in with family members or find a roommate.
"We know the importance of having a place to lay down at night, a place to go after work," Burnell-Smith said.
These programs may work for people who qualify for them, often low-income families with children, but home prices have risen along with rents, Airgood-Obrycki said.
"Homeownership has become unattainable in a lot of places because home prices just keep going up, too," she said. "It's a question of whether the rents or the home prices are rising faster, but they both feed into this cycle of things being unaffordable for households."
"It's harder for households to break into homeownership, in part because home prices are also accelerating, but the other piece of it is that as rents are increasing, more and more of households' income is being spent, so it's harder to save for a down payment."
That is why the state and the nation are seeing a surge in demand for high-income renters, Airgood-Obrycki said. Developers have started building more high-income rental properties because they know the demand is high, but the rising costs of building, particularly in metro areas, and a dwindling labor force also contribute to the higher priced properties. Developers have to pay more for workers because of the small labor pool, which also extends the time it takes to construct a project.
"The costs of all these inputs, as those keep rising and rising, that's also just making it so developers really struggle to build at lower price points," she said. "The whole distribution of rent is shifting higher, and we're losing units at the lower end, either through rent increases or through conversions out of the stock."
In the past 10 years, the share of units with monthly rents of $1,400 and up has increased 309%, Airgood-Obrycki said. While that shift is happening nationally, it is happening even faster in Texas, where units are moving to the higher end as the state continues to lose units at the lower end.
The housing affordability crisis is even touching middle-income renters, which has not been the case in the past 10 years, Airgood-Obrycki said.
"We're seeing this real acceleration of the affordability crisis for renters right now," she said. "These high income households are really driving the rental growth that's happening. They're driving rental demand, and that's keeping rental markets tighter. That's shifting the distribution of rents higher, and that's part of why we're seeing this worsening affordability crisis this year."
Another factor contributing to Waco renters' high cost burden rate is the large number of college students living in the area, Airgood-Obrycki said. They help drive up the rentership rate in Waco, which is quite high at 41%. Similarly sized Texas cities with universities including Abilene, Beaumont and Bryan-College Station also have high cost burden rates for renters.
"You have this really strong rental demand, a lot of households that are renting, but you also have a lot of graduate students and undergraduate students who have lower incomes so they would show up as being more cost-burdened," she said.
---
Rent-burdened households in Waco, peer cities
| Metro/Micro Area Name | 2018 rent-burdened households (%) | 2018 rent-burdened households (#) | 2018 severely rent-burdened households (%) | 2018 renter median household income ($) | 2018 renter median monthly housing cost ($) | 2006 rent-burdened households (%) | 2006 severely rent-burdened households (%) |
| --- | --- | --- | --- | --- | --- | --- | --- |
| Abilene | 46.9 | 10,873 | 19.2 | 35,000 | 966 | 43.5 | 21.4 |
| Beaumont-Port Arthur | 49.7 | 24,910 | 22.6 | 26,300 | 813 | 41.2 | 16.6 |
| Bryan-College Station | 55.4 | 26,548 | 33.7 | 29,800 | 963 | 59.8 | 42.7 |
| Tyler | 39.4 | 10,121 | 22.1 | 46,000 | 900 | 59 | 29.7 |
| Waco | 48.6 | 19,802 | 26.3 | 30,000 | 880 | 53.8 | 32.4 |
---
The cost burden rates for College Station are even greater than Waco's, with 55.4% of renters considered cost-burdened and about 34% considered severely cost-burdened, according to the report.
Airgood-Obrycki said those high cost burden rates are not uncommon for college towns. Ithaca, New York, where Cornell University is, and Ann Arbor, Michigan, where the University of Michigan is, also see high cost burden rates. She said the high rates likely are driven by the high number of graduate students who live in these cities but who do not receive large stipends, yet they still have to pay the same household costs as working professionals.
A recent poll conducted by the Texas Lyceum, a 40-year-old nonprofit nonpartisan leadership organization, found that most respondents think cities and the state should do more to make housing affordable. The organization held a housing conference in Waco last week and invited experts on affordable housing to discuss the poll results.
Ellen Troxclair, former Austin City Councilwoman and senior fellow with the Texas Public Policy Foundation, said that for cities to do more about affordable housing depends on the state changing policy that is favorable to creating affordable housing. For instance, some cities do not require landlords to participate in the Housing Choice Voucher Program, the federal government's major program for assisting extremely low-income families, the elderly and the disabled.
Another example Troxclair provided was the difference in fees when building in different cities. She said a comparison of building the same apartment complex in Austin and in Dallas showed that Austin charged more than eight times as much in fees to get the project off the ground. The fees in Dallas amounted to about $120,000, while the fees in Austin were almost $1 million.
"There is no question that those fees are ultimately passed onto the renters," she said. "It is a problem that needs to be addressed."
Raquel Favela, senior director of the National Development Council, said one major structural issue is the tendency to develop affordable housing that is lower quality than market-rate housing, which perpetuates stereotypes about affordable housing.
"All housing should be market-based housing, all of it, and how we make that affordable to everyone is really about how you use the tools," she said. "There has to be affordability for the development. There might be a subsidy on the development side, and then there might be an operating subsidy in the case of rental properties to make it affordable for families at certain income levels."
Favela offered a solution other states have tried, reallocating unclaimed funds from the state to people who are on the cusp of not being able to afford housing for a fixed time period. The extra money would help them become more stable, but seeing how people spend the money would help identify actual, long-term solutions to solving the affordability crisis.
Communities would identify a certain population that needs assistance, whether it is the elderly or families with children, and find out how much they need to afford their housing and then track their spending, which could not be used on items like cigarettes, alcohol or other "sin" activities, to see where the real problem is, Favela said.
"Oftentimes, we're trying to solve for the wrong problem," she said.
Get local news delivered to your inbox!
Subscribe to our Daily Headlines newsletter.