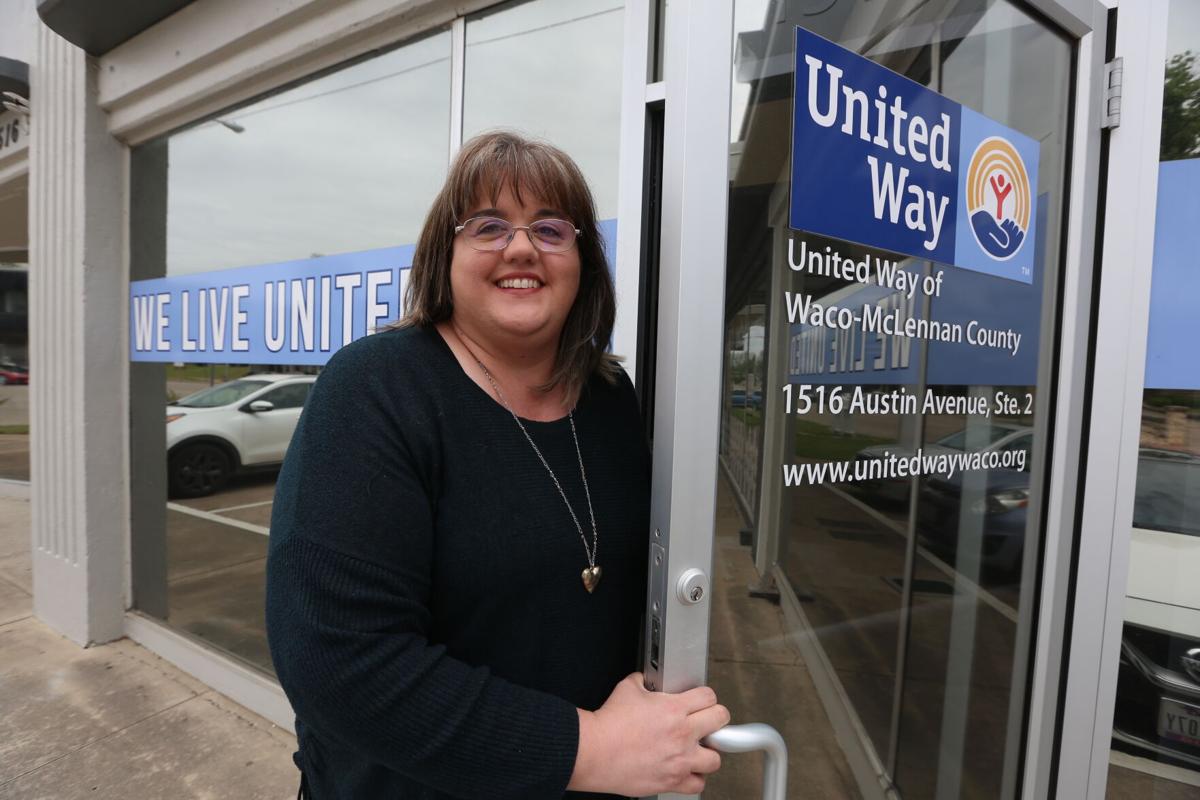 As she settles into her new role as CEO for United Way of Waco-McLennan County, Wendy Ellis beams with excitement when talking about working in the community her family has called home for generations.
The daughter of a retired school superintendent and a retired teacher, her parents grew up in West and Itasca and built their lives in the area. Ellis and her husband, who owns a business in Elm Mott, moved back to Waco a year-and-a-half ago from the League City area, between Houston and Galveston, to raise their 8-year-old son.
Ellis took the reins last week at the local United Way chapter. With more than 16 years of experience in community development and executive leadership in both private and public sectors, Ellis had most recently served as the city administrator and economic development director for the city of Kemah on the Galveston Bay. With this experience, Ellis hopes to bring in the mindset of a public servant and focus on building wealth for the community, creating jobs and improving the condition of life for residents in the area, all which she believes she can continue doing at United Way.
"The work United Way is doing allows me to focus in on the specific areas of those positions that I have been most passionate about," Ellis said.
Cheryl Gochis, a former United Way board member and board chair, served as co-chair of a committee that guided the six-month search leading to Ellis' hire. Former CEO Barbara Mosacchio had announced in October that she would retire, effective last month, after four years in the position.
The search committee was looking for someone who would continue to lead United Way in the right direction, said Gochis, who is the chief human resources officer at Baylor University.
"It was really important that the committee worked on and focused one what was most important and that was developing key relationships within the community, not only to expand our funding, but also to expand the reach and impact of United Way," Gochis said.
The organization had been taking steps towards equity, inclusion and diversity, and it was important for the new CEO to continue that as well.
Ellis said her varied background should help her make connections across multiple parts of the community.
"I think the work I have done previously in helping with community development and quality of life and being a liaison and helping fund those resources that are available to support the nonprofits and the work that they are doing in the community is kind of a natural fit," Ellis said.
She also wants to help highlight the work of the business community and how businesses support their broader communities as responsible corporate neighbors. Big picture, United Way can bring businesses and the community together to improve quality of life, she said.
Gochis said Ellis was a great candidate for the position.
"I think that her experience in working in city organizations and community organizations has really allowed her to refine the gift of listening to people and having thoughts and ideas on increasing relations," Gochis said.
The United Way aims to direct resources to areas of need, and local donations are used locally, Ellis said.
"We are a collaborator. We are a convener. We are a funder in our community and we serve as a connector. That is our job," she said. "The strength of United Way is knowing the community, knowing where the needs are that need to be met and finding and knowing the resources that we have available to help meet those needs."
The organization is launching a child well-being research project, which adds to the excitement of her new role, Ellis said. She will be spending her first 90 days on a listening tour, hearing from residents regarding needs and meeting key stakeholders in McLennan County.
Overall, Ellis hopes to continue the effort and work that has already been put into United Way.
"For me, one of the things I want during my time with United Way is that I want to help everybody understand more about who United Way is locally for us and all of the support that is put into the community through the funding and the grant programs, and for us to find that focus in the child well-being arena and determine the space where we best fit and best serve the community, then to be able see some tangible results from the efforts that we put into those initiatives," Ellis said. "I am just kind of honored to get to carry the torch through the next phase and be able to see some of the end results of all of the leg work that has been done up to this point."