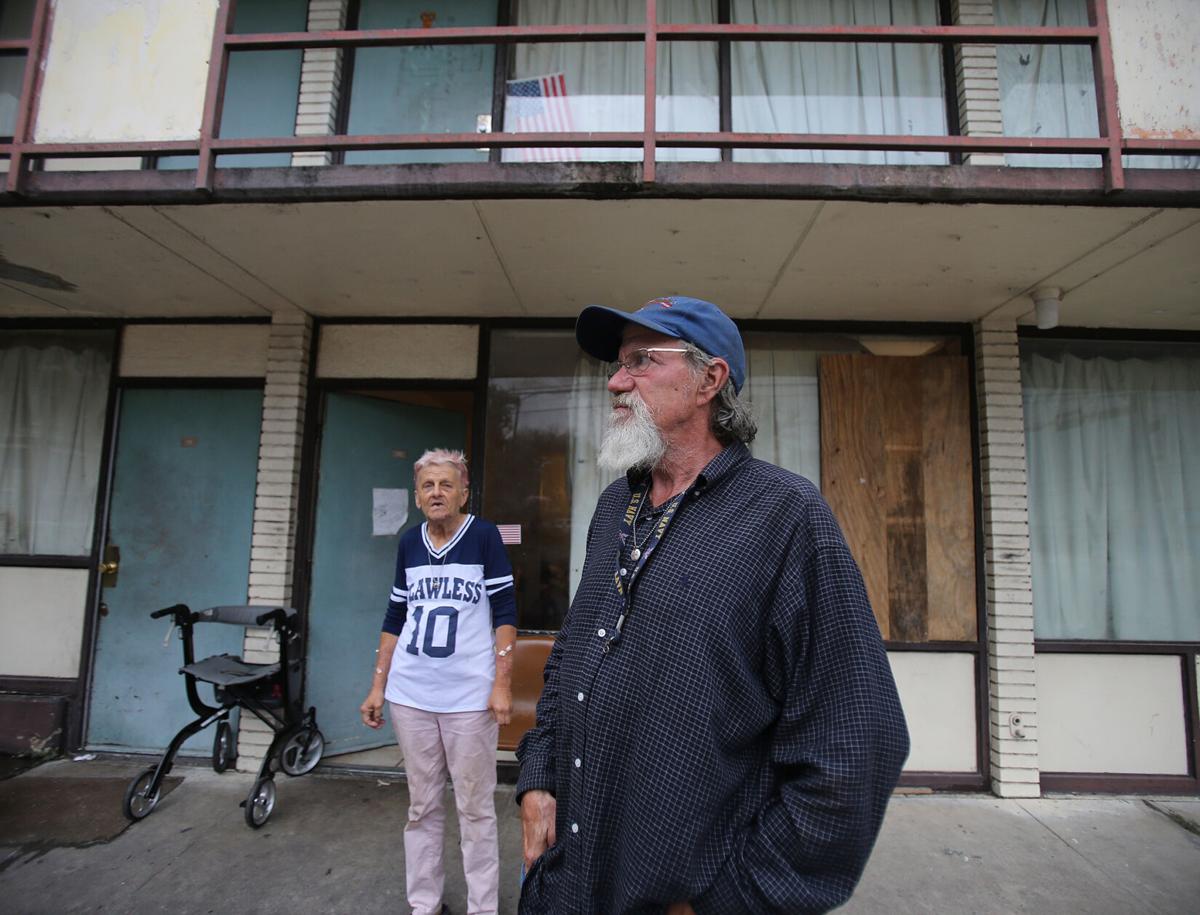 Eating bologna sandwiches and Cheetos, Brian Colwick and Mary Thompson, both in their 60s, pondered news their home will get leveled. Not that Oak Lodge Motor Inn holds a special place in their heart, but they share an apartment there, one they can afford, which is saying something.
Colwick, a Vietnam veteran suffering with multiple ailments, called Oak Lodge an eyesore plagued by drug dealing and prostitution. It is a boil on downtown's backside, he said, and ownership responds weakly, if at all, to residents' complaints. Faded plywood covers a gash near his front door inflicted by a wayward vehicle. A unit gutted by fire two years ago shows few signs of repair.
"They're slum lords," said Colwick, sitting on his stoop, a blue cap emblazoned with a golden eagle covering his salt-and-pepper hair.
The property has accumulated 32 city code violations since 2019.
But Oak Lodge owners just hit the jackpot, agreeing to sell the 72-room hotel as wrecking ball fodder for $2 million. A developer from the Czech Republic, Julius Kramaric, and local builder Brian Mitchell plan Dottie Oaks Condominiums to include condos, lofts and retail along 11th Street between Franklin and Austin avenues. Oak Lodge and its residents must go.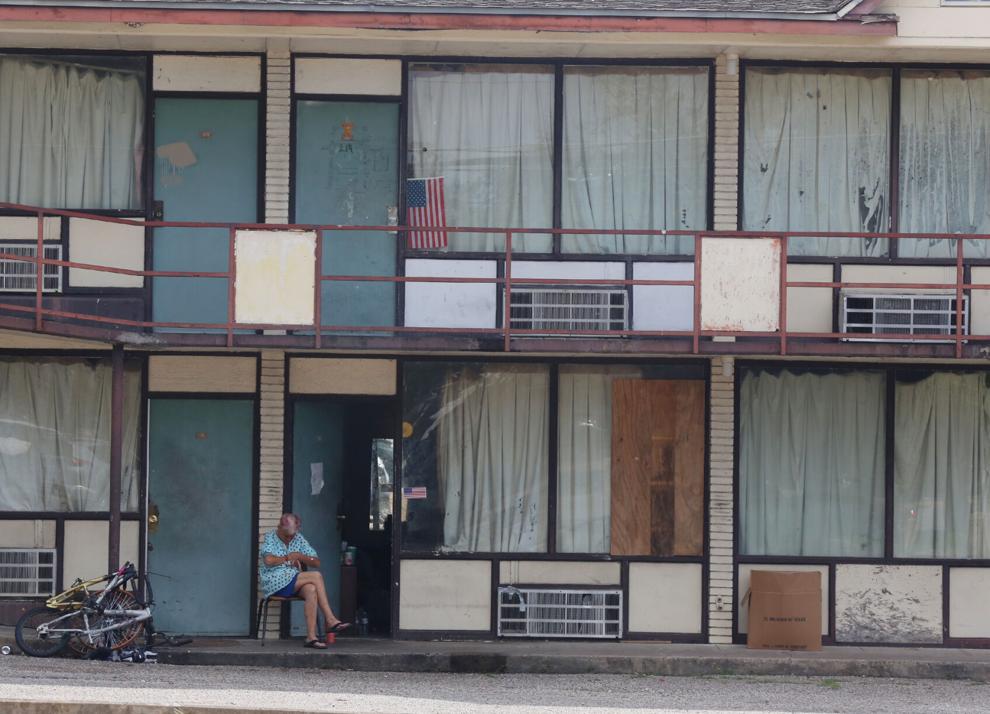 Mitchell said work may begin Aug. 31, but only after residents of the motel have found other housing. The Tax Increment Financing Zone board last week recommended a $1.3 million contribution to the estimated $9 million project. The seven larger condos planned there each may carry a $452,000 price, while the eight planned lofts would sell for $204,000 to $312,750 apiece, a TIF funding request says.
Jimmy Dorrell, a homeless advocate and pastor of Church Under The Bridge, has pledged to help the displaced find new residences. The Oak Lodge closing coincides with Dorrell's announcement that a new ministry will target the "invisible homeless," who live in substandard housing, often motels that offer weekly rates and garner reputations for lawlessness.
Dorrell said in an interview he cannot defend conditions at Oak Lodge, "but it is sort of the most accessible and affordable place in town" for desperate souls lacking resources. It operates near downtown, where the homeless and marginalized are most likely to congregate and seek shelter.
He said several residents attend Church Under The Bridge.
"These are our people," Dorrell said. "I recently stopped by Oak Lodge, and within minutes, there was a group of us in a circle, talking."
Dorrell said he will pursue housing options on their behalf. He has scheduled a meeting Sunday afternoon at the Church Under The Bridge offices on North 18th Street, hoping to get comments and updates. He said he will invite individuals who live or have lived in cheap hotels to serve as advisors.
Unfortunately, Dorrell said, most leaving Oak Lodge "will have no place to go, will end up sleeping on someone's couch or in a car. There will be people who step up, social workers, but the issues run much deeper than having a good heart, having a Pollyanna mindset.
"There will be a spurt or two of desire to help, but it's a systemic issue. Even if they find a place in a week, if they're mentally ill, they won't be there long. It can be said, 'We found them a place,' the conscience is satisfied. But where will they be a few weeks from now?"
Colwick said, "If Jimmy can't help, I'll go to Walmart and buy a tent."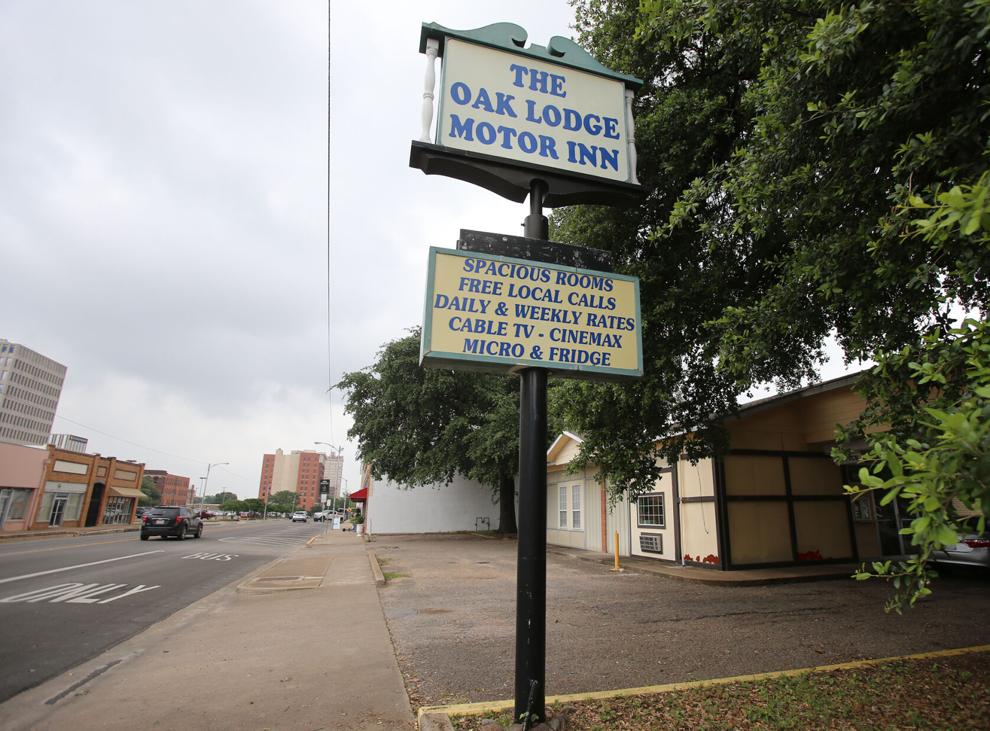 Colwick, 65, grew up in Waco, attended Richfield High School and served aboard an ammunition ship, the USS Haleakala, during the Vietnam War. Colwick called the boat a "floating bomb," and said his captain once joked that if it ever blew up, "they'll find our fingernails on the moon."
He took classes at what is now Texas State Technical College, later dug swimming pools, became a licensed plumber and once drove a bus for Mission Waco/Mission World, a ministry founded by Jimmy and Janet Dorrell. He now lives on a fixed income of $1,250 a month; walks or uses public transportation; visits Veterans Affairs hospitals in Waco and Temple for medical checkups; and pays $650 monthly to stay at Oak Lodge.
"I can't pay $800 a month for a place, plus utilities, which is why I stay here," said Colwick, a resident long enough to become annoyed by "people I don't know knocking on my door at 3 a.m.," and other misdeeds, including displays of indecent exposure, that prompt Waco Police visits regularly.
A 46-year-old neighbor joined Colwick's and Thompson's conversation outside their apartment Thursday. She said she is disgusted by the rats and roaches at Oak Lodge, and welcomes its impending demolition.
"I'll be watching and smiling from across the street," she said.
A bus trip back to her hometown of Fort Worth will soon follow.
Another resident walking his bicycle across the Oak Lodge parking lot stopped briefly but commented little on where he might relocate. He chose to confirm he is Jesus Christ, talked about God's coming judgment, and said he plans an event at McLane Stadium worthy of national news coverage. He acknowledged he has been diagnosed as bipolar and schizophrenic.
First Presbyterian Church of Waco is located right across the street from Oak Lodge's oak-shrouded parking lot. The church's pastor, Leslie King, said the congregation has sought to be good neighbors, inviting residents to attend fellowship activities and meals held on the church grounds.
Their leaving will render 11th Street downtown less than it was.
"They were part of the complexity of our neighborhood, a neighborhood that asks us to think about many things: what it means to run a restaurant brand new, or a locksmith shop for decades; what it means to be on the margins; what it means to make our approach to God," King said by phone. "So 11th Street and Austin Avenue, a complex neighborhood, has been diminished."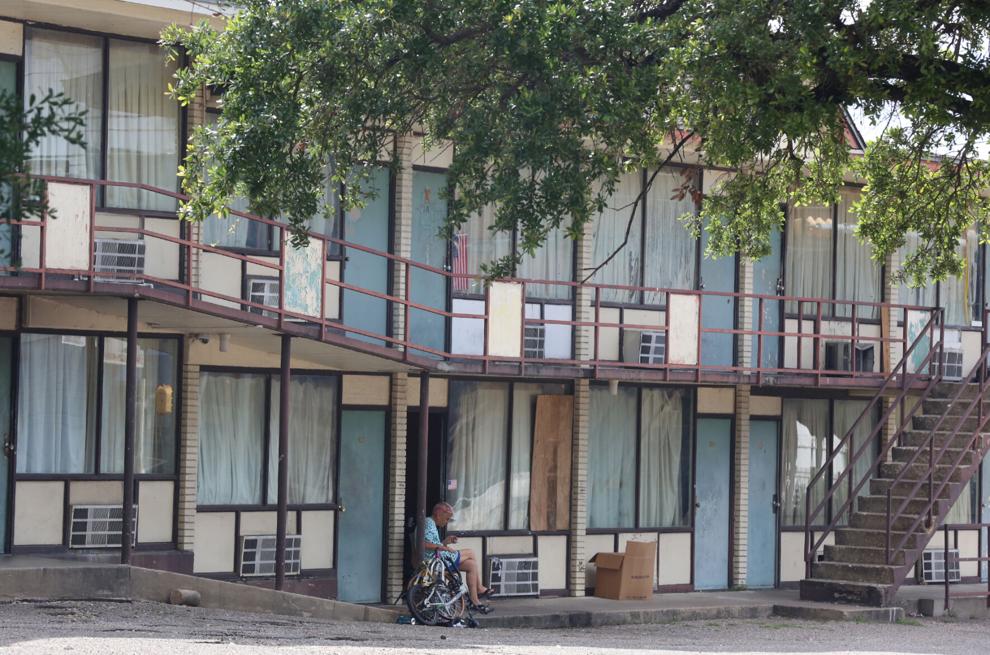 Milet Hopping, executive director of the Waco Housing Authority, said Dorrell has a valid concern about the loss of a low-income motel such as Oak Lodge. The authority provides Section 8 housing vouchers for low-income residents, but vouchers often take a while to get. There is a need for immediately available housing that accepts all kinds of people regardless of their credit history, work status or criminal background, Hopping said.
"He makes a good point: Where can they go? If people already complain about the number of homeless you see, what's going to happen when you keep eliminating those options for folks who need a temporary shelter?" she said. "As a community we know our leadership is very responsible and caring, but before we tear something down, are there plans to recreate that system somewhere else, maybe a better model than Oak Lodge?"
Waco City Manager Bradley Ford said he received Dorrell's letter that also went to Mayor Dillon Meek and to city council members. He said the need to address homeless problems is not lost on city leaders.
He said the city became the primary funding partner for Mission Waco and Salvation Army homeless shelters during the worst of the COVID-19 pandemic, allocating more than $500,000 to assist people testing positive or experiencing symptoms. He said the city also covered the cost of hotel rooms "that allowed individuals to relocate into a safe spot."
Ford said the city will spend $2.5 million from its federal American Rescue Plan allocation to address homelessness and affordable housing. He said the hiring of Shavon Moore to fill the newly created position of homeless project coordinator should produce results. Moore started work June 1.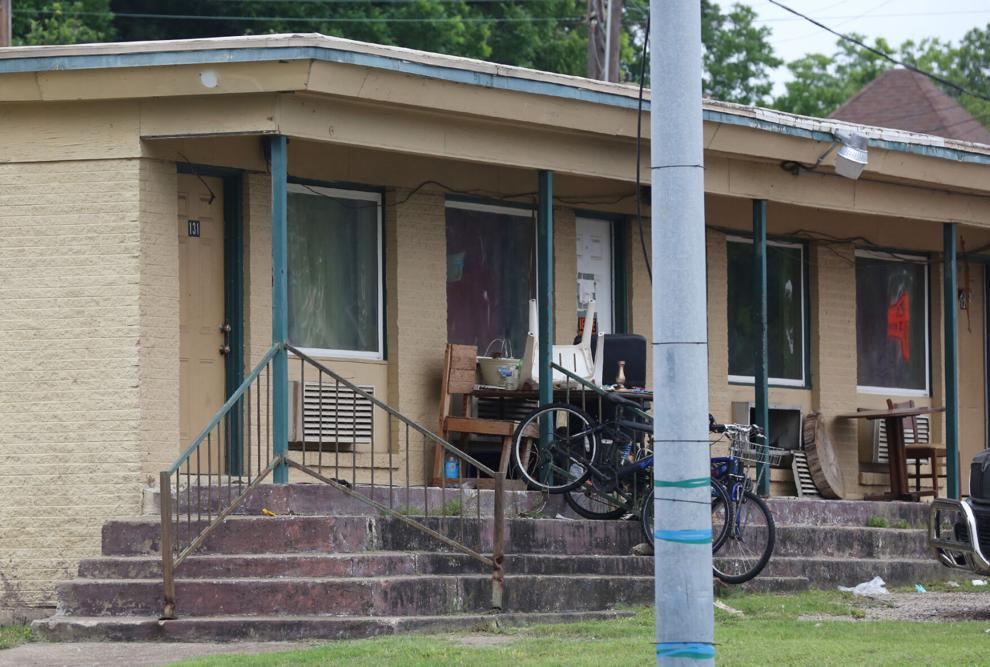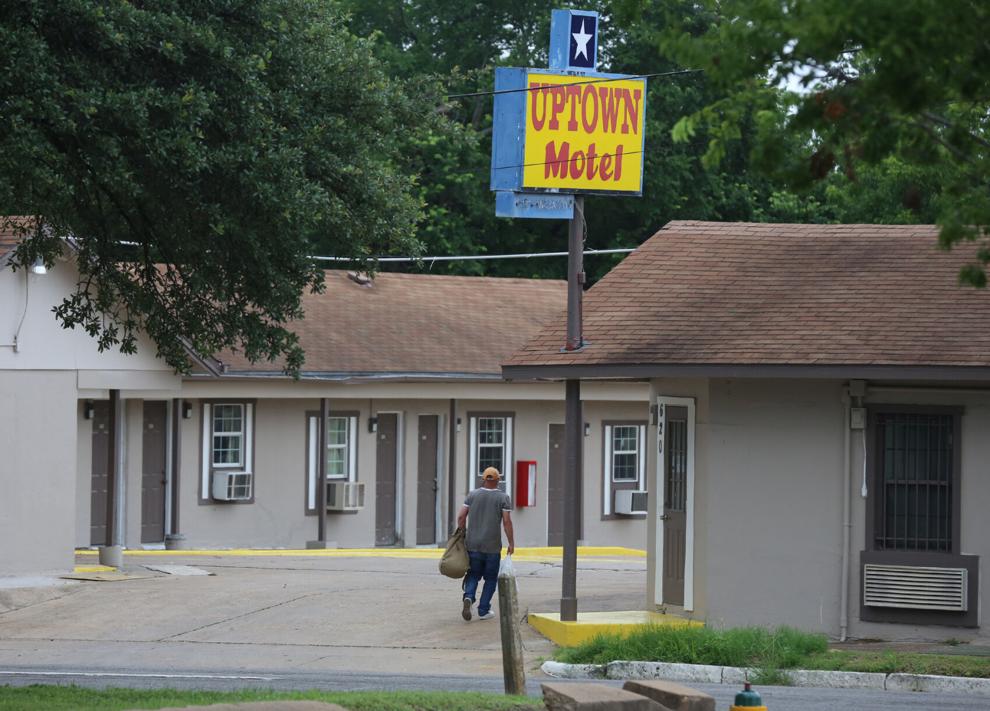 Dorrell said Church Under The Bridge filled two part-time positions with people who will minister to those living in substandard housing. He said staff has chosen 11 motels as "early priorities," the list including Delta Inn, Royal Inn, Classic Inn, Kingsway, Bar X, Economy Inn, Sandman Motel, Robinson Inn and Suites, Town House, Uptown and C&E Motel.
Though Oak Lodge has more than 70 living units, the number of people actually living there probably has dwindled considerably, Dorrell said. He said most Oak Lodge residents survive on Social Security or disability checks. Like those living in other motels, some may have a history of substance abuse, or have mental health issues. They arguably have ample income to rent a home but have not established credit and lack funds for a deposit, Dorrell said.
"Dillon Meek, his heart's good. I have a lot of respect for the city staff and Bradley Ford. They care," Dorrell said. "But we're dealing with a systemic issue that Waco doesn't have the resources for. We need more affordable housing units in Waco. That requires creative thinking. You can't expect to build affordable housing and fill it up without a whole lot of subsidizing from the state or federal level. There is no quick fix."
Dorrell said some despise the homeless, abhor the poor. They view their presence as a blight on downtown, a scary encounter.
"But they're not going away," Dorrell said.