Record-breaking attendance and postcard-perfect weather marked the 2021 Heart O' Texas Fair & Rodeo after a muted fair last year, officials said this week.
The 11-day fair wrapped up Oct. 17 attracted big crowds with a popular music line-up, new as well as traditional events and attractions, the livestock show, a new building and many food vendors providing favorite fair treats.
Fair officials said 238,730 fairgoers spilled throughout the grounds over the course of the fair and rodeo, an estimated 9.3% increase from the pre-pandemic year of 2019.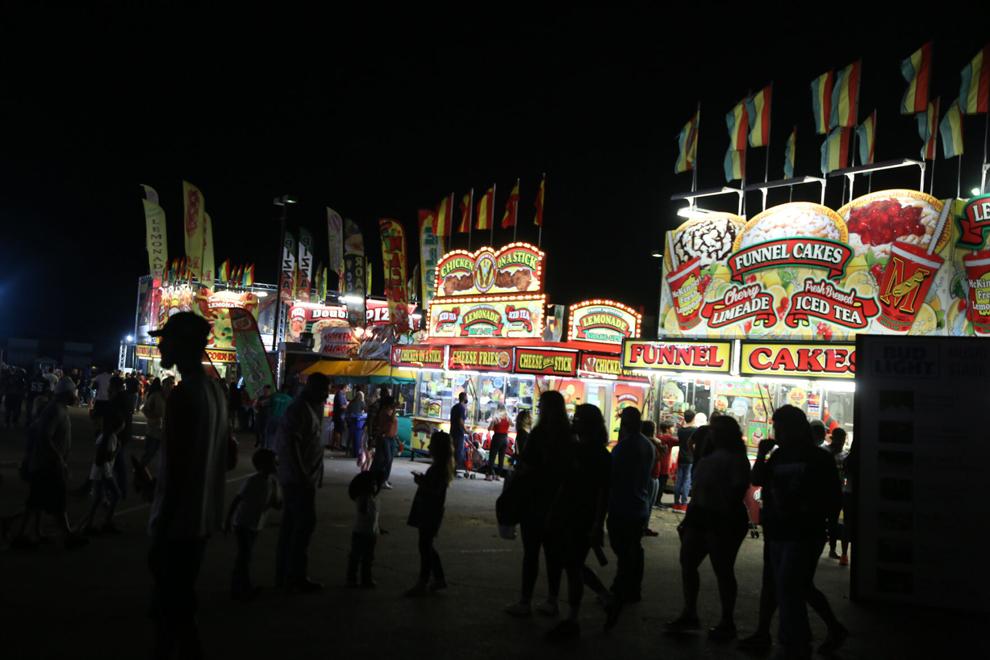 "In 2019, we were a few thousand short of beating the record that was set in 2010," said Charva Ingram, the vice president of marketing and sponsorship development at the Extraco Events Center.
This year's fair smashed that 11-year-old record.
Ingram attributes the record-breaking attendance to a slew of popular attractions and pent-up demand after the COVID-19 restrictions that resulted in a diminished fair last year.
"Not being able to experience this last year, I think, just brought people out in more force to want to be a part of it this year," she said.
This year's lineup featured popular artists such as Jameson Rodgers, Chris Janson, Tracy Lawrence, Joe Nichols, and Walker Hayes, each bringing in strong attendance.
"I thought our music lineup was really strong," fair president and CEO Wes Allison said. "That last Saturday night with Joe Nichols was huge and was the biggest one-day crowd we've had on the grounds, as far as I know, in the history of the fair."
Allison said Saturday, Oct. 16, was the peak of the fair's 11-day run, with 28,000 in attendance.
"We sold out Saturday night rodeo, we almost sold out Friday night rodeo, so just a great event to kind of get back to normal, if that's the right word," he said.
Allison said the nonprofit fair board has already given away $45,000 in scholarships and nearly $70,000 in premiums this year from fair revenue. The total amount raised this year for scholarships has not yet been quantified, but Allison is optimistic due to the record attendance of this year.
"That is really the true measure of our success is that I know we gave more scholarships and premiums in our livestock show which goes directly to the kids," Allison said.
Apart from having a full fair, fair organizers worked with some other changes this year including a new fair layout, parking setup and the Base, a multipurpose building completed in April.
"The other thing for us staff and volunteers was just figuring out how to do the fair again," Allison said. "We had to do with a brand-new building, the Base at Extraco Events Center, and being back in the Coliseum for rodeo."
This year's fair also a new event, the Mexican Rodeo Spectacular, that drew 2,400 spectators to watch a traditional Mexican rodeo performance and celebration of Mexican heritage.
"We had just under 2,200 for the One HOT Bull Fight on the last night, so I think for being a ticketed and first-year event [the Mexican Rodeo Spectacular], we were very pleased with the turnout," Ingram said.
As usual, a crowd favorite was muttin' bustin, an event where young cowboys and cowgirls are plopped onto the backs of feisty sheep and attempt to ride them.
"Anytime that people pay to put their kids on a sheep, it seems to be very popular," Allison said.
Fun passes, giving admission and unlimited rides for all 11 days for $70, also proved to be a highly popular aspect of the fair this year.
"We've never had those sold out and redeemed in the quantity of which they were this year," Ingram said. "Which I think is a nod to the fact that people were just very excited to have the carnival back and be able to be a part of that and enjoy that."
The livestock show experienced a record-breaking year as well drawing in 5,881 entries — up 138 from 2019 — and 2,470 exhibitors, according to a press release.
One good thing that came out of last year's fair was a week's head-start on the livestock show, Ingram said, and fair officials plan to continue that next year.
A few other new and popular attractions this year were stunt motorcyclists of the Fearless Flores Family Thrill show, the Circus Man juggler, and comedy show Shenanigans.
"There are some things—traditional things—that you expect to come and see and always be a part of the fair," Ingram said. "But also, we want to make sure that we're keeping it fresh and unique and giving you something new to come see as well."
While many events get exchanged out each year, Allison noted events fairgoers can expect to see again next year.
"I know for sure that the Mexican Rodeo Spectacular will be here again next year," Allison said. "Of course, the PRCA Rodeo, which is one of our mainstays and something that we've done for many years since we started in the '50s, it will come back as well."
In 2022, the Heart O' Texas Fair and Rodeo will be held Oct. 6-16.