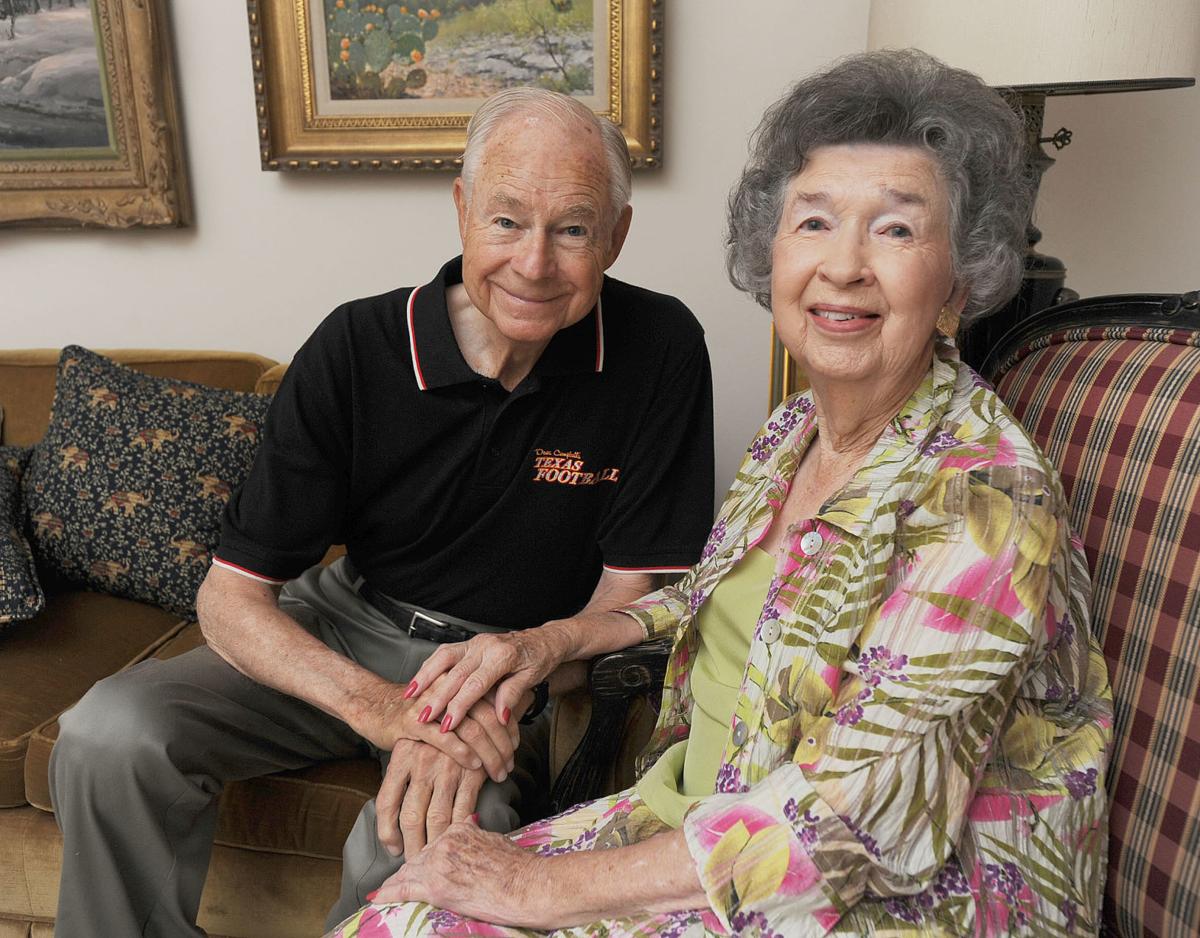 Reba Lou Weaver Campbell, who helped map the future of what became the wildly popular Texas Football magazine published by her husband, Dave Campbell, died on Sunday after years of declining health. She was 95.
Campbell led a remarkable life of her own, covering presidential visits and bus crashes in a newspapering era in which hard news primarily was the province of men.
She and Dave Campbell met at the Tribune-Herald. Reba was a young reporter and Baylor University graduate from Navasota. Dave was moving up the ladder of success after Baylor and a hitch in the military.
"An inspiration to women journalists, Reba refused to be relegated to writing for the society pages," said a funeral notice prepared by her family. "She was a news reporter and feature writer for the Waco News-Tribune and Waco Tribune-Herald for 10 years and also was the Central Texas correspondent for United Press International, covering such stories as President Dwight Eisenhower's journey through Texas.
"After leaving the newspaper, she was a lecturer in the Baylor journalism department and led several groups of students on trips to New York City and Washington D.C., where they met with Walter Cronkite at CBS News and with LBJ at the White House."
Reba and Dave Campbell formed the perfect team, say friends and family members. She was a self-professed "word nerd" who adored traveling, often accompanying Dave to college bowl games and Heisman Trophy induction ceremonies. She also was a freelance contributor to Waco Today, the Tribune-Herald's monthly magazine.
"She was an editor's dream, a seasoned pro, easy to work with," said Bruce Kabat, former Waco Today editor. "She and Dave were cut from the same cloth, both having come up in a different era. She knew Waco inside out, and it was great to have her contribute to the magazine."
Reba made her kitchen table available when Dave Campbell and Hollis Biddle, a fixture in the Tribune-Herald sports department, began mapping their dream to make their magazine, Texas Football, a household name. The first issue was published in 1960, bearing 96 pages and a 50-cent price, and the magazine remains today the Bible of Texas football to many.
"Texas Football began as a family enterprise, and Reba was a big part of making it a success, including providing her kitchen table as office space for Dave to work during the days before he had a separate office for the magazine on Washington Avenue," said the Houston Chronicle's David Barron, contributor to Texas Football beginning in 1980, later its managing editor.
Barron, in an email, recalls the telling of stories about Reba and the Campbells' two daughters driving around Central Texas, drumming up interest in the magazine and lining up distributors. Appropriately, said Barron, Dave and Reba both were feted in December 2015 during a special ceremony at the Texas Sports Hall of Fame in Waco. The couple received the Lamar Hunt Lifetime Achievement Award during the Hall of Fame Legends Gala.
"Above and beyond the pleasure of her company over the years, anyone who appreciates Dave Campbell's Texas Football magazine owes considerable thanks to Reba Campbell for her part in turning a dream into an institution that is treasured across Texas," said Barron in his email message.
Waco native John McClain, who has covered NFL football for the Houston Chronicle more than 40 years, recalls his brush with Reba's humanity.
"I was a freshman at McLennan Community College and selling men's clothes at Goldstein's at Lake Air Mall," McClain said. "She came in to buy Dave some shirts. Introduced herself. Told me she taught at Baylor, never mentioned her husband. She asked me questions about my goals in life. I told her I wanted to be a sportswriter. She offered encouragement. Little did I know a year later I'd be working for Dave at the Trib. Reba was kind, caring and gracious.
"She and Dave were so natural together," McClain continued. "She was the only person I've ever met who had the nerve to tell Dave Campbell what to do.
"And he did it," McClain said. "Reba will be missed by many."
Longtime Tribune-Herald editor Bob Lott called Reba "a lady of journalism," who like former Tribune-Herald staffer Ann Roznovsky paved the way for other women who made their mark in changing newsrooms nationwide.
"I always admired her for that," Lott said. "And Dave was so devoted to her. I remember traveling with him to College Station a couple of years back. A&M was playing Alabama, which I have ties to, and Dave was being honored by A&M. He had a hard time leaving her to go to that event, wouldn't go until he found someone to look after her while he was gone."
On the civic side, Reba was former president of the Waco Symphony Association and the Texas Association for Symphony Orchestras, as well as many other arts and civic organizations.
She and Dave Campbell celebrated 70 years of marriage in December.
Survivors besides Dave include daughter Becky Roche and husband, David; daughter Julie Carlson and her husband, Alan; and several grandchildren.
A celebration of her life is scheduled 11 a.m. Thursday at Austin Avenue United Methodist Church. Visitation is 5 to 7 p.m. Wednesday at Wilkirson-Hatch-Bailey Funeral Home, according to a release.
Get local news delivered to your inbox!
Subscribe to our Daily Headlines newsletter.