A Robinson police officer with a lifesaving skill was honored Friday for saving the life of a local pharmacist this summer.
Robinson police Sgt. Kevin DeLillo recognized Officer Travis Nice for performing CPR on Glenn Jones, a pharmacist at Brookshire's in Robinson, after he collapsed during work the afternoon of July 30. DeLillo said he responded to the call and watched Nice revive Jones and later comfort Jones' family.
"I asked him if he needed help, if he needed anything. If you've never done CPR, it's very stressful," DeLillo said. "The whole time you could tell he had it under control, so I stepped back and let him do his thing."
Interim Robinson Police Chief Danny Smith presented Nice with a certificate and life-saving award for his uniform.
Nice said he happened to be patrolling at a nearby intersection when the call came in. When he heard dispatch call for CPR, he knew he could intervene.
"It lined up right, I was able to do that for him, and I'm just glad he was able to make it," Nice said.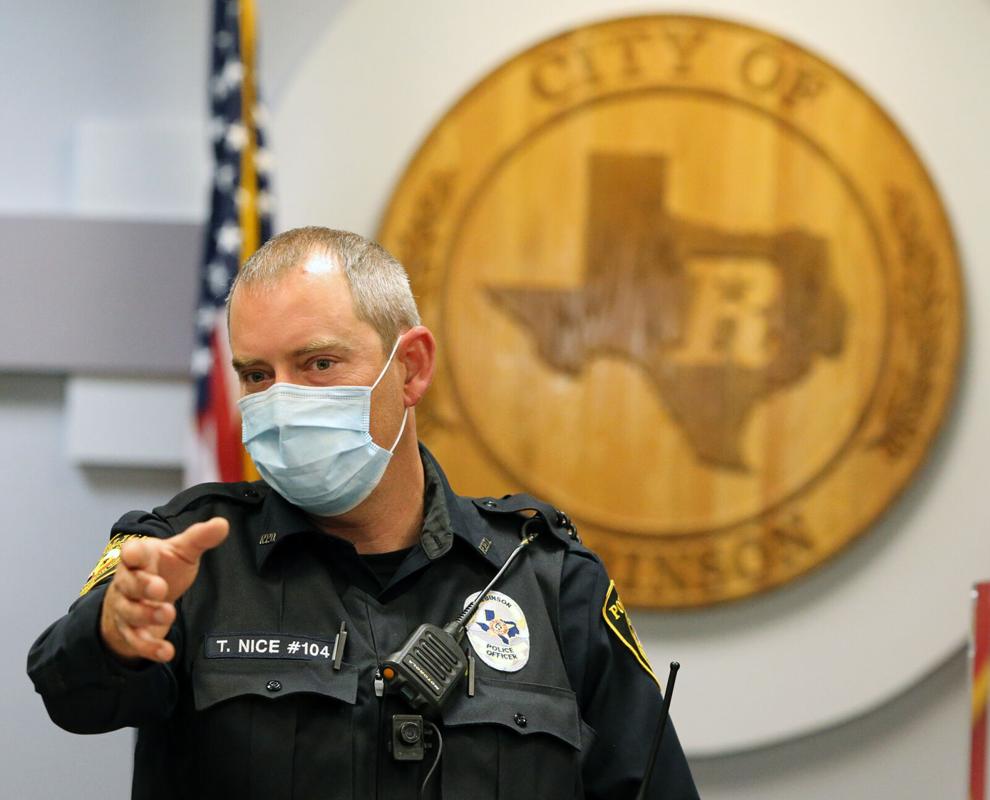 Nice, an Eagle Scout who worked as a medic for 13 years before switching careers, said he is unsure when he first learned the lifesaving procedure, but it has been reinforced from his time as Scout, during the fire academy and during paramedic training.
Sue Ann Stevens, a pharmacy clerk who has worked with Jones for three years, said employees at Brookshire's are a tight-knit group and are still shaken by what happened. She said the first sign of trouble she saw was when a pharmacy tech yelled for her help.
"He was halfway lying out of his chair, grabbing and tensing up," Stevens said.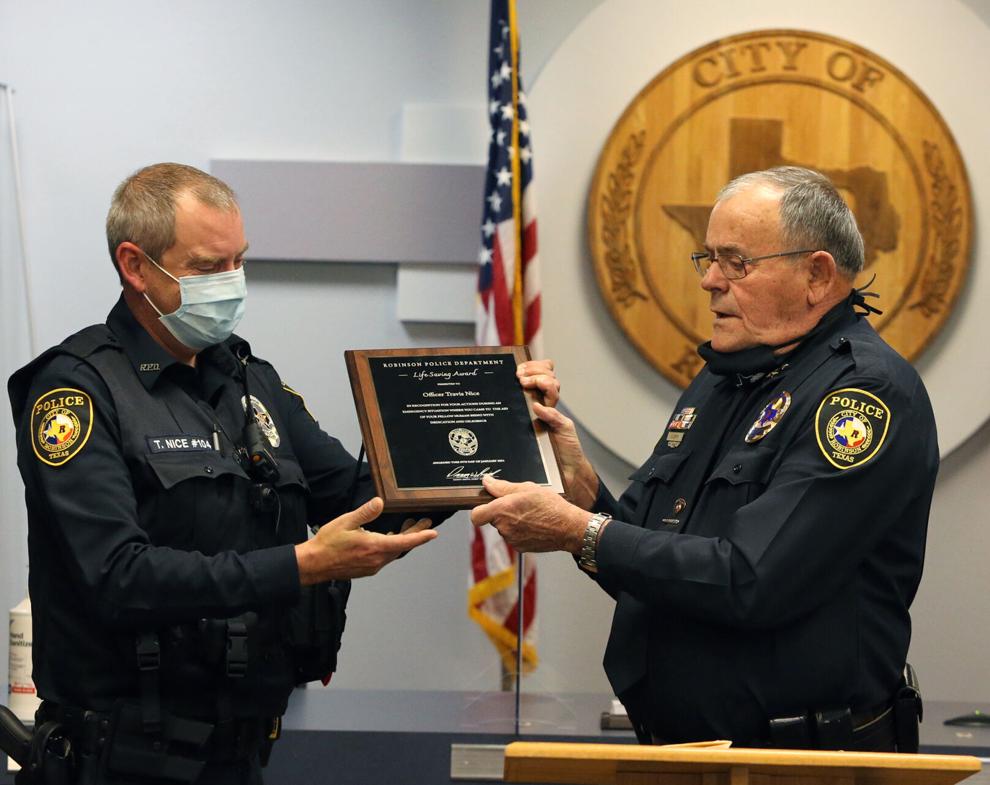 After 21 years of experience working in nursing homes, Stevens knew how to react. While a pharmacy tech supported him, Stevens said she eased Jones out of his chair and safely to the floor. Another employee, who has worked with Jones for 14 years, called 911.
Robert Suddoth, a regular at the store, happened to be there when Jones started seizing, and he rushed over to start CPR. Nice arrived a moment later took over performing CPR and directed the pharmacy staff to open the building's fire door to let emergency responders into the building more quickly.
By then, Jones had turned blue.
"He had literally passed away, and they brought him back and took him to the hospital," Stevens said. "I've worked with people who've passed away, but Mr. Glenn is so close to me. For days, that was the image that kept going through my head."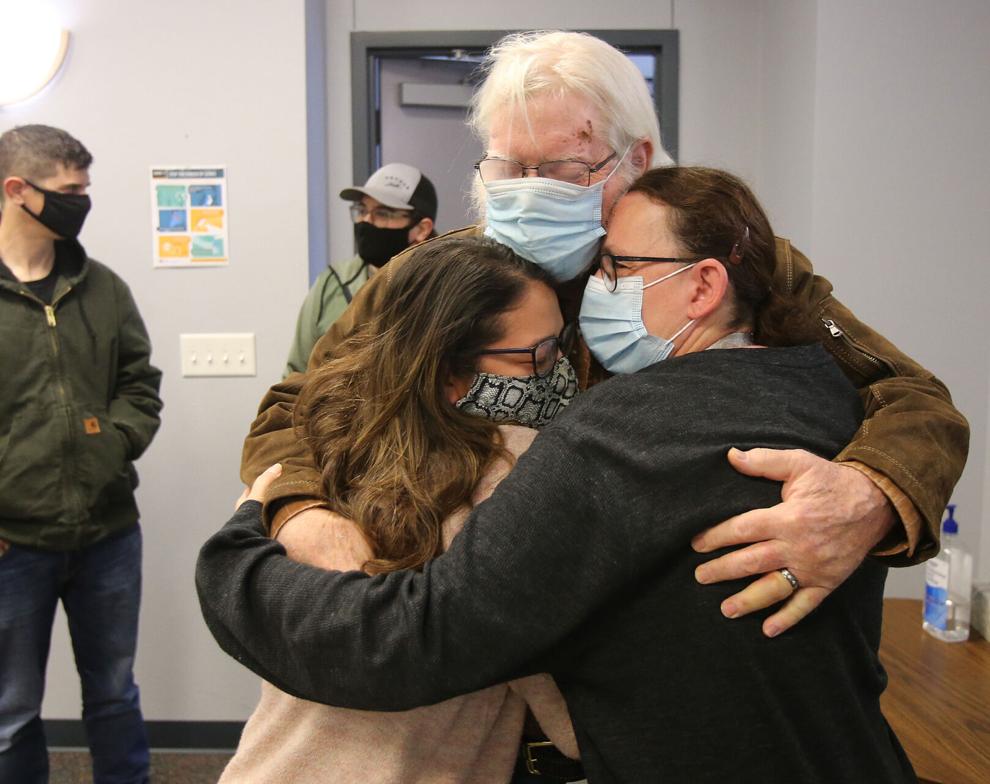 Jones, who attended the ceremony Friday, said as a pharmacist he is required to know CPR and has used the skill to help survivors after car accidents.
"When Candace called 911, they asked if anyone there knew CPR," Jones said. "And she said 'Yes, the guy on the floor.'"
Jones said doctors are still trying to identify the cause of the seizure.
He keeps an empty two-liter 7UP bottle on his desk partially filled with dimes, a countdown to retirement. Candace added a strip of tape to the side of the bottle marking the day he nearly died.
"After I got out of the hospital, I went back to work," Jones said. "I didn't know everyone in Robinson would hear about it. I'm just glad to be here."