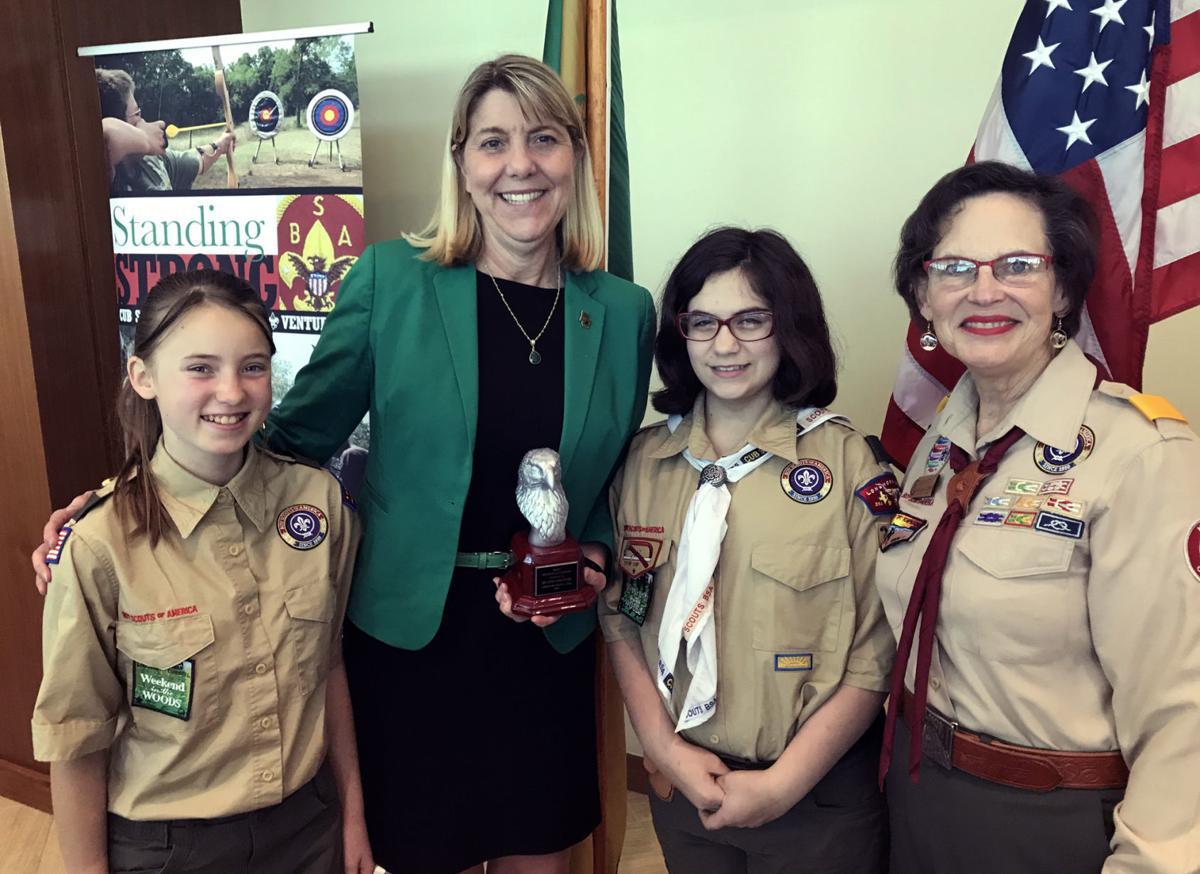 The Longhorn Council, Boy Scouts of America, presented Baylor President Dr. Linda Livingstone with a Silver Eagle award during a luncheon Tuesday.
The Silver Eagle is an award given to a leading citizen within the community for achievements and leadership, professionally or as a community leader, that have left an enduring impact on the community.
In making the presentation, emcee Glenn Robinson noted that Livingstone has led Baylor University through difficult times while modeling the principles and values expressed in the Scout oath and law.
Ellie Morrison, the Scouts BSA national commissioner, said this year has been historic in that girls have been able to participate in the Cub Scout and Family Scouting programs. Baylor sponsors the all-female Troop 308 for Girls as well as the traditional Troop 497.
Members from Troop 308G and Troop 497 jointly presented the colors during the flag ceremony at the start of the luncheon. Melody Terrell is scoutmaster for Troop 308G, Eddie Morrison is scoutmaster for Troop 308B. and Donovan McNeill is scoutmaster for Troop 497.
Ellie Morrison said in September 77,000 girls joined Cub Scouts across the country, and in February another 12,000 older girls became part of Scouts BSA, leading to the creation of another 1,600 Scout troops.
In accepting the award Livingstone said the mission of Baylor parallels that of the Scouts: "Our mission is preparing young people for leadership and service in the world."
Supporters of Boy Scouts of America programs in the Waco area meet for the annual luncheon to celebrate local scouting programs, honor someone who has contributed to our community in an outstanding manner, and to raise financial support for scouting programs in the Longhorn Council of the Boy Scouts of America.
In 2018 the Indian Nations District, which includes the Longhorn Council, saw 36 attain Eagle Scout rank, with 5,131.4 hours contributed to those projects.
Get local news delivered to your inbox!
Subscribe to our Daily Headlines newsletter.