Former U.S. Rep. Chet Edwards is often asked to list highlights from his 20 years in Congress.
He said it wasn't rubbing shoulders with presidents or other dignitaries. What Edwards cherished most were the opportunities to meet people like South Waco's own, Manuel Sustaita, a Marine veteran whose selfless service to others continued until his death from a heart condition early Saturday morning at Ascension Providence Hospital.
Sustaita, 76, was best known for leading a 16-year-long community campaign to create the Vietnam Veterans Memorial and related war memorials in downtown Waco and working on local, state and national levels to help save the Department of Veterans Affairs Doris Miller Medical Center from being shuttered.
The Vietnam Veterans Memorial on University Parks Drive was dedicated in 2004 after a grassroots effort that raised $500,000 plus in-kind donations. The landscape memorial was inspired by Sustaita's trip to the national Vietnam War memorial in Washington D.C. in the late 1980s.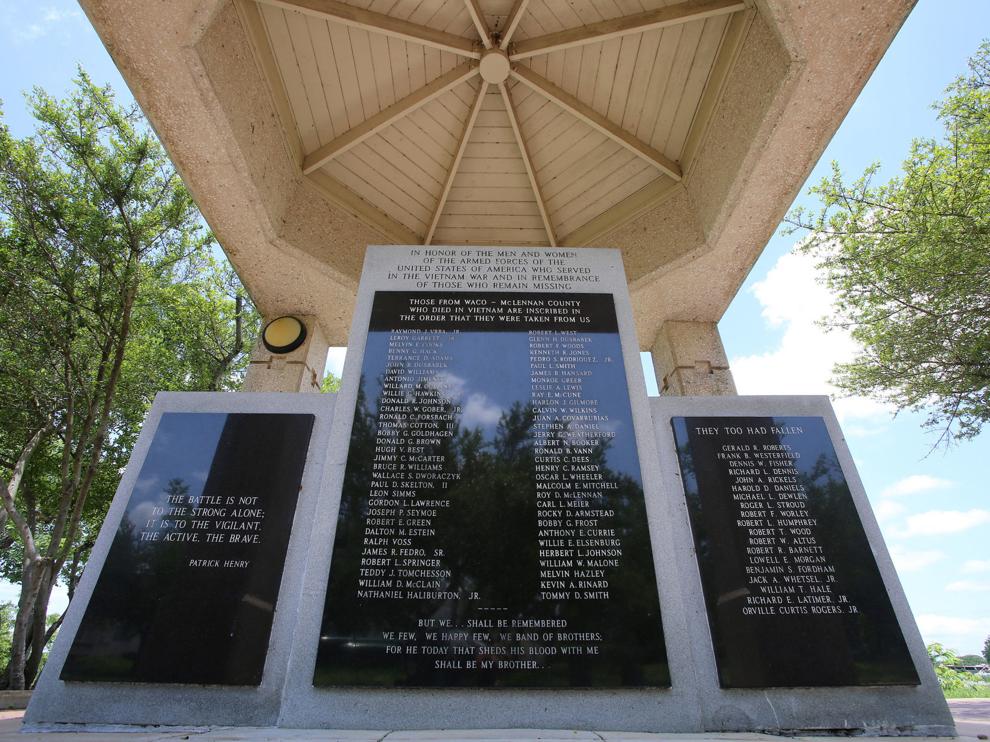 "I went to the wall and experienced a strong emotional feeling that is indescribable," he told the Tribune-Herald in 2004. "I remember trembling, shaking, just full of emotion. It comes from a lot of things that I experienced."
Edwards said he first met Sustaita while running for the Texas Senate in 1982.
"Manny Sustaita personified the value of his Marine motto, 'Semper Fi,' " Edwards said. "In combat overseas and in service here at home, he was always loyal and faithful to his fellow Marines, veterans and country. He was a dear friend who inspired all of us blessed to know him. Manny's passion in life was to ensure that other veterans would never be forgotten. Now, he will rightfully reap what he so unselfishly sowed — he will never be forgotten because of all he did for others."
The family is planning a Saturday, June 20 memorial service for Sustaita at Latin American United Methodist Church, 1320 Webster Ave., where Sustaita was a lifelong member. Survivors include two daughters, Angela Sustaita-Ruiz, of Miami, Florida, and Melissa Sustaita Acosta, of Austin; Sustaita's longtime companion, Josie Valdez, of Temple; and four grandchildren.
"My Dad constantly planned on who he could help or serve next," Acosta said. "He always described himself as just a simple man who appreciated the simple things in life. He had a humble and giving soul. He loved his family, his community and wanted to serve those who served their country and anyone else who needed help. He taught us to make sure to love your family and to share that love with the community and those in need."
As news of Sustaita's death spread Saturday, a group of 35 veterans flanked both sides of the hospital exit to honor Sustaita. Taps was played as his body was removed on a flag-covered stretcher.
Among those who lined the walkway was Robert Cervantes, who, with Sustaita, is a founding member of the Organization of Hispanic Veterans. Cervantes is vice president of the group.
"Even though I haven't known him terribly long, I grew up here in Waco and Manny's name was just one of those respected names in the Hispanic community," Cervantes said. "He was a mover and a shaker, just one of those people who saw a need and set about to fill it. He rallied people and he reached out to people in need.
"That is what I remember growing up, and now to be sitting at the same table has just been an incredible honor. Just to watch his service, to see his compassion to really understand what the community needs and what each individual can do for the community was an awesome experience," Cervantes said.
Robert Gamboa, a researcher and historian of veterans and related issues, has known Sustaita since they were fourth-graders at the former Sul Ross Elementary School. Both have worked side-by-side for years on veterans and community issues.
"Not only have I lost a trusted friend, but our community has lost a visionary, an individual who saw things he wanted to accomplish, like the Vietnam Veterans Memorial, and then went out and made that part of Waco," Gamboa said. "He was a die-hard Marine, of course, and he had relentless energy, even up to the time he passed away. He was always working to complete some particular project he wanted to see done and was able to get people to join him to make that dream, that vision, come alive."
Before he was hospitalized, Gamboa and Sustaita discussed ways to honor fallen veterans on Memorial Day while keeping people safe in the midst of the coronavirus pandemic.
Mary Duty, a Blue Star mother whose son, Caleb, served as a Marine, said she fondly remembers Sustaita holding her hand, answering her questions and comforting her while she worried about her son in harm's way. She also spoke to Sustaita about Memorial Day observances.
"He was not going to the hospital until he knew Memorial Day activities were going to be under control. Manny was on the job remembering veterans who died just hours before his own death. You can't find a servant like that. Manny just never quit serving people his entire life. He was a Republican at one time and was so proud that he got to shake hands with Ronald Reagan at TSTC. But he saw the light and came on over," said Duty, McLennan County Democratic Party chair.
Sustaita enlisted in the Marines when he was 17 and was a member of the 3rd Reconnaissance Battalion, 3rd Marine Division (Forward) that landed in Da Nang, South Vietnam, in March 1965.
He retired from Met Life Financial Services after 31 years and opened his own insurance company. He was co-founder of the Cen-Tex Hispanic Chamber of Commerce.